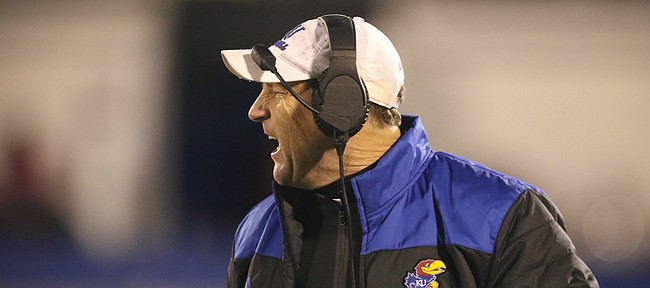 A couple days removed from seeing three of his Kansas football team's defensive captains refuse to shake hands with Oklahoma quarterback Baker Mayfield prior to kickoff, head coach David Beaty took a contrite stance on the matter Monday morning, on the Big 12 coaches media teleconference.
"First of all, that was absolutely unacceptable," Beaty began, when asked to further explain the occurrence, adding that he reached out to OU head coach Lincoln Riley to apologize "on the behalf of myself and our team."
The third-year coach, whose Kansas team is 1-10 overall and 0-8 in the Big 12 with one game left on the schedule, went on to express his regret for the incident and how the resulting commotion might have displeased "our stakeholders," the KU football program's fans and supporters.
"It means more to be a Jayhawk. That was a situation that we needed to make a better decision there," Beaty stated. "I believe very strongly in good sportsmanship. It's absolutely essential to the game of football and our mission, which is developing young men. We've always got to show respect to each other and the teams we're competing against."
Podcast episode
On this episode of the KU Sports Hour, hosted by KU football beat writer Benton Smith, the KUsports.com staff discusses KU's 41-3 loss to Oklahoma. Topics include: recapping OU-KU (open-8:10), the on-field antics (8:10-23:20), injuries and other leftovers (23:20-30:30), and the KUsports.com football mailbag — discipline, birthday presents and Mark ...
KU's coach maintained, as he said during his postgame press conference following the 41-3 defeat, he did not know Daniel Wise, Dorance Armstrong Jr. and Joe Dineen planned to snub Mayfield at the 50-yard line, when the captains met there for the pregame coin toss.
"While I wasn't aware that those players were not going to shake hands," Beaty said, "and we certainly never would have made that plan as a coaching staff to do something of that nature, we also love these kids, man, and I know their hearts. I know their passion. I love their toughness. I love their desire to compete. But we've let them know that their decision was unacceptable and it can not happen again."
Now 3-32 as KU's head coach, Beaty stated he had a conversation with athletic director Sheahon Zenger on the episode.
"We continue to agree that we want everyone in our program to represent the University of Kansas with (the) dignity and class at all times that it deserves. Those are the character traits that are the very heart of what it means to be a Jayhawk," Beaty said. "We talk all the time about our No. 1 job is to create one good man at a time. Part of making that happen with these guys is helping them learn to make positive decisions, even in the heat of the moment. And unfortunately we didn't make the right decision on Saturday, and they know that."
Wise, Armstrong and Dineen "care deeply" about representing KU and the football program in a "classy" manner, Beaty said.
"They're great young men. I believe in them, and, you know, I believe in who they are at their core. And it's my job to make sure they understand the ripple effects a decision like that can have. They'll learn from this and continue to grow into successful, productive men and great Jayhawks that the Jayhawk family can be proud of," the coach said. "It's just unfortunate, and I apologize to the Big 12 and really to college football, because that's something that was absolutely unacceptable. But we'll move forward."
Asked whether he saw the non-handshake as it happened, Beaty affirmed he watched "a portion" of the brief exchange.
"I wasn't really sure what was going on, because it was a little bit unique. I just saw one member of their team step forward and not another," Beaty said of Mayfield sticking out his hand, "and none of ours stepped forward. I think before I really could understand what was going on it was over. And at that point you really understand what took place."
Dineen submitted during his postgame interview Saturday one reason the Jayhawks might have taken such an abnormal strategy to the pre-kickoff pleasantries was Mayfield's infamous fiery nature. Beaty neither confirmed nor denied as much.
"Regardless of what or why, we've discussed as a team and as a unit that it was misguided. In this world, what you realize very quickly is that people don't care about intent. It can be perceived in any way. That's what you have to be very careful of and the ripple effect that it may have," Beaty said. "I'll tell you this, those guys that went out there, I'll tell you what, if my daughter marries one like them I'll be pretty happy. They're great men. They made a mistake and they'll get better as a result.
As Beaty went on to reference the competitive nature of the sport and how much fun it is to be involved, he said players must consider more than the moment.
"And that's what we're using it for, a teachable moment," he said.