If the Kansas football team's defensive captains hoped to rattle Oklahoma quarterback and Heisman Trophy candidate Baker Mayfield by refusing to shake his hand during the pre-game coin toss, the ploy's effects weren't nearly enough to upset the No. 3 Sooners.
Juniors Daniel Wise, Dorance Armstrong Jr., Joe Dineen and their defensive teammates did their best to harass and stymie the mobile and typically accurate Mayfield Saturday at Memorial Stadium, but the Sooners withstood the Jayhawks' exploits to cruise to a 41-3 victory in front of an announced crowd of 22,854.
In what quickly became a chippy game between the Big 12's best and worst teams, Mayfield started slowly, after the fiery QB extended his right hand toward Dineen, Armstrong and Wise at midfield as the trio of Jayhawks held their hands behind their backs and avoided eye contact with Mayfield, who backed away and clapped in response.
Why exactly KU tried such a strategy remained unclear after the senior Oklahoma QB went 20-for-30 passing, for 257 yards, with three touchdowns and no interceptions.
Head coach David Beaty, after his team lost its 10th consecutive game, didn't reveal why the players snubbed Mayfield beforehand.
"I'm proud of our guys for getting to a point, and not just — we're not going to take it anymore. You're going to stick your feet in the ground and you're going to defend your grass," Beaty offered. "I think we've got to display it better than that, obviously, but I get it. I understand where they're coming from. I've got to do a better job as their coach maybe teaching them how to manage that a little bit better."
Photo Gallery
Kansas football v. Oklahoma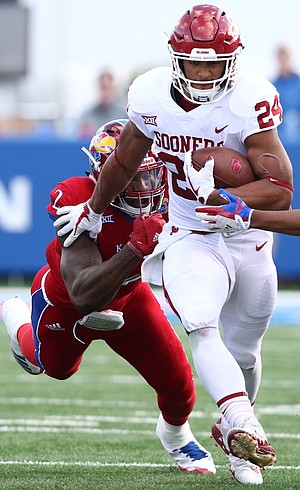 View a gallery of images from Saturday's game between the Jayhawks and Sooners at Memorial Stadium.
The third-year head coach suggested his players might have a better sense of its origins, but only Dineen, a redshirt junior linebacker, attended the postgame media session. Wise and Armstrong, though requested by various outlets, didn't attend.
Dineen said the three of them discussed doing something "out of the ordinary" to fire up their teammates.
"It was literally just before we went out and I can't remember who talked about it. It was just, 'You want to do this?' 'Yeah, let's do it.' We didn't even put any thought into it," Dineen said. "It turned out it looks pretty bad. Obviously it wasn't meant to be super disrespectful to them."
Although the spurned handshake, Dineen insisted, wasn't meant to disrespect Mayfield, who later in the game was captured by ESPN yelling back at fans and making an inappropriate gesture toward the KU sideline while screaming profanity, its intent may have had something to do with flustering the explosive quarterback.
"Maybe try and get in his head a little bit. Maybe fire him up too much," Dineen said. "For the first quarter I think it worked out in our favor. But obviously he's a great player and made plays down the stretch."
Indeed, the Sooners (10-1 overall, 8-0 Big 12) officially put the Jayhawks (1-10, 0-8) to rest in the fourth quarter, as Mayfield finished his day by leading the team to two touchdowns in the first three minutes.
KU's best shot to make it a game in the second half came on the opening drive, but the Jayhawks couldn't capitalize on a nine-play drive that reached Oklahoma's 22-yard line. A couple of deep shots from quarterback Carter Stanley toward the back right corner of the end zone went incomplete to conclude the series, when the Jayhawks trailed 21-3. They couldn't even put a scratch in the deficit, though, as kicker Gabriel Rui missed a 39-yard field goal on fourth-and-eight.
"I thought that was a big play in that game in that second half. We had that drive down there, and we go down there and have an opportunity to score, and, man, a lot of contact happening in that end zone," Beaty said of Stanley's throws for Steven Sims Jr. and Evan Fairs. "You'd love to see what happened if that ball was on the 2-yard line there, and it was 21-3 and you've got a chance to maybe put seven on the board there. We wind up having to kick a field goal and miss it into the wind."
KU's coaches and players regretted the close to the second quarter even more. The Sooners — who had gone three-and-out en route to punts on four of their previous five series against an inspired, swarming KU defense — only had 50 seconds left in the first half and 84 yards between them and the KU goal line.
However, the Jayhawks couldn't get back to the locker room at a 14-3 disadvantage. Mayfield found fullback Dimitri Flowers for 30 yards on the play's opening drive, and cornerback Hasan Defense came in late to hit the QB, drawing a 15-yard penalty.
On the very next snap, Mayfield looked the direction of Mark Andrews and Defense drew a holding penalty, pushing the Sooners all the way to the KU 29-yard line.
Two plays later, Mayfield threw his second touchdown pass of the first half by hitting speedy Marquise Brown on a screen pass, letting the 5-foot-11 sophomore do the rest of the work on a 24-yard score that enabled Oklahoma to head to halftime with a 21-3 lead.
Defense explained after the game a brutal stretch for himself and his team, which held OU to 469 yards, significantly below its 600-per-game average entering the weekend.
"I was just trying to make a play. It was in the heat of the moment. It was a bonehead play by me," Defense said of what many viewed as a cheap shot on Mayfield, "something I shouldn't have done. I kind of seen him get rid of the ball, but at the point of time I didn't realize how much longer after the ball was gone that I hit him. It was just a bad mistake by me, won't happen again."
Asked why the game turned so heated, Defense said it was because of who Mayfield is.
"We know the type of quarterback he is, type of person he is," Defense said. "So we've just got to step up."
KU's first turnover of the home finale came at an inopportune time and place. With the Jayhawks' defense off to a relatively strong start, having forced punts on three out of the first four Oklahoma possessions, and KU down just 7-3 midway through the second quarter.
One snap following OU's first sack of the road victory, the Sooners also came up with their first takeaway. Stanley saw Fairs open over the middle of the field and quickly delivered the ball to the 6-3 sophomore, but Fairs failed to bring down the pass and once it deflected off his hands OU linebacker Emmanuel Beal picked it out of the air.
"It was an unfortunate play. I kind of had to squeeze the ball through a window so I threw it a little bit harder than I would've liked to," Stanley said after completing 19 of 33 passes for 123 yards and one pick in defeat, "but just kind of an unfortunate bounce and they capitalized off of it."
Oklahoma's sixth possession began at the KU 11-yard line, and it only took three plays for the Sooners to build their lead to 14-3 with the help of a 3-yard rushing TD from Jordan Smallwood.
A massive underdog, as usual against a Big 12 heavyweight, Kansas was in position to tie the game at 7 early in the second quarter. However, the Jayhawks were fortunate to get off the field with the 3 points Rui's 23-yard field goal provided.
Stanley's third-and-6 pass for Chase Harrell in the end zone drew pass interference, setting Kansas up at the 2-yard line with goal to go. On first down, though, running back Taylor Martin lined up at QB in the Wildcat formation and Mesa Ribordy's snap flew over Martin's head. Though the junior back recovered the fumble, he couldn't create anything amid the chaos, and was taken down for a 10-yard loss. A Stanley keeper for 7 yards and an incomplete pass to Chase Harrell followed, and KU opted to kick a field goal on fourth down at the Sooners' 5-yard line, which Rui hit to make it a 7-3 OU lead.
"Those are the type of things that they should be explainable," Beaty said of the botched first-and-goal call for Martin, "but I thought Mesa did a really nice job today. There's just one play where the ball just kind of flies away on him. What in the world happened? How does that happen? We talked to him on the sideline, and he said, 'You know, coach, it felt exactly the same. I don't know what you're talking about.' Because he's not seeing it all the way in."
As Oklahoma clinched a spot in the Big 12 Championship Game, Dec. 2, in Arlington, Texas, KU has just one final chance at avoiding a one-win season.
The Jayhawks fell flat on offense, producing 155 yards, the least by an OU opponent in the past two seasons. And the defense's antics didn't hold up.
"I just thought we lost our focus a little bit on the game and being able to play the game and managing our emotions instead of wanting to jaw back and forth," Beaty said of KU players jawing back and forth with Mayfield throughout. "We've just got to be smarter than to buy into that because it wound up hurting us."
KU's season concludes next weekend at Oklahoma State (8-3, 5-3).
https://www.youtube.com/watch?v=w1OV7cJeVkM
https://www.youtube.com/watch?v=fTQrlCQdJdc
https://www.youtube.com/watch?v=JhQrapBxVek
https://www.youtube.com/watch?v=0Yyzg9UKB6g
---
More news and notes from Kansas vs. Oklahoma