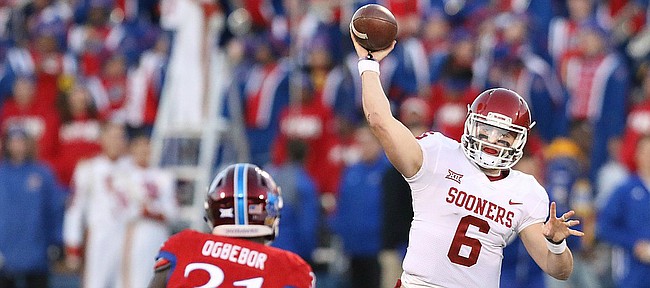 When the best football team in the Big 12 meets the worst, the last thing anyone expects is a memorable game that grabs national attention. Yet that's exactly what happened Saturday at Memorial Stadium, and for all the wrong reasons.
The score fell right where the oddsmakers projected. Oklahoma clobbered Kansas, 41-3.
The departures came during the pregame and in-game, low-class antics by players from both sides.
The Kansas captains started it by leaving Mayfield's handshake offer suspended in the air. KU captains Dorance Armstrong, Joe Dineen and Daniel Wise stared at the ground, hands behind their backs.
Mayfield said, "So that's how it's going to be? OK, then that's how it's going to be."
At that point, the referee asked Mayfield for a coin-toss call, to which the quarterback said, "I don't care ... heads."
Photo Gallery
Kansas football v. Oklahoma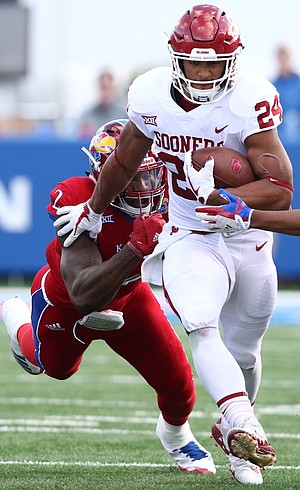 View a gallery of images from Saturday's game between the Jayhawks and Sooners at Memorial Stadium.
The fact that the Kansas captains felt doing something that unconventional in premeditated fashion in the area of sportsmanship without fearing consequences from their head coach is not a good look for David Beaty, whose team has not played disciplined football all year long and is 1-10, giving him a 3-32 career record. If the captains had thought about that, maybe they wouldn't have done it.
It wasn't the day's only evidence of an undisciplined program.
Late in the first half, cornerback Hasan Defense gift-wrapped 25 yards of the Sooners' three-play, 84-yard, 40-second drive capped by Mayfield's 24-yard touchdown pass to Marquise Brown. Defense threw his shoulder into Mayfield a few steps after the quarterback threw a pass and was lucky he didn't get ejected for targeting. The late-hit flag marched the ball 15 yards forward and Defense was flagged 10 yards for holding on the next play. Defense chastised himself for the first play, calling it "boneheaded."
Mayfield, the Heisman Trophy favorite, took the game to a new low in the third quarter, shortly after his 3-yard touchdown pass to tight end Mark Andrews put OU up 28-3. He grabbed his crotch and whistled F-bombs across the field at someone on the KU sideline. Afterward, he wouldn't say at whom his words were aimed and he apologized over and over for the gesture.
At an earlier point in the game, Mayfield turned toward the stands and responded to hecklers by saying, "Y'all's school has one win. Go cheer on basketball."
OU coach Lincoln Riley addressed the evening's incidents without being asked and made sure to put Mayfield in front of the firing squad of interrogators as well. Mayfield had no choice in the matter.
Dineen met with the media, but Armstrong and Wise did not, a stark departure from the team's two best players' normal routine.
Riley, 34, is young for someone coaching a national powerhouse, but he didn't sound it or seem it by the way he tackled Mayfield's embarrassing maneuver during a strange game.
"Just so we get out in front of it here, I was made aware after the game of the situation with Baker talking and gesturing toward them," Riley said. "It was a chippy game, and it was chippy from the second that their guys decided they didn't want to shake our hands at the coin toss. The chippiness started there. But despite all that, there's no excuse for it. Baker is a competitive guy and let the emotions get the best of him. But again, a very, very chippy, emotional game. But again, we can't have that and he can't do that."
As Hesiman-hopeful personalities go, Mayfield leans closer to the Johnny Manziel, brash, emotional type, than to the classy, cerebral Robert Griffin III type.
Yet, whereas Manziel's not one to apologize, Mayfield sincerely seemed embarrassed, even if many of his words came across as rehearsed.
"I'm not trying to play this ego of being a bad kid," Mayfield said when speaking more off the cuff. "That's not who I am. I'm not someone who's always going to get in trouble. I've had one instance off the field where I've had a mistake. On the field, I'm a competitive guy. There's a lot of trash talk that goes on and today I just took it too far and that's unacceptable."
Riley said he would have to see a replay of Mayfield's, ahem, gesture before deciding whether he would discipline college football's most compelling character.
---
More news and notes from Kansas vs. Oklahoma