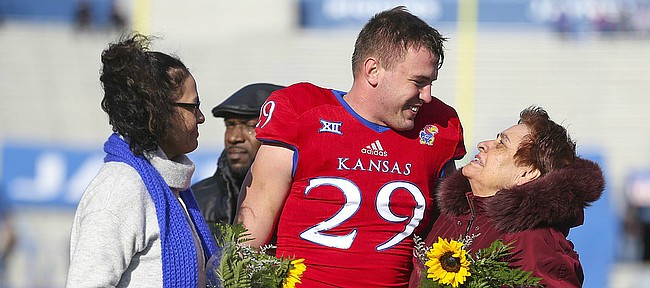 The Kansas football team's receiving corps' run of injury bad luck continued Saturday during a 41-3 loss to Oklahoma at Memorial Stadium.
Typical starting receivers Jeremiah Booker and Quan Hampton, who have been ruled out for the season due to injury, weren't the only passing targets watching instead of playing when the game began.
Leading receiver Steven Sims Jr. didn't start for Kansas, either, though he returned punts and eventually joined the offense in the second quarter and played when he could.
"Steven is still trying to get well," KU head coach David Beaty said after the junior wideout played sparingly and caught two passes for 38 yards. "Took a big hit against Texas last week. I thought our athletic training staff did a terrific job getting him back to being able to play this week because he was not looking good throughout the week. He's a tough dude. I didn't think he was going to be able to play."
After Sims' first punt return in the first quarter, Beaty added, "I thought he was done, and he just refused to go out. I got to give the guy credit. He's tough. He's a tough dude, because I know he was hurting. We've got to get him well because he's one of our big-play guys."
Sophomores Evan Fairs (six receptions, 29 yards) and Chase Harrell (six catches, 22 yards) started at receiver for Kansas.
Photo Gallery
Kansas football v. Oklahoma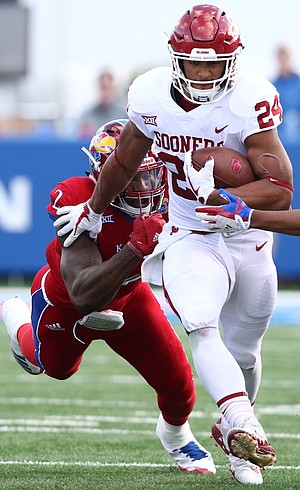 View a gallery of images from Saturday's game between the Jayhawks and Sooners at Memorial Stadium.
Maloney honored on Senior Day
The matchup with the No. 3-ranked Sooners marked the final home game for 10 Jayhawks, who were recognized with members of their family prior to kickoff at Memorial Stadium.
KU introduced seniors defensive end Kellen Ash, defensive tackles DeeIsaac Davis and Jacky Dezier, running back Denzell Evans, tackle Zach Hannon, tight end Ben Johnson, punter Cole Moos and offensive lineman Kyle Pullia and Jayson Rhodes. Junior Keaton Perry, currently a receiver and formerly a backup quarterback, participated in the senior day ceremony, too, because he is on pace to graduate and decided not to return for 2018.
The line of honorees also included a spot for Andre Maloney, a former Shawnee Mission West standout who died in 2013, during his senior high school season.
KU redshirt junior linebacker Joe Dineen, part of the same recruiting class as Maloney, wears No. 29 in his honor.
Dineen delivered flowers to Maloney's mother, Rosaelida Montoya, and his grandmother, Marialuz Cardenas, and hugged them both.
Armstrong breaks sack-less streak
Junior Kansas defensive end Dorance Armstrong Jr., who hadn't recorded a sack since KU's loss to Texas Tech Oct. 7, broke a five-game slump in that category against OU.
In a showing that featured just his second sack of the season, Armstrong made six total tackles, 1.5 tackles for loss and was credited with a quarterback hurry.
"That kid deserves it," Beaty said. "He's busted his tail. He's caused a lot of production for other people. He's done some really, really nice things for us. Seeing him get back there and get (Baker Mayfield) down was a big deal. I think that will lead to more this week, I certainly hope."
Injury adjustments
KU's starting offensive line had another shakeup this week, with left guard Andru Tovi, right guard Chris Hughes and right tackle Clyde McCauley III all dealing with various injuries.
Rhodes started for Tovi at left guard, Larry Hughes replaced Chris Hughes at right guard and Hannon started instead of McCauley at right tackle.
Tovi, Chris Hughes and McCauley all got hurt a week earlier, during the first half at Texas.
KU sophomore safety Mike Lee, also hurt at UT, didn't suit up for the Oklahoma game. Shaq Richmond started in Lee's place, and totaled six tackles, tying Armstrong, nickelback Bryce Torneden and linebacker Keith Loneker Jr. for the team lead in that category.
---
More news and notes from Kansas vs. Oklahoma