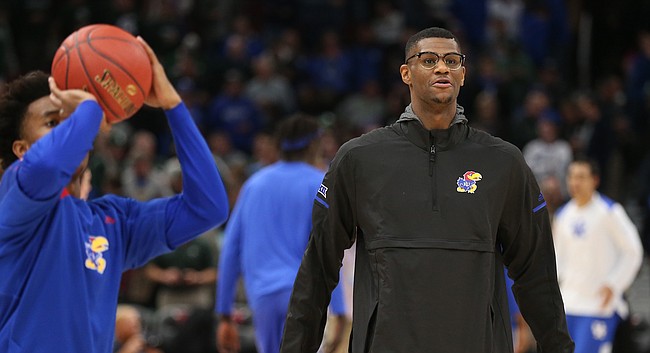 While the accident that led to University of Kansas basketball player Billy Preston's benching this week didn't merit reporting to law enforcement, something about the vehicle now has the focus of the KU Athletics compliance office.
"Billy hit a curb Saturday midday on 19th Street on campus, resulting in minor damage to his tires," Jim Marchiony, KU Athletics associate athletics director for public affairs, said Wednesday afternoon. "Other than his tires, there was no property damage, and there were no injuries or other individuals involved ... a police report would not be filed in a situation like this."
However, following the accident, the KU Athletics compliance office is looking into the "financial picture" of the car.
Marchiony declined to answer what that means or what the office is trying to figure out. Instead, on Wednesday he reiterated a statement made by Coach Bill Self about an hour before Tuesday's matchup against Kentucky to explain why Preston wasn't playing.
"We want our compliance office to have a clearer financial picture specific to the vehicle," Marchiony said.
When asked to whom the car was legally registered, Marchiony said he did not know. He did say Preston, a five-star freshman forward from Los Angeles who attended high school in Virginia, wasn't borrowing the car or driving it without permission.
"This is Billy's car," Marchiony said.
On Wednesday morning, a Journal-World reporter observed a late-model Dodge Charger in the parking lot of the men's basketball dorm on campus. The car, with temporary Florida tags, had damage to two tires and scuff marks. It could not be confirmed, however, whether this was the vehicle involved in the accident.
Self said Tuesday that when he learned of Preston's "single-vehicle incident" he reported it to KU Athletics administration, as is protocol, the Journal-World previously reported. Though officials spent the better part of Tuesday attempting to gain clarity so Preston could play that night, Self said, it didn't happen.
"They started doing the checking on the car and wanted to get a clearer picture of how some things were done, and we couldn't get it cleared up," Self said.
Self said Preston would continue to be held out until the review is complete.
"I am confident it'll get cleared up. But I don't know the time frame," Self said.
KU Athletics policy requires players to register their vehicles with KU Athletics, Marchiony said.
Self said Preston had done that.
"Everything was good," Self said. "But they dove into it a little bit deeper. That doesn't mean that something wrong has been done."
Preston also sat out KU's season-opening game against Tennessee State on Friday after missing curfew and class leading up to the game.
KU police did not take any accident reports over the weekend, Deputy Chief James Anguiano confirmed. A review of Lawrence Police Department reports from accidents occurring on streets near the KU campus on Saturday also revealed none involving Preston.
Such police reports would contain public information about the people involved and registered owners of the vehicle or vehicles involved.
Legally, not all traffic accidents must be reported to police.
According to Kansas statute, drivers aren't required to report noninjury accidents to police if apparent property damage was less than $1,000. If drivers hit and damage someone else's unattended property, they are supposed to notify the owner, according to state statute.
— Journal-World reporter Matt Tait contributed to this report.
Have a tip or story idea?
785-832-7187

---

More stories