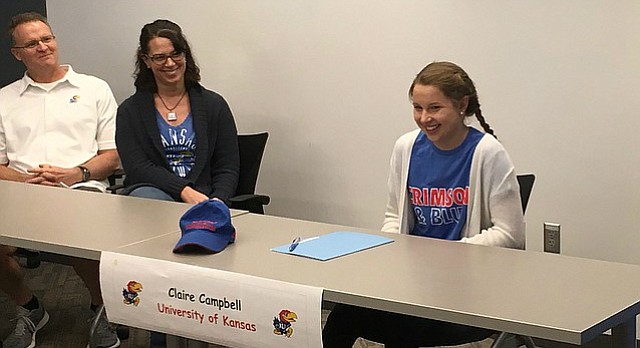 When Free State senior Claire Campbell was ready to commit to the Kansas swimming team in late September, she made a phone call to tell her future coach.
Sometimes good news can't wait. Her dad, KU coach Clark Campbell, was out of town, so they celebrated over the phone. She was joining his program.
"He was so excited and so was I," Campbell said. "It was a really big moment for my family."
Fast forward two months and Campbell signed her letter of intent Wednesday in Free State's conference room with her parents by her side and scores of friends on hand.
"Ever since I was little, I dreamed about swimming for my dad," Campbell said. "He's the best coach I've ever known, so I'm just so excited."
Campbell helped the Firebirds to a Class 6A state championship in 2015, her freshman season, adding state titles in two relays with state-record times. She had a pair of third-place finishes in the 100- and 200-yard freestyles at state last season.
She said in the back of her mind she always knew she wanted to swim for her dad's team. But she wanted to go through the college recruitment process and took visits to Houston and Boise State before committing to Kansas, citing the team's culture as something that stood out to her.
"I'm really excited about having her on the team and getting to coach her," Clark Campbell said in a press release. "I've pretty much watched every meet she has ever done, so I know what her capabilities are and know that the best swimming for her is still years down the line."
Campbell is the third Div. I swimmer from her family. Her older brother, Canaan, is a senior at Missouri State and her sister, Cierra, is a sophomore at Indiana State.
Officially signed to swim at Kansas, Campbell said it's a relief for the rest of her senior year at Free State, "knowing that I made the best decision for me."
"I've been looking forward to it since I was younger and seeing my two older siblings have their day," Campbell said of the signing ceremony. "Now it's finally my turn and I couldn't be more excited."