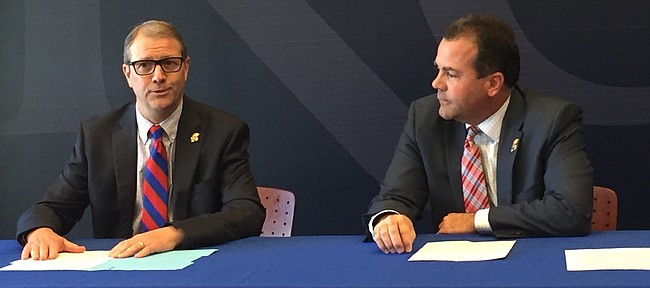 In a message he sent to University of Kansas students and faculty members Monday afternoon and posted on the university's website, chancellor Douglas Girod stated his confidence in both athletic director Sheahon Zenger and KU football coach David Beaty.
"Nobody denies the challenges we are having on the field, but I maintain my belief that Sheahon and Coach Beaty have the right long-term vision and are doing things the right way," Girod wrote. "Our focus now is empowering them with the tools they need to fulfill their vision."
The endorsement of Beaty, now 3-31 as the Jayhawks' coach, and Zenger, who hired Beaty and his predecessor, Charlie Weis (6-22), came in a message titled "Football and our national aspirations."
Girod's message included details of a new indoor practice facility for KU football. It will cost an estimated $26 million and is part of the KU-branded "Raise the Chant" strategy, focused primarily on football, which aims to raise $350 million over the course of five years to upgrade Memorial Stadium and other facilities.
Photo Gallery
Future Memorial Stadium Renovations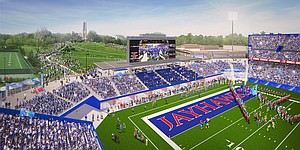 Renderings of what Memorial Stadium and other Kansas Athletics facilities will look like at the completion of KU's five-year, $350 million "Raise The Chant" fundraising campaign.
"We are exploring multiple sites near Memorial Stadium, the most likely being a location on the west side of the stadium," Girod stated of the first phase of the massive overhaul.
A university official said KU hopes to begin construction on the indoor football facility as soon as possible at the conclusion of this season — now less than two weeks away. Discussion of the new indoor facility is on the Board of Regents agenda for Wednesday.
"As with any project, we are evaluating factors related to aesthetics, environmental impact, campus heritage, parking and accessibility, and we will work with the City of Lawrence to ensure our plans benefit the surrounding community," Girod stated as to where the new building will go. "We will present our most current plans to the Kansas Board of Regents this week and will communicate with you throughout the process."
The chancellor also wrote the "Raise the Chant" project "addresses the reality that a competitive football program is important to our university" and "outdated facilities hamper our ability to compete in the Big 12 Conference."
In Beaty's nearly three seasons on the job, Kansas has defeated just one Big 12 or FBS opponent, Texas (2016).
Girod went on to state "a competitive football program benefits the entire university and our academic mission. We need to remain a strong member of the Big 12, and football is key to that. In recent years, we have transformed our campuses with a focus on academic and student-centered facilities – including the Health Education Building, Capitol Federal Hall, Self and Oswald Halls, the Spencer Art Museum, Swarthout Recital Hall, LEEP2, and the Central District – while adding more than 735 scholarships and fellowships and 50 professorships thanks to private giving. This transformation of our academic facilities will continue, recognizing that football facilities are part of the transformation."
Girod and Zenger first introduced the long-term plans for KU football facilities improvements in September, with the help of a $50 million gift from KU alumnus and benefactor David Booth.
The chancellor stated the project "has since garnered additional financial support from donors across the country. These donors recognize that facilities are crucial to our membership in a Power Five conference, which in turn is crucial to our broader aspirations as a major public research university."