Now that the fourth-ranked Kansas basketball team has done what head coach Bill Self asked by focusing solely on Friday night's home opener — a 92-56 pasting of Tennessee State at Allen Fieldhouse — all of the Jayhawks' attention can turn to Kentucky.
That's who the Jayhawks will face at approximately 8:30 p.m. Tuesday at United Center in Chicago during this year's Champions Classic, which will feature four of the Top 5 teams in the country.
"The whole thing is you can't look ahead," Self said. "I mean, people naturally do that, but players shouldn't and coaches shouldn't. If we're going to have success playing anyone next Tuesday, playing Kentucky next Tuesday, the best way to have success is to have some momentum moving forward by playing well on Friday."
The Jayhawks (1-0) did exactly that from start to finish Friday night while John Calipari's fifth-ranked Wildcats (1-0) topped Utah Valley, 73-63, in their home opener.
Photo Gallery
Kansas v. Tennessee State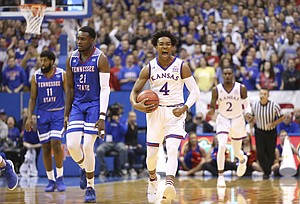 View a gallery of images from Friday night's game between the Jayhawks and Tigers at Allen Fieldhouse.
Those results don't mean much in terms of predicting what might happen in Tuesday's matchup, the third such meeting between these two blueblood programs in the seven-year showcase. But given the hype surrounding the event and talent up and down both benches, the latest matchup figures to be another memorable one.
Kentucky, which leads KU 2,238-2,218 in all-time victories, also leads the series with Kansas, 22-8. The Jayhawks have won the last two meetings — in Allen Fieldhouse in 2016 and last year in Lexington, Ky. — but are 0-2 against the Wildcats in the Champions Classic.
Although that matters in the pride department, Self said the specifics of a big game like Tuesday's only matter if the team does not learn from them.
"We haven't done particularly well in that," Self said. "Those are hard games. Whether you win them or you haven't won them, the purpose of those games are to prepare you to be better moving forward and you can get exposed and know more about who you are. Certainly that's been the case with us and probably with those teams as well."
Backing up Graham
Thursday afternoon, Self answered a question about the identity of KU's backup point guard with a joke.
"Malik (Newman) could initiate. I think Lagerald (Vick is) probably the best equipped to initiate. But I think it will just work out a lot better if Devonté doesn't foul and he doesn't get tired," he said. "I think that will probably be the thing that gives me the most confidence."
Graham came close.
In Friday's season-opening victory over Tennessee State, the senior point guard played at top speed the entire time, never looked tired and finished with 10 points, seven rebounds and 12 assists, in 31 minutes.
Although the importance of a strong back-up point guard did not fully surface Friday, Self and the Jayhawks know it will in the near future — perhaps as soon as Tuesday night against Kentucky.
"We'll do it by committee," Self said. "I've always thought we should play position-less, and that's the way we've always coached it and tried to recruit it. But we do need to have somebody that can be a backup initiator without question. I think it still remains to be seen who would be the best at that."
Hello, Roy
Friday's victory marked Self's 417th win at Kansas, which moves him within one win of tying former KU coach Roy Williams for second most all-time at Kansas.
Williams, the current North Carolina coach who racked up 418 victories and 101 losses as the leader of the Jayhawks from the 1988-89 season through 2002-03, left KU with an .805 winning percentage.
Self, at 417-88, currently owns a winning percentage of .826.
Last season, Self became the fastest coach in KU history to reach the 400-win milestone and he currently sits 173 victories behind Phog Allen, who is KU's all-time leader in coaching victories with a 590-219 record (.729) in 39 seasons.
KU-TSU ties
Recent Naismith Hall of Fame inductee and 1936 KU graduate John McLendon spent a few seasons coaching at Tennessee State (then called Tennessee A&I;) in the 1950s and led the program to three consecutive NAIA national championships from 1957-59.
Born in Hiawatha, McLendon attended KU in the 1930s and learned the game of basketball from, among other people, James Naismith. The rules at that time prohibited African-American athletes from playing, but that did not stop McLendon from throwing himself into the game. He later became the first black head coach in the ABA and, in 2016, finally was inducted into the Hall of Fame as a coach after initially joining the Hall as a contributor in 1979.
This and that ...
Friday's victory pushed KU's home-opening winning streak to 44 games. The last time Kansas lost a home opener came during the 1972-73 season, when they fell to Vanderbilt and Indiana in back-to-back games at Allen Fieldhouse to open the season ... The Jayhawks are now 2-0 all-time against Tennessee State, with a victory Friday and a 2006 victory at Allen Fieldhouse ... KU's win moved the program to 21-0 all-time against the current members of the Ohio Valley Conference.
---
More news and notes from Kansas vs. Tennessee State