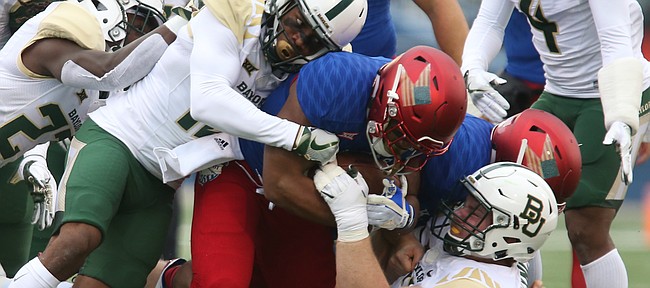 In a season where offensive success has proven scarce, few Saturdays have gone as poorly in that category for the Kansas football team as its game against Baylor did.
With only 289 total yards and 163 passing yards to show for a 38-9 home loss to the previously winless Bears, the Jayhawks only produced fewer total and passing yards this fall in shutout road blowouts at Iowa State and TCU.
Upon reviewing the latest unsatisfactory performance, KU offensive coordinator Doug Meacham wished there was only a single issue to address. Instead, he observed plays breaking down because of a specific player one snap and an entirely different offender the next.
"Just seems like we're playing with 10 sometimes. You know, it's not really one area all the time. It's just one guy isn't exactly where you want him occasionally. So there's that," Meacham began, with a chuckle that belied his true feeling on the matter.
"It doesn't take much for something to not go right," he said, with another sardonic laugh. "It's kind of like where it's a leaky dam and you stick your whole finger in one hole and then there's another leak. It's a little bit of that. But they're playing really hard. They practice hard. And then we get out there and it just kind of culminates as you go through the game where it's one thing or another, from kind of every area. Not necessarily just one area."
Podcast episode
On this episode of the KU Sports Hour, hosted by KU football beat writer Benton Smith, the KUsports.com staff discusses KU's 38-9 loss to Baylor. Topics include: the postgame mood (5:50-16:50), takeaways from the game (16:50-28:30), dwindling fan support (28:30-38:40) and the KUsports.com football mailbag — firings, 200 points and ...
From a quarterbacking standpoint, Carter Stanley completed only 17 of 33 throws for 155 yards with an interception versus the Bears (1-8 overall, 1-5 Big 12). Almost 60 percent of that yardage came on KU's four chunk passing plays of 15 or more yards. Stanley hit Chase Harrell for 24 yards and Ryan Schadler for 17 in the first quarter. The QB connected with Evan Fairs for 36 yards in the second quarter and Steven Sims Jr. for 15 early in the third. Stanley's other 29 pass attempts combined accounted for 63 yards.
KU head coach David Beaty thought Stanley, in his second start this season, "was a little bit off."
"There were a couple incompletions that I know he wishes he had back. Had he been able to put those balls on those guys, it would have helped us move the chains," Beaty said, after being asked what kept Stanley from providing KU (1-8, 0-6) with a spark. "The other thing is we had a drop on that first drive that Ben (Johnson, senior tight end) just looked away from it. It's a fundamental issue. If he doesn't look away, we've got a first down right there and we're inside their 15. But those are the things that cause drives to stall. They also limit a quarterback from getting on a roll, right? So it's never just one guy. It's all of us together, playing collectively. We've got to be better collectively."
Although Beaty said earlier this week Stanley is questionable for the game at Texas (5 p.m. Longhorn Network and Jayhawk Television Network), Meacham said Thursday the first-string QB has at least been able to take reps at practices — though he declined to say whether Stanley looks healthy enough to start.
"Hopefully a little spark will ignite and we'll get some rhythm going," the coordinator added of the offense. "We've had some flashes of that. We've had some games or drives or quarters where you can see what we can actually do. We just would like to put together a whole game."
The way Meacham explains it, enough varying mistakes are occurring on a micro level to undermine the offense as a whole.
"And we're kind of the kings of just almost on a lot of things. Just got to find a way to break through and string some things together and get some things rolling," Meacham said a few days after 10 of KU's 13 drives against Baylor traveled 28 or fewer yards.
"You can't actually identify what you need to be doing, because sometimes when you're just struggling and second-and-10 all day, you start looking at that call sheet, and all the sudden it looks like, 'What the? What do you do here?' When you can have some type of success in certain play types or areas," Meacham continued, "that definitely helps everything. It helps the (assistants) up in the box identify stuff, it helps me try and figure it out and gives your guys confidence in the stuff you're calling. It all works together, you know? All of it. Every bit of it. The emotion part of it, the X and O part of it, the physical part of it. It's got to all be there."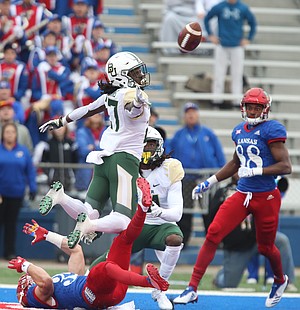 Too many vacancies in one aspect or another have obstructed the KU offense most of the season. The Jayhawks enter Saturday's game at Texas (4-5, 3-3) ranked last in Big 12 play in scoring (13.7 points), total offense (305 yards per game) and pass efficiency (93.3) and ninth in passing offense (187.3 yards).
KU ranks seventh in rushing offense (117.7 yards on average), but more than half of that — 367 of its 706 rushing yards in conference games — came on one day, against West Virginia. In its other five Big 12 games, KU is averaging 67.8 rushing yards.
After 137- and 291-yard rushing games at Ohio and versus WVU, Kansas sophomore running back Khalil Herbert injured his hamstring against Texas Tech on Oct. 7. More than four weeks later, Herbert still isn't back to full strength.
"He's nicked up," Meacham said. "I think he's better now, but he's not 100 percent. He's a tough kid. He's a great kid. I'd like to see him kind of have some sort of an output like he had against West Virginia."
Herbert, a 5-foot-9, 200-pound back from Coral Springs, Fla., feels better than he has in a while, though.
"I don't think you can really feel 100 percent during the season but I'm right near it, so I'm feeling really good," said Herbert, coming off a 10-carry, 71-yard day against Baylor.
It's been a strange season for the explosive rusher, who was buried on the depth chart the first two weeks of the season before breaking out, and then injuring his hamstring.
"It's been OK, I guess you could say. The running back room, we kind of rally around one another, so we never let any one of us get down, get too high, too low. We kind of just stay at a steady pace and I think that's really helped me this year," Herbert said.
What will it take for the offense to recreate the type of rushing attack it showed earlier this season?
"Just executing," Herbert offered. "Doing the little things, you know. Just the want-to, competing."
No update on Taylor and Lee
KU defensive coordinator Clint Bowen had no definitive update Thursday on starting defensive backs Shakial Taylor and Mike Lee, both of whom suffered injuries during the home loss to Baylor.
"They're both questionable," Bowen said. "Probably just leave it at that. And kind of see a little bit more (Thursday and Friday) how they feel."
Kansas sophomore cornerback Kyle Mayberry played more than three quarters in place of Taylor. Mayberry also started two games earlier this season when Hasan Defense was ill.
"It's been good for him to just throughout the season get a little bit at a time," Bowen said of Mayberry. "He got thrown into duty and I thought he went in there and did OK."
When Mayberry entered for Taylor, BU targeted him immediately, and receiver Denzel Mims caught a 56-yard pass. Bowen said the defense had to soften its coverage to protect the corners on certain play calls with Taylor unavailable, so the change in personnel altered the game plan somewhat.
Sophomore Shaq Richmond replaced Lee at safety when he got hurt and would start at Texas if necessary.