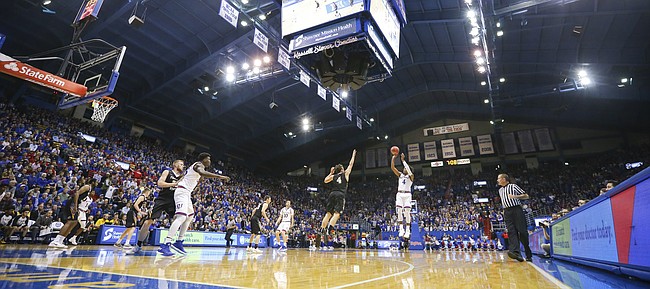 No. 4 Kansas Jayhawks (0-0) vs. Tennessee State Tigers (0-0)
Time: 8 p.m. | Location: Allen Fieldhouse, Lawrence, Kansas
TV: ESPNU | Radio: IMG Jayhawk Radio Network
Log on to KUsports.com for our live game blog coverage and follow the KUsports.com staff on Twitter: @KUSports @mctait @TomKeeganLJW @bentonasmith @nightengalejr @chasenscott & @nickkrug
Keys for Kansas
1. One game at a time
With exhibition play behind them and Kentucky in the Champions Classic next Tuesday in Chicago ahead of them, it would be easy for the Jayhawks to look past tonight's season opener against Tennessee State.
But Kansas coach Bill Self has taken extra precautions to make sure that does not happen. And Self does not believe that putting a focused team on the floor will be a problem.
"You've got to take care of the business at hand, and the business at hand is certainly Tennessee State," Self said Thursday. "Knowing you're going to go against a quick, athletic team that will put pressure on you that really defends and you've got to move the ball and bodies in order to get good shots, guys got to understand that. So hopefully we will, and that will put us in a position to become a better team. We need to become a better team Friday and not worry about Tuesday yet."
2. More than a one-man show
Asked Thursday what his biggest concern about this team was entering the start of the regular season, Self first pointed to "pure toughness," and then expanded on that thought a little.
"Can you win games when you don't play well?" he said. "If you look at how we shot it so far in our exhibition games, it's been miserable. We're a good shooting team, and we're shooting 31 percent from three, only because Devonté (Graham) is 13 of 28. Without those, without him, we're a 25, 23 percent shooting team from three. And that's what we should do good. So can we win games when we don't make shots?
"Last year's team and most of the teams we've had here could because they were tough. They knew how to grind and get stops at key points. I don't know that this team is ready (to do that yet). I think we'll be able to do that, but I haven't seen it consistently yet. To me, that's the biggest thing. When things aren't going well, can you make somebody else play poorly?"
KU's three other top shooters — Malik Newman, Lagerald Vick and Svi Mykhailiuk — have combined to make one 3-pointer fewer than Graham, and Self said he wanted to see that trio, along with the rest of the roster, turn up the intensity starting tonight.
"Those guys' attitudes are great," Self said. "I just want them to be more aggressive. It's not that complicated to me. If you're going to make a mistake, at least make it going full speed. When you try not to screw up, that's when you screw up the most. We just need those guys more aggressive, playing with more reckless abandon."
3. Adjust quickly
The one common concern Self has had during all of his past season openers was that the opponent would do something the Jayhawks were not expecting or had not seen on film.
That concern is firmly in place entering tonight's game, partly because Tennessee State, which is picked to finish fourth in the Ohio Valley Conference, features a fairly veteran team, with 11 seniors or juniors on the 16-man roster.
"We haven't done much," said Self of his team's exhibition games. "But they've got three game films on us. And all we're looking at is what they did last year towards the end of the season. So I think there is an advantage sometimes with that season opener from a scouting standpoint that some teams can have an advantage over others."
In order to combat that, Self said he wanted his team to worry less about the opponent and more about executing what it does best from start to finish.
Mega Matchup
Youth vs. Experience
Although the Jayhawks feature two seniors and a junior in their starting lineup in Graham, Mykhailiuk and Vick, the rest of the KU roster is pretty unproven at this level.
Whether you're talking about true freshmen Marcus Garrett and Billy Preston, sophomore big men Mitch Lightfoot and Udoka Azubuike or transfer guard Newman, no one in that group has made much an actual impact on the Kansas program just yet.
And when you compare that to the likely starting lineup for Tennessee State, which features three seniors, one fourth-year junior and another true junior, it's clear that the Jayhawks are facing a team that has spent a lot of time together.
Two of TSU's five starters are returning starters from last season, and the Tigers' lineup features three other players who started at least eight games a season ago.
"Everybody says we've got an experienced team," Self said Thursday. "We've got two seniors and Lagerald's a junior. The other five guys are newcomers to us. So (Azubuike) played some in 11 games and Mitch played. I love Mitch, (but) I don't think he made his first free throw (until) February of last year, and that's not a joke. Malik hasn't made a basket here. Billy hadn't made a basket here. Marcus hadn't made a basket here. So we're still pretty young. We're still a pretty young team."
Jayhawk Pulse
It's been 199 days since the 2016-17 Kansas basketball season ended in heartbreaking fashion in Kansas City, Mo., with an Elite Eight loss to Oregon.
And KU fans and players have been looking forward to tonight ever since that disappointing end to another impressive season. Sure, Late Night was circled on the calendar and, yeah, the exhibition trip to Italy and annual recruiting haul was fun to follow, too.
But there's nothing like the promise of another season, and Allen Fieldhouse should be rocking and rolling tonight for that very reason.
Aspirations are as high as ever for this Kansas team, which is favored to win a record 14th consecutive Big 12 Conference title and opens the season on the short list of true national title contenders.
ESPN.com's Joe Lunardi's initial Bracketology has Kansas penciled in as one of the four No. 1 seeds, and everything the Jayhawks do between now and March will be with achieving both of those goals in mind.
Probable Starters
Kansas
G – Devonté Graham, 6-2, 185, Sr.
G – Malik Newman, 6-3, 190, Soph.
G – Svi Mykhailiuk, 6-8, 205, Sr.
G – Lagerald Vick, 6-5, 175, Jr.
C – Udoka Azubuike, 7-0, 280, Soph.
Tennessee State
G – Armani Chaney, 5-10, 165, Jr.
G – Delano Spencer, 6-3, 200, Sr.
G – Darreon Reddick, 6-4, 195, Sr.
F – Ken'Darius Hamilton, 6-9, 245, Sr.
F – Christian Mekowulu, 6-9, 245, Jr.