Tuesday, November 7, 2017
Devonté Graham takes a seat and the possessions become ragged; questions surface about this Kansas basketball team. Stress enters the viewing experience.
Graham returns to the court, feeds the ball inside to the man with the biggest size advantage, developing sophomore Udoka Azubuike, and the stress level begins to fade. Stomachs settle. Everything is right with the perennial national-powerhouse Jayhawks, ranked No. 4 heading into Friday night's season opener against Tennessee State.
Graham's a human chill pill, Bobby McFerrin's constantly looping, "Don't Worry Be Happy," for those emotionally invested in his team's fortunes.
Graham attempted just 12 field goals and scored a game-high 27 points in KU's 86-57 exhibition victory Tuesday night against Fort Hays State in Allen Fieldhouse.
He made 8 of 12 field goals, 6 of 10 3-pointers and 5 of 6 free throws to go with eight assists and just one turnover.
Photo Gallery
Kansas basketball v. Fort Hays State (exhibition)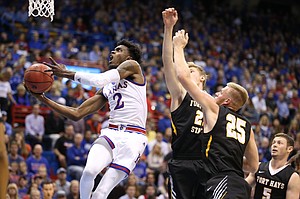 View a gallery of images from Tuesday night's exhibition game against Fort Hays State at Allen Fieldhouse.
Kansas didn't look like Kansas in the nine minutes Graham sat. In fact, Fort Hays State held a four-point advantage with Graham watching, and was 33 points in arrears with Graham on the court.
Sure, the competition on Tuesday night was slower, shorter, not as skilled as what awaits Kansas the rest of the way, but that's beside the point. Graham is two years older and wiser than when he stormed into Norman and outplayed 2016 national player of the year Buddy Hield of Oklahoma.
Graham's shot was so pure, so on-target Tuesday, except when compared to his five perfect lobs: four to Azubuike, one to Billy Preston.
That play won't be available as often against bigger defenders, but it will be there more often than those of us watching will realize until we see him create an easy basket we didn't know was there for the taking by putting it where only the intended target can get to it.
Surely, it's a tougher pass than Graham makes it look.
"It's definitely something you have to work on," Graham said. "At the same time, Doke makes it a lot easier when I can throw it anywhere and he can jump up and go get it. It definitely helps to have somebody like him who can catch it."
Fort Hays State coach Mark Johnson described Graham's game in a way that made it easy to picture the point guard with the ball in his hands.
"He plays with such poise and pace," Johnson said. "When I think about him, I just think about pace. He plays with the right pace. He's never in a hurry, but he still gets where he needs to go. He's a confident player right now, as he should be being in the program this long."
Leadership is an overused term in sports. Not every team has a natural one gifted with all the traits. Kansas does and it's Graham's turn to play that role without sharing it or checking it in any way.
"You can tell he probably leads them off the court as much as he leads them on the court. Just a great player who has been in the program for four years," Johnson said. "I think that torch has been passed to him by (Frank) Mason; just a tremendous player."
https://www.youtube.com/watch?v=otz0CD3-AlA
https://www.youtube.com/watch?v=It_Sd7lcZN0
https://www.youtube.com/watch?v=qS0Dk50QafA
---
More news and notes from Kansas vs. Fort Hays State