On Broadway, the goal of a final dress rehearsal is to run through the material as smoothly and flawlessly as possible.
At Allen Fieldhouse, it's a bit of a different story.
As expected, the Kansas men's basketball team on Tuesday night closed out its exhibition season with an easy-on-the-scoreboard, 86-57 victory over Fort Hays State. But there was very little about KU's seventh exhibition victory since the end of last season that anyone would consider smooth.
And KU coach Bill Self was just fine with that.
"I think, in a final tune-up, it's better if it doesn't go perfect," Self said after the victory that featured a sluggish first half that ended with Kansas leading by just five points. "I'd rather play good in the first one and not as good in the second one. I actually thought we got a lot better this past week but we didn't look very good tonight. Hopefully we can get the guys' attention by (the regular season opener on) Friday."
Photo Gallery
Kansas basketball v. Fort Hays State (exhibition)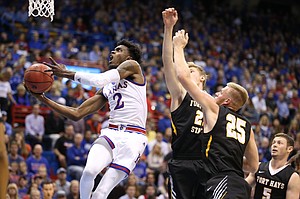 View a gallery of images from Tuesday night's exhibition game against Fort Hays State at Allen Fieldhouse.
And therein lies the reason Self was OK with the result of Tuesday's game, even if he was not as pleased with the individual parts that led to it.
Having a sloppy showing fresh in their minds figures to inspire increased attention to detail during the final few days before things begin for real.
"I think it always works that way," Self said. "No matter what you do last, you remember that. That can be motivation one way or another, so hopefully we'll have their focus starting (Wednesday)."
It wasn't just Self who thought Tuesday's finale was sloppy and sluggish. Pretty much everyone in a Kansas uniform both saw and contributed to the performance and realized as soon as the final horn sounded that what they showed Tuesday would not cut it most nights.
Senior point guard Devonté Graham, who led the Jayhawks with 27 points and eight assists on 8 of 12 shooting (6 of 10 from 3-point range) admitted after the game that he was merely glad to move past the team's final exhibition contest.
"I'm just glad we got it over with," Graham said. "Now we know how we have to come out, how we have to start games in order to be successful. We just didn't come out with energy. We came out real flat. That was basically it. We didn't come out how we should've."
Very little of the first half went the way the Jayhawks hoped and expected it would.
Rather than playing loose and letting their obvious size and athleticism advantages carry the day, Kansas looked lethargic on both ends. Lazy passes, undisciplined defensive possessions and a general lack of juice kept Kansas in second gear while the Tigers hung around and played with a nothing-to-lose attitude, growing more confident with each made basket.
At one point, after a hard back cut and strong 3-point play by Lagerald Vick (12 points, five rebounds, 30 minutes) on a precision pass from Billy Preston (11 points, 5 of 6 shooting, 23 minutes) with just less than five minutes to play in the half, the Jayhawks appeared to be on their way to opening up a sizable lead at 28-23 and with all kinds of momentum.
Forty-six seconds later, though, after a pair of deep and courageous 3-pointers from FHSU guard Trey O'Neil — one over Malik Newman and another with Preston's outstretched arm staring him in the face — Fort Hays State regained the lead and the momentum.
Kansas closed the half on a 10-4 run, with Newman and Graham accounting for all 10 of those points. But the largest deficit the Tigers faced in the first half was six points and FHSU either had the lead or the game tied for 4:11 of the first 20 minutes.
"I thought that they out-scrapped us," Self said. "We've got some issues guarding the ball. They just go around Malik and Svi (Mykhailiuk) too much and Billy and Mitch. That's four of our eight guys."
Self attempted to address that part of things by starting freshmen Preston and Garrett in place of Newman and senior Mykhailiuk in the second half. He saw the move pay off immediately.
"We wanted to try to play Marcus to give us some energy," Self said. "And Marcus made four plays in the first two minutes that Svi and Malik either don't make or can't make from an activity standpoint. So I thought it was good for those two to see Marcus out there doing that.
"If you're making shots, that can cover up a lot of things and Svi and Malik are both good shooters. But when you're not making shots and you don't give us any activity, there's absolutely no reason to play. I think they got the message."
Podcast episode
Kansas basketball coach Bill Self talks about his team's 86-57 exhibition win over Fort Hays State in its final preseason contest. Self discussed KU's defensive effort, Devonte' Graham's 27-point performance and preparing for Friday's season opener.
Mykhaiiluk and Newman combined to shoot 7 of 22 for the night, just 2 of 13 from 3-point range.
Although neither freshman was flawless in this one, Self said the extra effort given by Garrett and Preston rubbed off on the rest of the team and helped lead Kansas to a 48-24 advantage in the second half.
"It was better," Graham said of the second half. "We can always play better and come out with a little more energy, but coach got on us a little bit at halftime just about lack of effort and energy and he was completely right and we know we just have to start off better."
The Jayhawks' next opportunity to do that will come at 8 p.m. Friday, when Tennessee State visits Allen Fieldhouse for the regular season opener.
"I just said in the locker room, 'It's finally here now,'" Graham said Tuesday night. "All the exhibition games are behind us and now we got to go do what we've got to do."
https://www.youtube.com/watch?v=otz0CD3-AlA
https://www.youtube.com/watch?v=It_Sd7lcZN0
https://www.youtube.com/watch?v=qS0Dk50QafA
---
More news and notes from Kansas vs. Fort Hays State