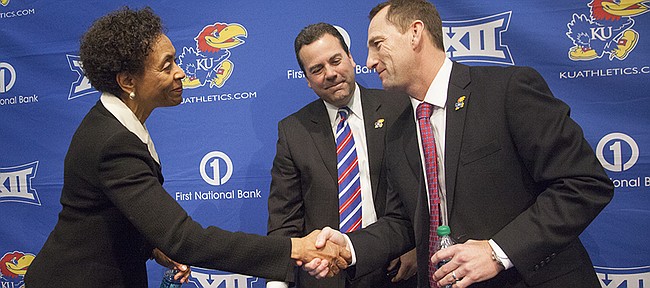 If only third-year Kansas head football coach David Beaty had followed his own advice, he might have more fodder with which to state his case for keeping his job beyond this season.
His attempt to say he's not concerned about his job security on Monday's Big 12 football coaches conference call had more holes in it than KU's secondary on a bad day.
"When I came here, I said, 'You're going to have to give me my contract to get things taken care of here,' because that's how you build it," Beaty said. "You build it with high school players that have been in your program for four to five years. And right now I look at our roster of scholarship guys who are playing, basically that are fourth- or fifth-year guys and there are eight of them. We have eight."
He's right that he inherited a tough, tough situation from Charlie Weis, who recruited far too many junior college and four-year transfers.
But the truth is Beaty has relied too heavily on them as well, and he won't have enough fourth- and fifth-year players in the fourth and fifth years of his original contract as he could have, had he recruited with more discipline and patience.
Revealing whether a player is on scholarship or a walk-on does not fall under the umbrella of Freedom of Information laws, so Kansas Athletics is not required to divulge that information. It's rare for a school to keep such information private, but Beaty has in some instances.
Anyway, I'm confident my numbers — which include only players given scholarships right off the bat, not after spending a year or two as a walk-on — are close. Linebacker Keith Loneker Jr., for example, spent one year as walk-on and therefore I won't include him in a list of transfers from four-year schools. Loneker was a freshman All-American at Baker University. I'm not positive that Nebraska graduate transfer Zach Hannon is on scholarship either, so I won't count him. I also believe that running back Deron Thompson came here as a walk-on, so he also is not counted as a transfer for the purpose of this examination of scholarships distribution.
By my calculations, Beaty has used 45 scholarships on high school players and 29 on transfers from either junior colleges or four-year schools.
Beaty has not practiced what he preached and still preaches.
Beaty's 21 junior college transfers, listed in alphabetical order: D'Andre Banks, Bazie Bates IV, Peyton Bender, Antonio Cole, DeeIsaac Davis, Hasan Defense, Jacky Dezir, Deondre Ford, Isi Holani, J.J. Holmes, Kerr Johnson, Ke'aun Kinner, Octavius Matthews, Willie McCaleb, Marnez Ogletree, Jayson Rhodes, Stephan Robinson, Keyshaun Simmons, Brandon Stewart, Shakial Taylor and Andru Tovi.
And then there are the eight transfers from four-year schools, only one of whom has played a down this season: Charles Baldwin, Daylon Charlot, Denzell Evans, Corey King, LaQuvionte Gonzalez, Quincy Perdue, Marquis Roberts, Joshua Stanford.
Evans, who suffered a career-ending injury in the summer, was a productive special-teams player. Charlot has the potential to develop into a safety for KU after catching one pass for no gain. It's too early to predict how that will turn out, but he's a good enough athlete to make it work. Baldwin, the other Alabama transfer, hasn't played a down. Roberts, when healthy, was a productive member of the defense in the 19 games in which he played, but Kansas went 0-19 in those games. Perdue never played and Stanford caught three passes. They didn't stay long. Gonzalez was dismissed from the team in the offseason. King started at defensive tackle for an 0-12 team.
Athletic director Sheahon Zenger issued through department spokesman Jim Marchiony a statement in support of Beaty that in part read, "When we hired David we knew it was going to be a long process considering the roster numbers we were dealing with at the time."
That's the closest Zenger has come to saying he botched his first football hire, Charlie Weis. The problem with that is that Zenger knows full well that situation was created by Weis taking too many transfers and that Beaty has taken too many transfers as well. Not as many as Weis, but too many. So Beaty and Zenger both are guilty of either revisionist history or deep denial. Either way, not good.
Zenger also said of Beaty, "I have faith, as I did the day we hired him, that he will rebuild this program the right way."
Translation: No way I get a third hire, so I might as well back my second hire.
That "faith" can't be based on Beaty's record, which is 3-30, including a 1-29 mark against FBS foes.
Zenger also said he knows "from experience that coaching continuity and upgrading facilities equal to our peers' are critical to the building of a successful Power 5 program, which is what we all want."
Coaching continuity? He fired Turner Gill after 24 games and Charlie Weis after 28. Firing hasn't been Zenger's problem. Both coaches deserved the heave-ho. It's the hiring Zenger can't seem to get right.
Dave Doeren, then head coach at Northern Illinois, wanted the job that went to Weis. He's in his fifth season at North Carolina State and has a 6-3 record this year. Doeren will get the opportunity to coach in a fifth bowl game. He's 3-1 so far in bowls.
After firing Weis, had Zenger hired someone along the lines of Willie Fritz (then at Georgia Southern, now at Tulane) or Troy Calhoun (Air Force), those proven head coaches could have brought the majority of their staffs with them, which would have supplied instant staff chemistry and continuity that has been lacking during the Weis and Beaty years.
In Beaty's three seasons, he has had three offensive coordinators, three quarterback coaches, three wide receivers coaches, three defensive line coaches, two special-teams coordinators, two linebacker coaches and two running backs coaches.
Defensive coordinator Clint Bowen, Kenny Perry (cornerbacks) and Zach Yenser (offensive line) are the only holdovers from his first staff. A 33 percent retention rate in the third season does not meet the standards of the word "continuity."
Chancellor Douglas Girod, put in a sticky position by his predecessor when Bernadette Gray-Little extended Zenger on her way out the door of the mansion on Lilac Lane, will have the ultimate say on the futures of Zenger and Beaty. Efforts to reach Girod Monday through a university spokesman were unsuccessful.