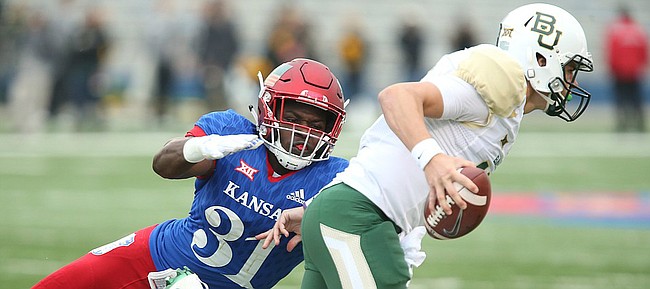 The flyover before kickoff Saturday morning at Memorial Stadium could be heard but not seen. The cloud that has hovered over Kansas football for nearly a decade blocked it from view, a harbinger of what was to come on a day in which little went according to plan.
Baylor, which opened its season losing to Turner Gill's Liberty University squad and came to town winless, left with a 38-9 clobbering that pushed Kansas into sole possession of last place in the Big 12.
KU's record dropped to 3-30 under third-year coach David Beaty, who has a 1-23 record in Big 12 games and a 1-29 mark vs. FBS competition.
Either Baylor has come a long way since losing to Gill's team or Kansas has gone backward since firing Gill or maybe a little of both.
Kansas athletic director Sheahon Zenger fired Gill after the Jayhawks went 5-19 in two seasons, but the team's academic performance was an even bigger factor in the quick dismissal.
Photo Gallery
Kansas football v. Baylor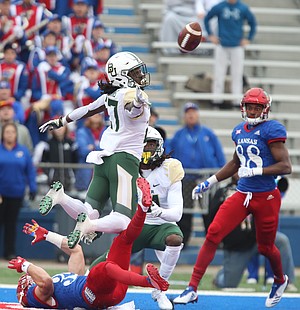 View a gallery of images from the Jayhawks' home game against the Bears on Saturday at Memorial Stadium.
Charlie Weis, Zenger's first hire, was hired in part to clean up the academic problems in the program. To a large extent, he did so by dismissing a large number of players, which created a scholarship void he filled by loading up on transfers from four-year schools and junior colleges. That quick-fix approach that led to an imbalance in recruiting classes set a barren table for Beaty, Zenger's second hire.
Beaty started with fewer scholarship players than an FCS school, went 0-12 his first season, 2-10 his second and after an upset of Texas received a contract extension that included a pay raise from $800,000 to $1.6 million, still on the low side for a Big 12 coach, and a $3.2 million buyout.
The scholarship gap that Beaty inherited has been largely closed, although not 100 percent of the way. That was part of what gave him confidence heading into his third season.
"We said long ago that Year 3 should be a year where we start seeing dividends," Beaty said at Big 12 Media Day in July.
It hasn't happened and with three tough tests remaining — at Texas, at home vs. Oklahoma, at Oklahoma State — it's not going to happen.
After Saturday's loss, Beaty bristled at the suggestion that Baylor coach Matt Rhule has inherited a challenge similar to the one he inherited at Kansas.
"Well, I'll say this: They're nowhere near where we were. We were down 30-plus scholarships. They're not even remotely close to that," Beaty said. "I said that there's some things that they're facing. So they're not even close to where we were. We're still not there. But that's no excuse. Like I said, Matt is a good coach. He did a good job."
Playing short of scholarships is no way to compete in a tough conference, but the problems run far deeper than scholarship numbers, given that this year's team has fared similarly to Beaty's first in Big 12 play.
In 2015, Kansas went 0-12 and in nine Big 12 games was outscored by an average margin of 47.8-12. In six conference games this season, KU has lost by an average margin of 46.2-13.7.
KU played its best game last week, losing to Kansas State, 30-20, which created the opportunity to get a little momentum going for the program with Baylor in town. Nothing carried over from last week's improved play on offense and defense and the most stunning numbers in college football grew.
Zenger's hires, including interim coach Clint Bowen, whose team played with more passion than Weis', have combined for a 10-59 record, 5-58 vs. FBS competition, 3-48 in Big 12 games.
Despite the failure to identify a fix for the football program, Zenger received a contract extension that included a $1.4 million buyout from outgoing chancellor Bernadette Gray-Little.
New chancellor Dr. Doug Girod now basically has limited paths from which to choose:
1 - Leave Zenger and Beaty in place and still face the same combined buyout of $4.6 million a year from now if nothing changes. This runs the risk of ticket sales plummeting to an even greater degree, thus leaving tons of money on the table. It also begs the question: What has either man done at Kansas to suggest that he will figure out how to fix KU football?
2 - Replace Zenger now with an interim athletic director and find a new AD in time to hire a new football coach.
If no major donor is ready to pay the freight on the buyouts and the more expensive football coach, the chancellor must hit up KU Endowment for help to stop the football program's bleeding.
— See what people were saying about the game during KUsports.com's live coverage.
---
More news and notes from Kansas vs. Baylor