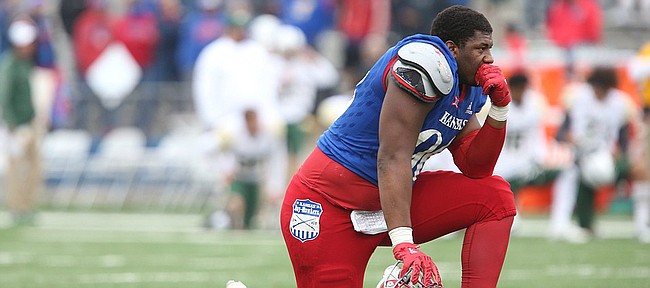 In a game the Kansas football team needed desperately to win, the Jayhawks' defense spent the majority of what proved to be a 38-9 victory for previously winless Baylor without a key member of its secondary.
Junior Shakial Taylor, who has started every game this season at cornerback since transferring to KU from Mesa Community College (Ariz.), suffered an undisclosed leg injury in the first quarter, on the Bears' third possession.
A scoreless game at the time, it didn't remain that way long, as freshman BU quarterback Charlie Brewer soon found his way and put up career numbers — 23-for-29 passing, 315 yards, three touchdowns, no interceptions — against the Kansas secondary.
"Obviously for a starter to go down it's not favorable," junior defensive tackle Daniel Wise said. "But Kyle Mayberry stepped up and did what he could. We've just got to do better overall."
Photo Gallery
Kansas football v. Baylor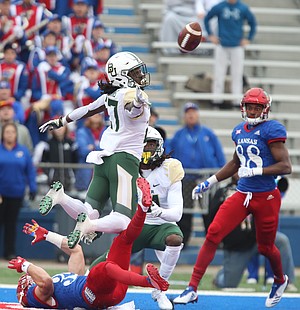 View a gallery of images from the Jayhawks' home game against the Bears on Saturday at Memorial Stadium.
Mayberry, a sophomore who filled in as a starter for corner Hasan Defense two games earlier this season, surrendered a couple of big pass plays on BU's first touchdown drive in Defense's place and finished seven total tackles and a pass breakup.
"Shak's a great player," said KU junior linebacker Joe Dineen. "But Kyle stepped in and we have all the confidence in the world in Kyle. Kyle's a stud, but losing Shak it does hurt, because he's our starting corner and there's a reason he's our starting corner. But you know, you've got to next-man-up. Losing a guy, there's not an excuse for what happened because we lost a guy. That has nothing to do with it."
Lee injured in second half
The Kansas secondary suffered another blow in the third quarter, when sophomore safety Mike Lee hit his head while attempting to break up a pass in the end zone.
Lee, who made seven total tackles prior to the scary moment, remained on the turf for a few minutes as KU trainers addressed his injury and many of his teammates took knees and watched nearby.
"I was praying for him," Dineen said. "He was limp for a while and I was getting nervous. You know, you see stuff like that happen it kind of puts things into perspective. In all honesty we're out here and we're playing, we're Division I athletes and we're playing a football game, and that's pretty damn cool. Obviously we go out there and compete every day but seeing a guy like Mike go down, who plays hard like that, it kind of puts things into perspective."
Podcast episode
Kansas football coach David Beaty talks about the team's disappointment in a 38-9 loss to Baylor on Saturday and the need for scoring touchdowns on offense instead of settling for field goals.
Dineen, though obviously upset with the loss for Kansas (1-8 overall, 0-6 Big 12), was happy to see Lee walk off the field with the help of KU staffers.
"Don't get me wrong, it is super-important, but to be healthy and for Mike to get up from that, that's more important than the outcome of the game," Dineen said.
No update on Lee's status was provided following the loss.
Starting lineup
Kansas started Clyde McCauley III at right tackle for the second straight game in place of the injured Zach Hannon.
Junior defensive tackle KeyShaun Simmons started for the first time in his career, replacing Josh Ehambe, who did not play.
Woodling remembered
In the Memorial Stadium press box Saturday, a spot was reserved for former Lawrence Journal-World sports editor Chuck Woodling, who died earlier this week. A placard featuring Woodling's name sat in the middle spot of the front row.
A moment of silence for Woodling was observed in the press box, as well, prior to kickoff.
Services for Woodling are scheduled for Nov. 18, at 11 a.m., at First Presbyterian Church, 2415 Clinton Parkway.
— See what people were saying about the game during KUsports.com's live coverage.
---
More news and notes from Kansas vs. Baylor