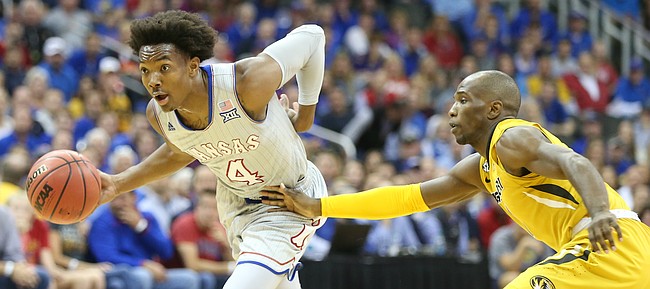 It's still early, and the sample size is small, but there already exists enough evidence to suggest that the work Kansas senior Devonte' Graham put in this offseason in one key area might be paying off.
With Frank Mason III and Josh Jackson no longer on the roster, the Jayhawks entered the offseason in dire need of finding someone — or perhaps multiple players — who could get to the rim.
KU coach Bill Self said throughout the offseason that junior Lagerald Vick was by far the 2017-18 team's best player at getting his shoulders past his defender and getting into the lane to make a play, but with Graham figuring to have the ball in his hands at least twice as often as Vick — if not more — improving that skill was crucial for Graham, too.
After showing next to no signs of attacking the paint during the team's four exhibition games in Italy in August, Graham returned to the U.S. and slowly started unveiling his progress.
First was Late Night, when Graham attacked the basket with tenacity the first three times he touched the ball. Then came the exhibition win over Missouri at Sprint Center and finally, last Tuesday's exhibition win over Pitt State, when Graham scored little but still set up teammates to the tune of five assists in 23 minutes.
Even when Graham's passes did not lead directly to buckets, he still showed a strong desire and willingness to get into the paint and put pressure on the defense.
"In practice, coach will be telling us, 'Down hill, down hill,'" Graham said. "And every time I get the ball now I'm thinking, 'Go make a play.' It ain't no more, 'Here, Frank. You go make the play.' Now, once I get it, I'm just thinking try to get my shoulder past my guy to get somebody a shot or get to the basket and get fouled."
While operating in traffic came naturally for both Mason and Jackson, it is not quite as easy for Graham. Getting comfortable in the teeth of the defense has been a work in progress and is something he finally feels has clicked for both his body and mind.
"Coach told me I need to get to the free throw line a lot more this year," said Graham, referring to the spot Mason stood an average of seven times per game last season, compared to 2.5 trips per game for Graham. "So that's something I've been working in practice. Get to the basket, try to get fouled, dump off to Udoka (Azubuike) or get a shot for somebody else. I don't even think about it, just trying to be more aggressive, as far as getting into the paint and making plays."
Graham is far from the only Jayhawk on the current roster who emphasized expanding his game to include more trips to the paint this offseason. Senior Svi Mykhailiuk, who heard his share of feedback from pro scouts about this very skill, and sophomore transfer Malik Newman, who figures to handle point guard duties whenever Graham is not on the floor, also have made the determined decision to do more damage off the dribble.
"We have," Newman said. "That's one of the main things they talked to us about coming into the season, just being able to get downhill and being able to get to the free throw line. Free throws are a very important part of the game, whether you know it or not. And if we're able to get to the line it'll open up the game for other players because (the defense) can't play as aggressive."
Whether Graham, Newman or Mykhailiuk are fully able to fill the void left by the departure of Mason and Jackson remains to be seen. And, quite frankly, no one is expecting the current KU backcourt to reach that level or even come close to emulating players like Tyshawn Taylor, Sherron Collins, Wayne Selden or Andrew Wiggins.
But it won't be for lack of trying and both Graham and Newman now believe that they have successfully conditioned their minds to think attack before pass, shoot or anything else.
"If it's not there you can't force it," Newman said. "But just try to get into the paint every possession. If you can touch the paint every possession, that means that your big has a shot, you have a shot or one of your shooters has a shot because the defense will have to suck in to respect it."
---
• KUSPORTS.COM QUIZ: Test your knowledge of the history of Allen Fieldhouse and enter to win a $25 Visa gift card.
---