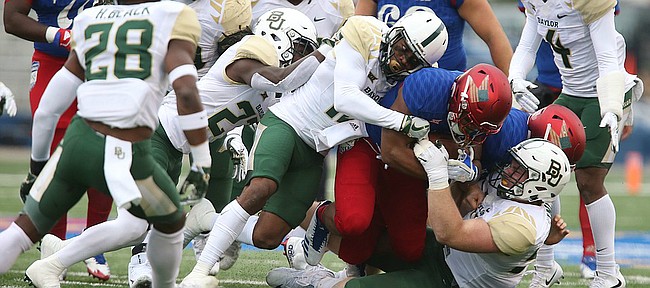 In a game between the bottom two teams in the Big 12 Conference, the Kansas football team stumbled into some of the same problems that have plagued the team all season. A multiple touchdown deficit at halftime. The offense never found the end zone.
By the end of Saturday's game against Baylor, the Jayhawks stood alone in last place of the Big 12, losing 38-9 at Memorial Stadium against a previously winless opponent.
Behind true freshman quarterback Charlie Brewer, in his first career start, Baylor (1-8, 1-6 Big 12) snapped its winless skid to open the season with three touchdown drives in the second quarter. The Jayhawks (1-8, 0-6 Big 12) never recovered.
Kansas starting quarterback Carter Stanley completed 17 of 33 passes for 155 yards and an interception. Peyton Bender replaced Stanley midway through the fourth quarter with the game out of reach. Receiver Steven Sims had seven receptions for 42 yards, hounded by Baylor's secondary when he tried to run after the catch.
The Jayhawks averaged 4.2 yards per play, which included 126 rushing yards on 33 attempts. Khalil Herbert had 71 yards on 10 carries. Forty-three of those yards were on his longest play.
When Kansas moved the ball inside of the red zone twice, the offense was held to a pair of field goals. KU kicker Gabriel Rui made 3 of his 4 attempts, including a long of 43 yards.
Brewer, a former SMU commit, was 23 of 29 passing for 315 yards and three scores. He tossed a nine-yard touchdown pass to Ish Wainright, a former Baylor basketball player, at the end of the fourth quarter. Baylor receiver Denzel Mims had five catches for 122 yards.
Photo Gallery
Kansas football v. Baylor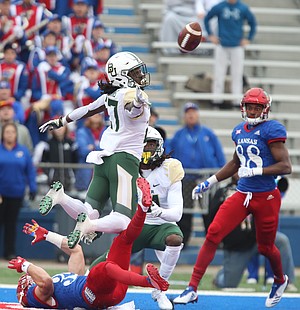 View a gallery of images from the Jayhawks' home game against the Bears on Saturday at Memorial Stadium.
Podcast episode
Kansas football coach David Beaty talks about the team's disappointment in a 38-9 loss to Baylor on Saturday and the need for scoring touchdowns on offense instead of settling for field goals.
Here's a quick look back at some of the action:
• The game turned when: Baylor scored touchdowns on three straight drives at the end of the first half. After the Bears had trouble moving the ball in the first quarter, they responded with 21 points before halftime.
Following Rui's first field goal, Baylor put together a 3-play, 75-yard drive to take a lead it would never relinquish. Denzel Mims had a 56-yard catch-and-run, and Brewer completed the scoring drive with 26-yard touchdown pass to Gavin Holmes.
Afterward, the Bears never lost their rhythm. Brewer tossed another 25-yard touchdown pass to Jordan Feuerbacher and Holmes added a four-yard rushing score with a little more than two minutes remaining in the first half.
With a 21-6 lead at halftime, Baylor's lead was never threatened in the second half.
• Offensive highlight: In the middle of the second quarter, trailing by 11 points, Stanley stood in the pocket and connected on a 36-yard pass to receiver Evan Fairs over the middle of the field.
It pushed the Jayhawks all the way down the 15-yard line, but they couldn't take advantage of the play and settled for a 40-yard field goal from Rui. Fairs' catch was KU's longest pass of the day.
• Defensive highlight: In the first quarter, KU's defense held the Bears to 15 plays for 52 yards, which included three punts. Most of that success was through the Jayhawks' run defense with junior linebacker Joe Dineen making a couple of stops in the backfield.
The strong start from KU's defense, however, didn't last long with several miscues in the second quarter.
• Key stat: 3rd down conversions. Kansas was an abysmal 3-of-16 on third down Saturday (20 percent), which led to a trio of three-and-out punts. It especially hurt the Jayhawks inside of the red zone, where they were forced to settle for field goals instead of hunting for touchdowns.
By comparison, Baylor was only 7-of-16 on third downs. On the Bears' second scoring drive, they converted a pair of 3rd-and-4 opportunities. During the third scoring drive, right before the end of the first half, they secured a first down on 3rd-and-10.
• Up next: The Jayhawks will go on the road to play Texas at 5 p.m. next Saturday at Darrel K Royal Stadium. KU has lost 44 consecutive road games dating back to 2009. It's tied for the longest streak in FBS history, along with Western State (1926-36).
HOW THEY SCORED
SECOND QUARTER
14:24 — Gabriel Rui 38 field goal. Fifteen-play drive for 75 yards, in 4:55. (KU 3, BU 0.)
13:15 — Gavin Holmes 26 pass from Charlie Brewer. Connor Martin Kick. Three-play drive for 75 yards, in 1:09. (BU 7, KU 3.)
7:03 — Jordan Feuerbacher 25 pass from Brewer. Martin kick. Nine-play drive for 74 yards, in 4:31. (BU 14, KU 3.)
4:18 — Rui 40 field goal. Seven-play drive for 41 yards, in 2:37. (BU 14, KU 6.)
2:29 — Gavin Holmes 4 run. Martin kick. Five-play drive for 56 yards, in 1:42. (BU 21, KU 6.)
THIRD QUARTER
10:39 — Rui 43 field goal. Eleven-play drive for 64 yards, in 4:17. (BU 21, KU 9.)
2:51 — Terrence Williams 1 run. Martin kick. Ten-play drive for 54 yards, in 4:39. (BU 28, KU 9.)
FOURTH QUARTER
8:45 — Martin 38 field goal. Eight-play drive for 35 yards, in 4:28. (BU 31, KU 9.)
2:31 — Ish Wainwright 9 pass from Brewer. Martin kick. Nine-play drive for 49 yards, in 4:46. (BU 38, KU 9.)
— See what people were saying about the game during KUsports.com's live coverage.
---
More news and notes from Kansas vs. Baylor