Saturday, November 4, 2017
It's not often that former Kansas football defensive lineman Gilbert Brown makes it back to Lawrence, but the one-time Super Bowl champion with the Green Bay Packers, who splits his time between Michigan and Wisconsin these days, didn't think twice about making the journey this weekend.
"I am so ecstatic," Brown said ahead of seeing his name added to the Jayhawks' Ring of Honor Saturday, during KU's 38-9 loss to Baylor, "because of the decisions I made to come here, and I feel like I'm being rewarded for those decisions. KU has been something of a godsend to me, because they gave me an opportunity to play football and get an education. My mom couldn't have paid for that. My football abilities got me my education, so I thank the University of Kansas first of all for that part of it."
A prep standout at Detroit's Mackenzie High back in the late 1980s, where he teamed with Jerome Bettis, Brown ended up at KU, playing for head coach Glen Mason even though he thought he wanted to go to Minnesota and he had offers from Michigan and Michigan State. He credits former KU assistant Reggie Mitchell, who recruited the massive defensive lineman, for setting his career on an alternate path.
"Reggie Mitchell smooth-talked me into the University of Kansas," Brown said, with a chuckle.
Photo Gallery
Kansas football v. Baylor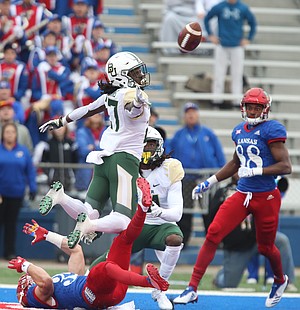 View a gallery of images from the Jayhawks' home game against the Bears on Saturday at Memorial Stadium.
Back in town with several members of the 1992 KU football team that finished 8-4 and won the Aloha Bowl, Brown remains grateful for that decision, which caused many around him in Detroit to scoff at the time.
He said having his name join the Ring of Honor in the northeast corner of Memorial Stadium qualified as a last laugh, just as much as it was a personal milestone.
"It means everything to me," Brown said of the distinction, "for the simple reason that when I chose the University of Kansas everybody back home told me I was stupid, that I was dumb. 'I mean, you're going to leave the Wolverines to go to some school in Kansas? That's a basketball school! Who gives a crap about them?' But it was a challenge to me because I have an opportunity to go in this place and don't have to sit on the shelf for two or three years, got an opportunity to come in and if I do good, start, and build something up. Thank God at the end of my four years we went to the Aloha Bowl."
In Brown's senior season of 1992, the Jayhawks went 8-4 overall, and 4-3 in the Big Eight, good enough for third place. They defeated BYU in the Aloha Bowl, 23-20, and finished the season ranked No. 22 in the AP poll. That came after seasons of 4-7 (1989), 3-7 (1990) and 6-5 (1991).
"It felt awesome," Brown said of ending his Kansas career with a bowl victory, "because I made that decision for myself. I wasn't pushed into it. … At the end of my four years that Aloha Bowl came up — that was my reward for me, because I made the right decision to come to the University of Kansas. Because we didn't get a bowl win in year one, year two, year three, but at the end of my deal I got a bowl game."
While the former defensive lineman didn't predict any specific future success for current KU head coach David Beaty, Brown did endorse Beaty before the Jayhawks' home loss.
"I might get in trouble for saying this: I really think Charlie Weis pushed this organization back a few steps," Brown said of Beaty's predecessor. "I really do. And I think Coach Beaty, who's here now, can really turn it around if they stick with him and give him … ammunition."
Brown added of Beaty: "I think he is a great coach, but what he has right now to coach with is challenging. I think you have to get him the athletes in here. You've got to be brutally honest sometimes and sometimes people don't want to hear the truth."
After his KU career ended, Brown went on to become a third-round NFL Draft pick of Minnesota in 1993 and had a 10-year pro career and won a Super Bowl with Green Bay.
— See what people were saying about the game during KUsports.com's live coverage.
---
More news and notes from Kansas vs. Baylor