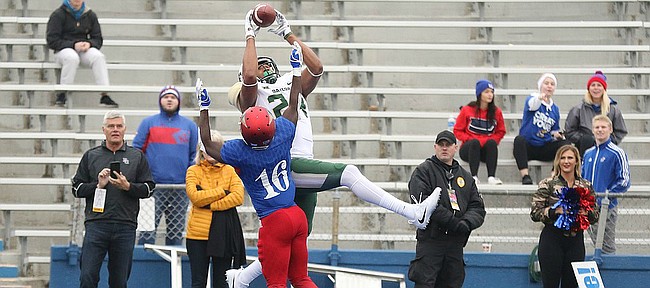 On a gray Saturday afternoon at Memorial Stadium the Kansas football season sunk to new levels of dreariness.
Void of any sign of progress and lacking the ability to keep up with previously winless Baylor, the Jayhawks flatlined in what appeared to be their best chance for a victory since their season opener against non-FBS competition.
The Bears didn't score any points off either of the Jayhawks' two turnovers. No special teams disasters doubled as early holiday gifts for BU's offense. Baylor simply proved more competent and effective than KU in a 38-9 beating.
Third-year Kansas head coach David Beaty, who had emphasized the importance of the matchup between the Big 12's two worst teams, said he had no words of encouragement for his players after Kansas fell to 1-8 overall, 0-6 in the Big 12 this season and 3-30 in Beaty's close to three full seasons on the job.
"There's not going to be a pep talk after a game like that," Beaty said. "We expected to win and we didn't do it."
Photo Gallery
Kansas football v. Baylor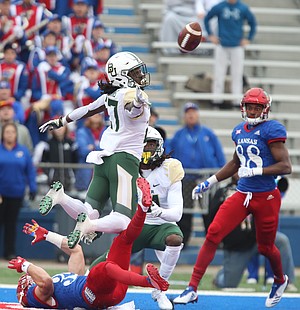 View a gallery of images from the Jayhawks' home game against the Bears on Saturday at Memorial Stadium.
In front of an announced crowd of 21,797, the Bears won their first game under first-year head coach Matt Rhule and held an opponent without a touchdown for the first time since a 70-6 romp over Northwestern State, in 2014. BU, which out-gained Kansas 455-289 in total yardage, held a Big 12 opponent without a TD on the road for the first time since 2006, at Kansas State.
Ten of KU's 13 offensive possessions traveled 28 or fewer yards.
"There's no excuse for that," Beaty said of the various offensive woes, after starting quarterback Carter Stanley completed 17 of 33 passes for only 155 yards, with an interception, and Khalil Herbert led the rushing attack with 10 carries for 71 yards.
In the meantime, first-time starter Charlie Brewer, Baylor's freshman quarterback, connected on 23 of 29 throws for 315 yards and three touchdowns.
"I felt ready to go. I felt prepared," Brewer said after setting career highs in completions, passing yards and passing touchdowns. "I think all the other guys did, too, and I think that it showed."
Podcast episode
Kansas football coach David Beaty talks about the team's disappointment in a 38-9 loss to Baylor on Saturday and the need for scoring touchdowns on offense instead of settling for field goals.
Junior defensive tackle Daniel Wise said BU's passing success — Denzel Mims benefited to the tune of five receptions and 122 yards — proved to be one of the more glaring issues for the Jayhawks' defense.
"The quarterback got into some kind of rhythm. We didn't shut him down as much as we should've," Wise said. "We stopped them in the run game (120 rushing yards, 3.1 yards per carry). They couldn't run. But somehow he got in a rhythm. But we'll do better."
After once again leading KU with 11 total tackles, junior linebacker Joe Dineen, who made one of the team's two sacks and four tackles for loss, as well, said the defense had players out of gaps and using wrong leverages on coverages.
"I'm not happy obviously," Dineen said. "What we put out there today was embarrassing and unacceptable. That can't happen. We worked too hard. Everyone works hard but that's unacceptable, what happened today."
For the second week in a row, KU took a brief first-half lead. After a scoreless first quarter, the Jayhawks were first on the board, but the drive, like many to come, doubled as a bit of a buzzkill. The Jayhawks picked up 75 yards on the series and had to settle for a 38-yard field goal.
That 3-0 advantage lasted all of 1:09 on the game clock, as the Bears (1-8, 1-5) needed just three plays to go 75 yards, and Brewer delivered BU the lead for good with a 26-yard touchdown pass to Gavin Holmes.
The only other somewhat promising drives by KU's offense — for 41 yards in the second quarter and 64 yards in the third — also ended in field goals, as Rui split the uprights from 40 yards and a career-best 43 yards.
Asked whether settling for field goals so often — Rui went 3-for-4 and KU never finished a drive inside the red zone — weighed on the team, Wise replied, "I believe it does. I'm not quite sure what goes on that side of the ball so I'm not going to speak too much about it. Gabriel Rui did a good job putting points on the board."
Wise answered questions on the offense settling for field goals because neither Stanley nor junior receiver Steven Sims Jr., who were requested for interviews, were available for comment after the loss. According to a KU official, Stanley was in the training room receiving treatment and Sims did not choose to attend the media session.
Stating the obvious, Beaty said KU has to score touchdowns.
"Where we really have to become better is we have to — once we get inside that plus-30, that first down after that plus-30 has got to be good, because if you just go back and look at it, first down after plus-30 has been, it's been going backwards or it's been a stalemate and almost without exception we're in a third-and-long situation," KU's coach said after his team went 3-for-16 on third-down tries. "You give them an advantage when you do that."
The no-show against Baylor, which all but officially ended late in the third quarter, when the Bears came out of a timeout on fourth-and-goal at KU's one-yard line and took a 28-9 lead after Terence Williams rushed into the south end zone, proved most regrettable because the Jayhawks had challenged Kansas State in a 30-20 defeat seven days earlier.
"You take those two weeks back-to-back, and obviously you want to be able to build on it, and we didn't do that today, and that's more than frustrating," Beaty said. "But … there's going to be three more games here, and we'd better be ready to go because I know those guys are going to be ready to go. We'd better be ready."
Those words proved more lengthy than the ones KU's coaches had in the locker room after another embarrassing defeat.
"There's really nothing to be said," Wise related. "We know what we should've did when we went out there, just didn't do a great job executing. That's what it is."
Wise, like Beaty, said KU expected to win against Baylor. The 29-point loss left the defensive lineman, his teammates and coaches visibly irritated.
"It's very frustrating. It's a game we know we should've come out with a victory and it's just beyond frustrating," Wise said. "We haven't been consistent. Last week we had a really good week and this week was kind of a falloff. …But it is frustrating. It is."
KU travels next week to play at Texas.
— See what people were saying about the game during KUsports.com's live coverage.
---
More news and notes from Kansas vs. Baylor