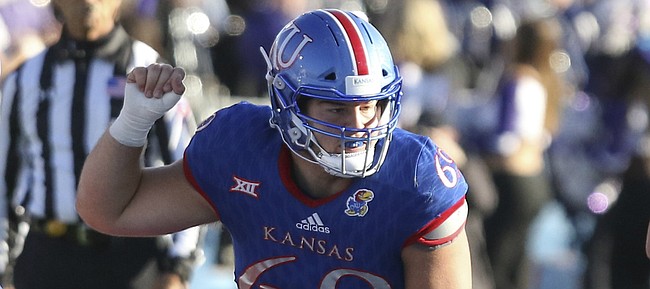 Redshirt sophomore center Mesa Ribordy isn't the type of football player to tout his own performance or boast about how much he means to the Kansas offense.
Don't worry. His teammates and coaches will.
"Mesa's the most important player on our offensive line, and maybe on our offense," fellow first-string blocker Hakeem Adeniji said, "because of the things he does to direct traffic up front and getting us on the same page. You saw what happened without him out there."
As the Jayhawks' starting left tackle Adeniji referenced, the offense nosedived without Ribordy. When the 6-foot-4, 305-pound Louisburg native had to watch from his couch in Lawrence during KU's trips to Iowa State and TCU, his teammates managed just 106 yards one Saturday and 21 the next in increasingly more embarrassing shutouts.
Podcast episode
On this episode of the KU Sports Hour, hosted by KU football beat writer Benton Smith, the KUsports.com staff discusses KU's 30-20 loss to K-State. Topics include: KU's special teams issues (open-7:16), Carter Stanley's big day (11:45-19:45), players of the game (19:45-27:35) and the KUsports.com football mailbag — the "Siesta" ...
When Ribordy received clearance to return from injury before KU's ensuing home date with Kansas State, Adeniji and others anticipated a boost.
"We knew going into the week. I was excited to have him back," Adeniji said, "because I know everything he does."
Ribordy had a more modest explanation for why Kansas (1-7 overall, 0-5 Big 12) produced 482 yards of offense in a 30-20 loss to K-State, once he resumed his position over the ball and redshirt sophomore Carter Stanley became the new starting quarterback.
"It's hard to take what your coaches are saying in meetings, looking at it on the board, looking at it on film and applying it immediately to a group or team in a full-go setting," Ribordy said of the O-line's struggles in his absence. "That's never easy to do, but we did a really good job of it this (past) week and that's what helped us so much in our preparation."
Without Ribordy, KU coaches tried Jacob Bragg and Zach Hannon at the center spot to no avail.
"I think I've got, honestly, just experience on those guys at center, which helps me a lot," Ribordy said. "I think those two guys are really good players. It's just that it's hard to play center when you haven't played it for six weeks and you haven't been running the scheme that we ran against certain defenses. It's always going to be hard. But I thought those guys did an OK job. I thought they did their best coming in. I think experience coming in gives me the edge."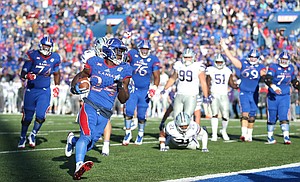 Stanley, who passed for 418 yards with Ribordy in front of him, certainly appreciated the center's impact.
"Mesa's awesome just from a physical standpoint obviously," Stanley said. "But just communication and how well he looks at the defenses and diagnoses things, he's great for us. I think that O-line played incredible (versus K-State). And I'm really proud of those guys."
Third-year Kansas football coach David Beaty doesn't like to openly claim one player in the program is more valuable than others, but he admitted Ribordy is a "crystal-clear" starter, meaning the snapping, blocking former walk-on has no match on the depth chart.
When Beaty reviewed the footage of KU's loss to K-State it was easy to see examples of Ribordy's presence benefitting every player on the offense.
"First of all, that guy controls everything from a communication standpoint. He's the quarterback up front. He really is. He's a quarterback for not only him, but everybody else that's ever involved in protection and directing where the points are for your run game," the KU coach said. "That, more than anything, just being accurate with those things. He's a smart, intelligent guy. He's seen a lot of different teams and a lot of different things now. It's a little bit more just natural for him now. He understands where pressure is coming from. He knows where they're moving. He understands when they're going from a one-backer box to a two, or a two- to a three-backer box. He gets that because he sees it, and he's seen it over and over again. That as much as anything helps."
The previous two weeks had frustrated everyone involved with the KU offense. When Ribordy came back his value seemed more evident than ever.
Not that he would ever take credit for it.
"I think we gave up some opportunities the last few weeks. I think we all know that," Ribordy said of unproductive losses while he was injured. "We all know we didn't play as well as we should have or could have, so that's always frustrating. But there's nothing we can do about it now. We just have to keep moving forward, keep pushing, keep fighting and see what we can do."
Kansas plays host to winless Baylor (0-8, 0-5) Saturday at Memorial Stadium (11 a.m. kickoff, FOX Sports Net).