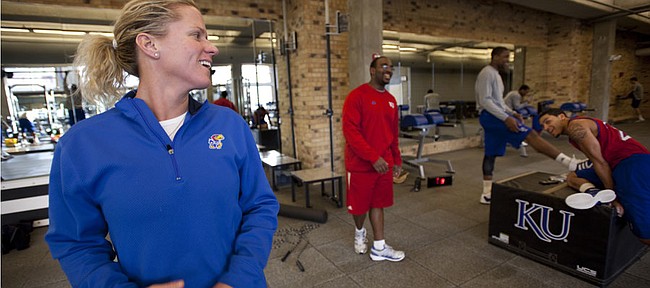 The National Strength and Conditioning Association on Wednesday confirmed something that those connected to Kansas basketball already believed — Andrea Hudy is a treasure.
Set to begin her 14th season with the KU men's basketball program, Hudy on Wednesday received the NSCA's Impact Award given annually since 1997 to "an individual whose career has greatly contributed to the advancement of the national or international strength and conditioning or fitness industries."
Hudy, who has been instrumental in the success, health and overall development of the men's basketball program since teaming up with KU coach Bill Self after a similarly successful seven-year run at Connecticut, said being recognized in this manner was an honor.
"As someone who has cultivated the craft from the influence and example of so many great coaches, researchers and mentors, it is overwhelming and humbling to be recognized with this distinction," she said in a news release. "The University of Kansas and Kansas Athletics' continued support for the advancement of technology and research in sport performance has been the means of advocacy, vigor and stamina in our ceaseless pursuit of knowledge and best practices."
Known for utilizing, experimenting with and even helping to developing some of the most cutting-edge technology available to today's athletes, Hudy has always viewed her role with the program as one of an educator first.
In the summer of 2012, Kansas became a signature school for the EliteForm training system, which integrates technology into workout sessions. KU was also the first to use the SpartaTrac™ system to optimize players' individual strength programs to improve performance and decrease chance of injury.
Self, who always has made it a point to acknowledge the importance of Hudy's role, often has referred to her as another assistant coach, deserving of the same respect and appreciation as the rest of his staff.
Becoming the recipient of this year's Impact Award marks the second time Hudy has been honored by the NCSA. In 2013, Hudy was named the National College Strength and Conditioning Coach of the Year by the NSCA for her dedication to improving athletic performance with safe and effective science-based programs.
During her time at Kansas, Hudy has worked with 20 Jayhawks who were drafted into the NBA, a number that figures to go up a couple in late June.