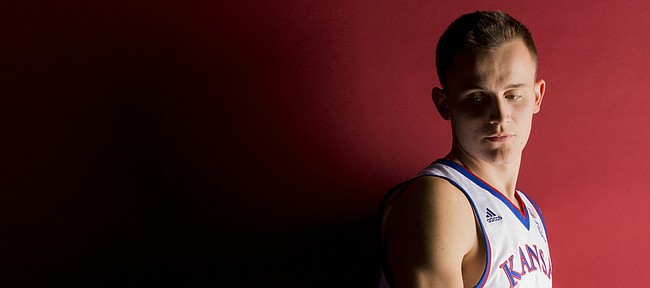 With Landen Lucas gone from the Kansas basketball roster, sophomore-to-be Mitch Lightfoot is poised to step into the role of Kansas big man who has played the most games in a Jayhawk uniform.
While that may be hard to believe from a program long known for stacking its front court with serious stars, injuries, graduation, transfers (in and out) and a roster loaded with talent in the backcourt for a second consecutive season have left Lightfoot and his 26 games played as by far the Jayhawks' most frequently used front court player.
While those 26 appearances produced just a total of 102 minutes (3.9 minutes per game), Lightfoot has spent the weeks since the end of the 2016-17 season rigorously pursuing improvement in all aspects of his game to ensure that both his numbers and his impact go up drastically during his second season in Lawrence.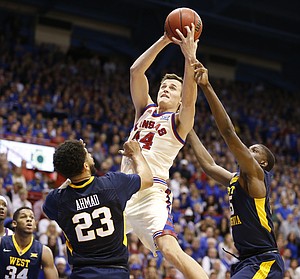 "Every step you take you've gotta find a new gear," Lightfoot told the Journal-World during a recent phone interview from Arizona. "And I feel like I've done it this summer. It's going to be a big summer when I get back, but I've already brought a new level of intensity because I feel like there's going to be a new level of expectation put on me. I'm not a freshman any more and I can't have freshman mistakes."
It's safe to say that not too many freshmen have done in the past couple of weeks what Lightfoot has done at his home back in Arizona.
Armed with instructions from strength coach Andrea Hudy and suggestions from KU coach Bill Self, Lightfoot has reached that new gear through help from his father, his high school coach, his personal trainer and his own inner drive to succeed.
His days begin at 6:45 a.m., when the alarm sounds and his father, Matt, greets him with a protein-packed smoothie to jump-start the body-shaping transformation process.
From there, Lightfoot, listed at 6-foot-8, 210 pounds throughout his freshman season, gears up and heads to the kitchen to eat breakfast.
His goal, beyond the basketball-specific stuff, is to hit a playing weight of at least 223 pounds by the time the 2017-18 season rolls around. In order to do that, he has to eat. A lot.
"Oh yeah. You can workout all you want, but if you're not putting the right fuel in your body, it's not going to get you anywhere," he said. "And for me, the big thing is the amount of fuel I put in my body because I have to eat tons and tons of food if I want to put on a little bit of weight."
After breakfast, Lightfoot heads to his high school gym, where he works on the gun to get up a variety of medium-range to deep jumpers for 60-75 minutes. Because school still has been in session, he's had to be out of there by first bell, which gives him the opportunity to head back home for a little rest, recovery and a nap.
"Shooting the ball better has been a big focus of mine," he said. "Coach just talked about how if I could stretch the floor, that could mean more minutes for me and would improve our chances of getting a good look every time we come down."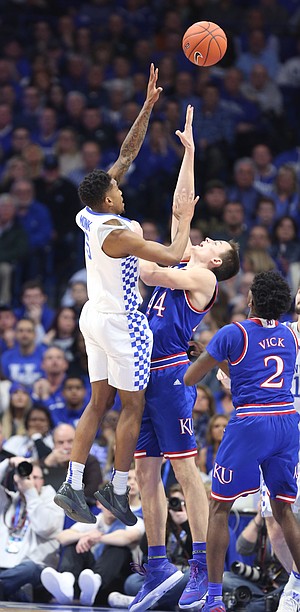 Included in his spring sessions has been some film study, lots of conversations about the game with friends and family members, and, of course, more work. After school lets out, Lightfoot heads back to the gym to go through a skills workout with his high school coach.
While getting bigger and stronger and working on his outside shot have been major points of emphasis, Lightfoot has done it all with the careful consideration of maintaining his ability to move around, run the floor and match up with different players on both ends of the court.
"I'm trying to get to around 223-225 (pounds) by next season," he said. "But the coaches haven't really put a number on it. They just told me to get stronger. And in order to do that, I'm gonna have to be a little bit heavier, but I don't want to lose my athleticism."
Around 8 p.m., after the skills workout and a couple more meals, Lightfoot hits the weight room, where he finishes his day by hitting it hard with his personal trainer. Everything is on the table during these sessions, from lifting for bulk and working agility to cardio and endurance drills. Each time Lightfoot strives to reach that "new gear," striving to improve on the previous day's performance in at least one or two critical areas.
Although it's been a couple of weeks since he has seen him, Self has monitored Lightfoot's progress, both throughout April and during his time back home. And the KU coach has liked what he's seen and heard about his young forward.
"Mitch has had a good spring," Self told the Journal-World. "And certainly, he's a guy that we've got to be able to get substantial minutes out of next season. He's athletic enough, big enough and talented enough to make a significant impact for our team."
He won't be asked to do it alone. And if things go well, he won't even be the most important Kansas big man on the roster. Freshman 7-footer Udoka Azubuike, who missed all but 11 games with a wrist injury last season, has the potential for a breakout year and could be a difference-maker for the Jayhawks down low. Add to that the arrival of newcomers Billy Preston, a five-star, incoming freshman, and Jack Whitman, a graduate transfer from William & Mary, and it's clear that Lightfoot has both help and competition up front.
"We're going to need Udoka, Billy, Mitch and Jack to all play big for us and give us good minutes," Self said. "Because I anticipate us playing two bigs a lot more of the time."
With that in mind, Lightfoot knows that the potential for meaningful minutes is within his reach. Sure, he checked into the Indiana game in Honolulu to kick off last season and the Duke game at Madison Square Garden a few days later. And, yeah, he was on the floor for four minutes at Kentucky, for eight more at the end of KU's wild, comeback win over West Virginia at Allen Fieldhouse and for three of the four NCAA Tournament games in which the Jayhawks played. But the only time he saw his minutes crack double digits was a 14-minute outing against UMKC in December at home.
If things go well and all of the work he has put in this spring and summer pay off the way he thinks it will, the 2017-18 season could bring with it a complete flip, with Lightfoot playing double-digit minutes in all but one game instead of the other way around.
"I'm really excited because I feel like this is going to be a big year for me," said Lightfoot, who, like the rest of the team, will report to campus by Saturday in time to start working the first Bill Self basketball camps. "There'll be a big jump in responsibilities and I have to be more of a presence on our team and I feel like I can do that. I've just been trying to focus on what the coaches told me to do and doing that to the best of my ability."