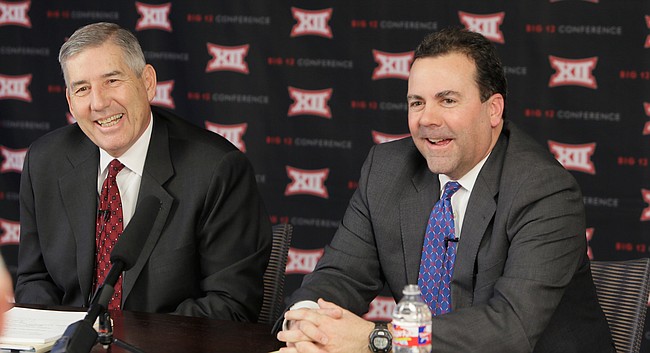 Kansas athletic director Sheahon Zenger, who took over for Lew Perkins in early 2011, recently received a contract extension through June of 2021 from outgoing chancellor Bernadette Gray-Little.
According to a news release sent out by the KU athletic department on Sunday, the amendment to Zenger's existing contract, which was signed a couple of weeks ago, will increase Zenger's base pay from $619,000 to $700,000 annually.
That puts Zenger in the middle of the pack among Big 12 Conference athletic directors. At the time of his last extension, signed in 2013 and termed through 2018, Zenger became the sixth highest paid AD in the Big 12 and the new deal is expected to move him up one spot, thanks mostly to the departure of Kansas State AD John Currie.
"I'm very pleased that I will have the opportunity to continue to represent this great university and work alongside the outstanding coaches and student-athletes we have here at KU," Zenger said in a news release. "I have really enjoyed sharing in the tremendous accomplishments so many of our teams have achieved over the past several years. Likewise, we are committed to doing everything we can to raise the level of success of every one of our teams."
The extension proved to be the final collaboration between Zenger and Gray-Little, who last week was replaced by new chancellor Dr. Doug Girod. Girod, the executive vice chancellor of the KU Medical Center, officially will step into his new post on July 1.
"Since Sheahon's arrival in (January) 2011 Kansas Athletics has enjoyed success on and off the field," Gray-Little said. "We've had a team win a national championship, two teams reach NCAA Final Fours and multiple NCAA Tournament appearances by other sports. We've seen some $90 million in construction and renovation, from Rock Chalk Park to Memorial Stadium to the DeBruce Center. And academically, Athletics' Graduation Success Rate and APR marks put us in excellent standing with the NCAA. I am confident that under Sheahon's leadership Athletics will experience even more success in the coming years."
Kansas coach Bill Self also offered appreciation for Zenger's support of all KU teams throughout his time overseeing Kansas Athletics.
"I'm happy for Sheahon and the department," Self said. "Sheahon's focus since he's been here is to give the coaches what they need to be successful. We've got a bunch of teams doing really well, we've added great new facilities, and I can see things getting even better in the next few years."
Zenger, who took over as KU's leader after a successful stint at Illinois State, has never been shy about expressing the meaning of returning to his home state to take on such an important and highly visible role. It has not been all roses for the Hays native, who already has worked with three football coaches, hiring two and firing two, and overseen large-scale turnover in other areas of the athletic department, as well.
Long days, sleepless nights and heavy scrutiny and times of stress have been as much a part of his time as KU's AD as the successes — both those mentioned by Gray-Little and dozens of smaller and sometimes more meaningful victories — but Zenger has stayed true to himself and his Kansan morals throughout the process, leading with a measured approach and a smile.
"This is home for me," he said. "And I truly believe we're poised for even more success in the near future and I can't wait to share in that excitement as well."