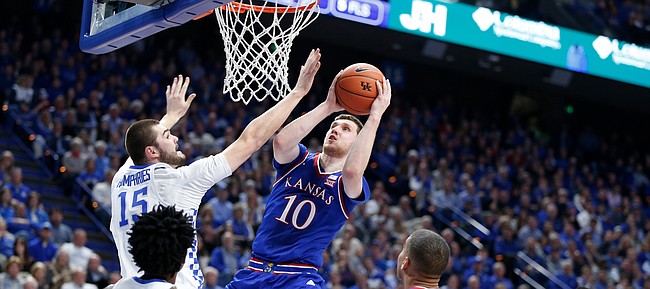 Less than 18 hours after learning that junior Svi Mykhailiuk would return to Kansas for his senior season, KU basketball coach Bill Self already was thinking about what more the Ukrainian wing could do to help the Jayhawks in 2017-18.
Sure, the major focus of the past couple of months was on Mykhailiuk's individual needs. He elected to test the waters of the NBA Draft to find out where he might fit at that level. He attended the NBA combine to get feedback on his strengths and weaknesses. And he scheduled as many individual workouts with pro teams as he could in hopes of getting the extra attention that would help him make his decision.
But now that he has made up his mind, there's also the element of Mykhailiuk's return that impacts Kansas. His senior season will be a lot about him working on the deficiencies in his game that NBA teams shared with him during the past several weeks. But neither Mykhailiuk nor Self will allow that focus to come at the expense of what's best for the Kansas basketball team.
So while Mykhailiuk's NBA notes and nuggets figure to serve as fuel for what he and the program hope will be his biggest season to date, the KU coach has a few ideas of what he'd like to see from his senior-to-be that will aid KU's push for a 14th straight Big 12 title and run at a national championship.

"Consistent aggressiveness would probably be it as much as anything," Self told the Journal-World on Thursday morning when asked what area he'd like to see Mykhailiuk grow the most. "I think he took a big jump last year and he had some big moments for us. But then when things were not going as well, he had times when he didn't impact the game as much as he could've and he needs to get better at that.... We all need to get better at that."
Self, who said Wednesday's news was a pure positive for the program, added that he was far from surprised by Mykhailiuk's final decision.
"We would've been fine if Svi would've stayed in the draft," Self said. "We told him all along that he should test the process and he told us all along, 'Coach, if I'm not guaranteed to play in the NBA next year, I'm gonna come back to school. I just want to see where I'm at.'"
Self did not get specific on the feedback Mykhailiuk got from NBA teams. He said many teams viewed their read on Mykhailiuk's draftability as "kind of incomplete" because of the ankle injury that kept him out of the second half of the combine and prevented him from being 100 percent during the individual workouts that followed it.
Self added that the overwhelming majority of teams the 19-year-old junior talked with told him that his best move was to return to school and continue to develop his game.
One area beyond consistency that Self said he would like to see Mykhailiuk improve was the way he leads. His personality and generally pleasant demeanor make him less fiery than most KU leaders of the past. But Self said his status as a senior, on a team with some young and inexperience talent, automatically identified him as an important leader for the 2017-18 team.
"I think he definitely can do it," Self said of Mykhailiuk taking on a bigger leadership role. "I don't think that's as much of his make-up as a Devonte' (Graham) or a Frank (Mason III), but I absolutely think he can make that a bigger part of his game.
"(Wednesday) was a good day for us but also a good day for Svi because now he knows what he needs to work on and can go into the season hungry, focused and ready to take another step."