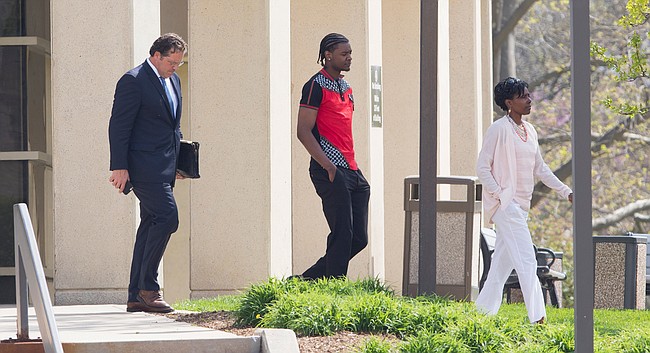 Former University of Kansas basketball player Josh Jackson was convicted of a misdemeanor traffic violation Tuesday, several weeks after he entered into a diversion agreement regarding a criminal damage charge filed against him in a separate case.
On Tuesday Jackson, 20, pleaded guilty in Lawrence Municipal Court to one misdemeanor count of striking an unattended vehicle, Supervising City Prosecutor Elizabeth Hafoka said in an emailed response to questions. Two other charges, inattentive driving and improper backing, were dismissed from the case.
Along with his conviction Jackson will face six months of probation and pay both a $250 fine and $63 in court costs, Hafoka said. If he violates his probation, Jackson will have to serve 30 days in jail.
Jackson backed into a parked car on the KU campus in early February and left the scene without providing any contact information. Citations were filed against him in municipal court on March 27.
Criminal damage case
In a separate case, Jackson signed a diversion agreement on April 26 regarding a misdemeanor criminal damage to property case filed against him weeks earlier.
As a part of his diversion agreement, Jackson must complete anger management classes and write an apology letter.
Jackson was accused of arguing with KU women's basketball player McKenzie Calvert outside a Lawrence bar in December 2016. During that argument he reportedly hit and kicked Calvert's car while "yelling for her to get out of the car and that he would beat" her, the Journal-World previously reported.
Damage to the car was estimated to be $3,150.45. However, a felony charge — defined as damage exceeding $1,000 — was not filed against Jackson, Douglas County District Attorney Charles Branson said, because "the state can't prove beyond a reasonable doubt that all the damage to the door and tail light were caused by Jackson due to other unidentifiable individual(s) damaging the vehicle."
Instead, a misdemeanor criminal damage to property charge was filed. Jackson pleaded not guilty to the charge on April 12. A hearing date originally scheduled for May 24 has since been canceled.
As a part of the diversion agreement, which was filed in Douglas County District Court, Jackson will need to complete anger management classes, abstain from drugs and alcohol for a year, write an apology letter and complete no less than 20 hours of community service.
If Jackson successfully finishes his yearlong diversion agreement, prosecutors will dismiss the case.
Jackson, who spent a single year on the KU basketball team, is expected to be a top pick in the NBA draft in June.