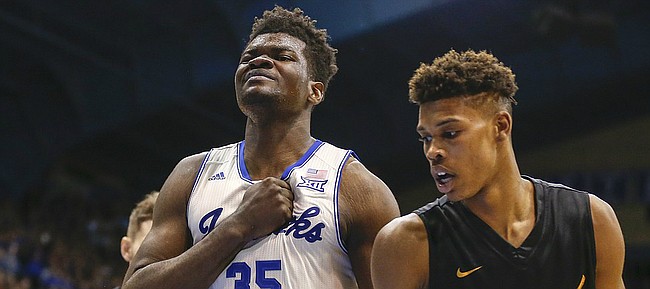 It's that time of year again when a national media outlet picks Kansas No. 1 in its way-too-early college basketball top 25.
It happened again. I don't see it. Even if Devonté Graham can come close to approximating what national player of the year Frank Mason III gave Kansas and Malik Newman can contribute as much as Graham did, nobody on next season's roster can come close to influencing a game in as many ways and as powerfully as Josh Jackson did.
KU looked very ordinary and lost when Jackson didn't play against TCU in the Big 12 tournament.
Defending guards and centers, turning every passing lane into a potential deflection, rebounding at both ends, playing super fast in both directions in transition, lending defensive help instinctively, showing great vision setting up teammates for easy buckets, Jackson did it all. He did things seniors don't do, much less freshmen.
Everything he did camouflaged weaknesses, kept opponents on the defensive, filled teammates with adrenaline. Whatever the need during the course of a game or even a season, Jackson was capable of filling it and never stopped competing to win.
So without him, I just don't see Kansas shaping up as a top-five team. Maybe the following year, but not this coming season.
Unless this team's X-factor delivers a monster season that alters the way opponents have to play Kansas because he is such a force at both ends of the floor.
If Udoka Azubuike, who has all of 11 games of college basketball experience, develops into a first-team All-Big 12 center who garners All-American consideration, then that changes everything.
If Azubuike stays out of foul trouble and has the stamina to make it up and down the court swiftly enough to keep the Jayhawks from numbers disadvantages in transition for at least 25 minutes a game, things could grow interesting in March.
The 7-foot, 280-pound freshman from Delta, Nigeria, moves so well for a man so large, has pretty good hands and loves nothing more than hammering home dunks. He's not a guard in a center's body, eager to show off his outside shot. For one thing, he doesn't have an outside shot, which is actually a plus, as long as he can develop a free-throw touch. He shot just .379 from the line last season.
His production per minute from a year ago, pro-rated to 25 minutes, comes out to 9.7 points, 8.5 rebounds and 3.2 blocked shots.
He'll be a year older and far wiser because of all the time he spent watching practices. Provided he has the stamina to maintain his effort level, it's reasonable to expect those numbers to improve, especially if he can become at least a 60-percent shooter from the line. Maybe 15 points, 11 rebounds, four blocked shots per game?
The better scorer he is, the more the defense has to double him and the more shooting opportunities created for everyone else.
But it's at the other end that Azubuike can improve Kansas the most.
Jackson did a terrific job of bailing out teammates defensively, so the failure of the guards to stop penetration wasn't as obvious as it otherwise would have been.
With Azubuike sitting on the block, ready to swat and alter shots, the Kansas guards can apply pressure on the perimeter, knowing that when their man blows by them, they are headed for a dead end.