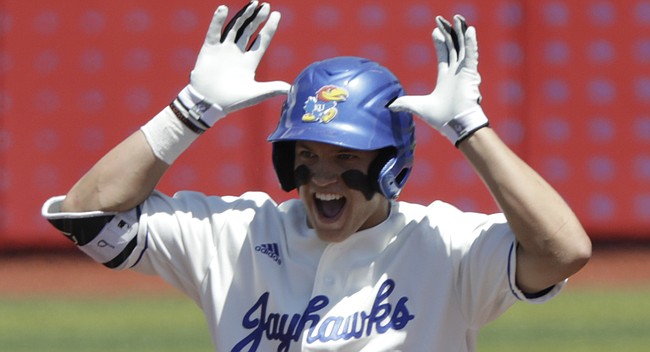 Entering the seventh inning against rival Kansas State, it had been a forgettable Saturday afternoon for the heart of the Kansas baseball lineup. The Jayhawks' third, fourth and fifth batters didn't have a hit to show between the three of them.
Down three runs, KU's seven-game winning streak appeared in danger before junior shortstop Matt McLaughlin stepped into the batter's box with the bases loaded and no outs.
The No. 3 hitter cracked a game-tying, three-run double down the left-field line, setting the stage for a 6-4 comeback victory.
"There's a reason we're hitting in the middle of the order," McLaughlin said, after Kansas sealed a Sunflower Showdown series victory. "Times come around. We've hit some balls hard that have held up in the wind or got caught this weekend."
KU junior catcher Tanner Gragg led off the decisive frame with a single to left field, before leadoff hitter Rudy Karre and James Cosentino drew back-to-back walks to load the bases — a sequence reminiscent of the bottom of the second, when KU only plated one run, on a Gragg sacrifice fly.
Kansas coach Ritch Price, though, remained confident in the heart of the order.
"You need one of your big-time players to clutch up for you and (McLaughlin) lasered the ball into the corner," Price said. "Obviously it was the biggest at-bat of the day."
One ground-out later, KU's No. 5 batter, freshman designated hitter Jaxx Groshans, lined out to left fielder Will Brennan with McLaughlin on third base.
"He hit it so hard, I was afraid the guy was going to be able to come in and throw me out at the plate," McLaughlin said, calling it the conclusion of an "awesome" at-bat from a freshman, because Groshans came up with confidence and put a good swing on the ball.
The junior McLaughlin, though, reacted quickly to give Kansas (29-22 overall, 11-9 Big 12) the go-ahead run on Groshans' sac fly. Price liked the assertive approach McLaughlin took on the line-out.
"He did the right thing," Price said. "He throws you out there, you tip your cap to him. That ball was smoked to left field, but with the game tied you've got to make him throw you out at home plate and be aggressive."
Although KU's lineup features plenty of underclassmen, Groshans said the Jayhawks have gained a lot of confidence over the course of the season.
"When we've got men on the pond like that, we've been through it enough times," Groshans said. "It's just kind of second nature now."
Already ahead 5-4 against the Big 12's last-place team, K-State (26-24, 5-15), Kansas added a security run in the bottom of the eighth, on Cosentino's RBI-single up the middle to score Benjamin Sems.
In the midst of KU's late-inning recovery, relievers Chase Kaplan, Zack Leban and Stephen Villines combined for three and one-third innings of shutout work. The bullpen relinquished just four hits and a walk. Leban struck out two, and closer Villines picked up his 14th save by getting through the ninth, which was capped by center fielder Karre's sliding snag of a Trent McMaster line drive.
"Our bullpen's fabulous," said Price, who also complimented starting pitcher Taylor Turski for grinding through 5.2 innings. "When you've got three guys (lefty Blake Weiman, Leban and Villines) as good as we have at the back end of the game, if you get to the seventh inning you like your chances."
Now that Kansas, which endured expected growing pains in February and March with a young lineup, has won eight in a row, Price can see each success fueling the next.
"I think when you're going good, good things happen to you," Price said. "You get clutch hits and you take advantage of opportunities. When you're struggling you hit a line drive to center field that's caught to end the game… I've been there, too, many times."
KU plays its home finale versus K-State at 2 p.m. Sunday.
K-State 200 011 000 — 4 10 0
Kansas 010 000 41x — 6 12 1
W — Zack Leban (3-2) L — Jared Marolf (4-1). Save — Stephen Villines (14).
2B: Quintin Crandall (2), Josh Ethier, KSU; James Cosentino, Brett Vosik, Matt McLaughlin, KU. HR: Ethier, KSU.
KU highlights — Cosentino, 3-for-4, R, RBI; Vosik, 2-for-3; Benjamin Sems, 2-for-3, R; McLaughlin, 1-for-5, 3 RBIs, R; Tanner Gragg, 1-for-2, RBI, R; Marcus Wheeler, 1-for-3, R; Rudy Karre, 1-for-4, R.