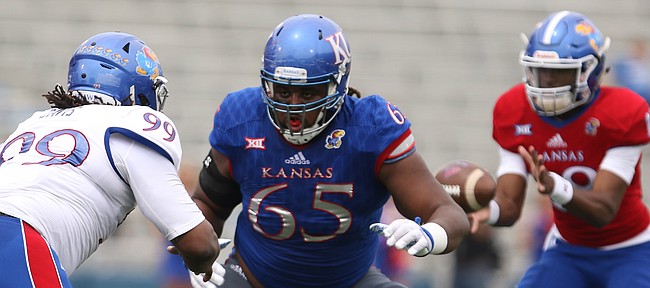 Throughout his first two years coaching the Kansas football team's offensive linemen, assistant coach Zach Yenser often found himself mixing and matching players at various positions. Sometimes curiosity sparked his tinkering, but often it was fueled by necessity.
At a position group where depth and stability coincide with success, Yenser patched together combinations, with the hope of giving the Jayhawks their best five available blockers.
During recently completed March and April offseason practices, though, the third-year KU assistant got to take a different approach.
"Guys are mainly staying where they have all spring," Yenser said, "not a lot of shuffling around, because there's more depth."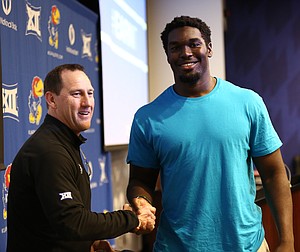 The annual Kansas spring game provided a look at the newfound regularity. On one side of the intrasquad scrimmage, the starters were sophomore left tackle Hakeem Adeniji, sophomore left guard Malik Clark, sophomore center Hunter Saulsbury, junior right guard Larry Hughes and junior right tackle Charles Baldwin. For the other side, the O-line featured redshirt sophomore Clyde McCauley III at left tackle, next to senior left guard Jayson Rhodes, junior center Jacob Bragg, redshirt freshman right guard Chris Hughes and sophomore right tackle Antione Frazier.
When Yenser examined his group as a whole, he felt best about the sense of familiarity.
"There's no doubt. It's nice. You just look across the board, who's played in Big 12 games, and just the number of people, the number of our guys that have done it," Yenser said. "Going through spring practice with this is phenomenal."
To his point, though many of KU's prominent offensive linemen — including sophomore center Mesa Ribordy, who missed time this spring due to a knee injury — are underclassmen, most already have experienced Big 12 action, because they entered a program in need of bodies.
KU's O-line coach excitedly clapped or slapped the table in front of him recently while rattling off names of his pupils who have gone through conference battles at the line of scrimmage.
In 2016 the following linemen who are still in the program started: Adeniji, Bragg, senior Joe Gibson, Larry Hughes, Rhodes and Ribordy. However, Gibson did not participate in spring football due to a neck injury and could decide against playing in the future.
Meanwhile, Clark and Saulsbury at least played as reserves this past fall against BCS competition.
"Again, it's just something that you can't teach," Yenser said of in-game experience.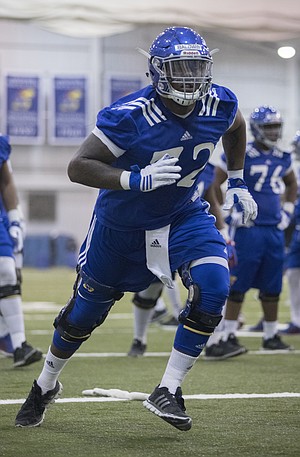 One projected starter who hasn't played at the Division-I level in the fall as of yet is Baldwin, the 6-foot-5, 305-pound junior transfer from Alabama. KU's likely starting right tackle played two seasons of junior college football at ASA College (New York) before signing with the Crimson Tide. Baldwin participated in Alabama spring ball a year ago, before Nick Saban kicked him off the team for a violation of team rules.
Yenser, who says Baldwin had done some "growing up" since getting to Kansas, likes his rotation of "long and athletic" tackles, which includes three sophomores — starting left tackle Adeniji (6-4, 290), Frazier (6-4, 285) and Cam Durley (6-6, 300).
On the interior, senior Rhodes (6-4, 307), sophomore Ribordy (6-4, 305) and junior Larry Hughes (6-7, 310) took the majority of reps with the first-string offense this spring.
Among the reserves, Yenser said it was "awesome" to see redshirt freshman Chris Hughes (6-3, 300) go through his first offseason sessions with the Jayhawks.
"He's really impressed me," the coach said of Chris Hughes, a lineman from Harker Heights, Texas. "Once he can just not think about plays and he can go, he's gonna be a dag-gum good football player."
Between Ribordy, Rhodes, Bragg (6-4, 291), Clark (6-4, 320), Saulsbury (6-4, 310) and Larry and Chris Hughes, Yenser likes the inside personnel.
"You've got some depth there," he said, "of guys that are rotating in and then have had some game experience."
This summer, KU plans on adding two true freshmen offensive linemen to the group: 6-6 Earl Bostick, from Barnwell, S.C., and 6-3 Jack Williams, of Argyle, Texas.
Projected KU O-line starters
LT: Hakeem Adeniji — 6-4, 290, so.
LG: Jayson Rhodes — 6-4, 307, sr.
C: Mesa Ribordy — 6-4, 305, so.
RG: Larry Hughes — 6-7, 310, jr.
RT: Charles Baldwin — 6-5, 305, jr.
Projected KU O-line substitutes
G/C Jacob Bragg — 6-4, 291, jr.
G Malik Clark — 6-4, 320, so.
C Hunter Saulsbury — 6-4, 310, so.
T Cam Durley — 6-6, 300, so.
T Clyde McCauley III — 6-5, 310, R-so.
T Antione Frazier — 6-4, 285, so.
G Chris Hughes — 6-3, 300, R-fr.