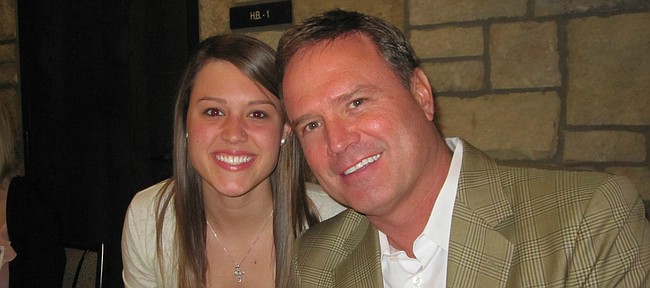 Alive and aware for nearly every step of her father's 623 coaching victories which have landed him on the brink of inclusion in the Naismith Memorial Basketball Hall of Fame, Lauren Self — now Lauren Browning — said it was not until she got to Free State High when she realized just how big of a deal Bill Self was in college basketball.
"I don't know if I remember a specific moment," she began. "But when I got to high school and could kind of understand what it was all about outside the bubble of Lawrence, I was able to grasp that people were talking about him like they were talking about Coach K or these other big time coaches.... I've always believed that he was a really good coach, but it wasn't until I was older that I fully understood how good and how successful he's been."
Since then, Lauren has been there every step of the way, often sitting right next to her mother, Cindy, at games, while living and dying with everything the Jayhawks do on the floor.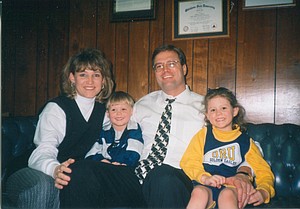 That she was able to do that during her college years — Lauren now lives with her husband Hayden outside of Dallas and works with Young Life — was the product of her father's recruiting prowess.
Known for bringing top-tier players to Kansas to help the Jayhawks chase Big 12 titles and trips to the Final Four, Self also had to recruit his own daughter after high school.
"I actually didn't want to go to KU," she said. "I wanted to go somewhere else and be my own person and do something different, but his recruiting is incredible. Him convincing me to go to KU was one of the best decisions I've ever made. I think he just wanted me to be around, and I think he thought that everything that I wanted was here and it was a great place to be."
For Lauren, that last part perfectly sums up most of her life as the daughter of a big time basketball coach. From Oral Roberts to Tulsa to Illinois and Kansas, Lauren always enjoyed having basketball as the backdrop for her childhood.
"I remember years of my life, not by the teacher I had in fourth grade, but by, in fourth grade, we lost to this team in this round," she explained. "That's kind of how I associate years of my life, around basketball and I wouldn't change that. I love that."
She also, of course, is incredibly proud of all that her dad has accomplished, from the current streak of 13 Big 12 titles to the national title in 2008 to the persistence he showed early in his career that made it all possible.
While Self was the head coach at Oral Roberts and Tulsa, Lauren was of the age where concessions, dreaming of being like the cheerleaders and having fun with her mom and brother in the stands was all that mattered. That all changed when they got to Illinois.
"It was a really big deal for my family to move from Oklahoma because they had lived there their entire lives," she said. "That was when it was like, 'We're really going for this. We're going to chase this thing.'"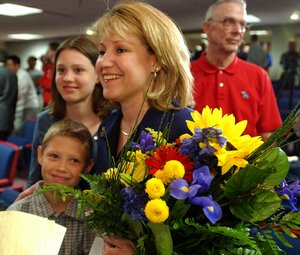 After making a quick splash at Illinois, Self was sought by Kansas to replace Roy Williams and, a few years later, things changed forever for his family. But it's not just the 2008 national title that leads Lauren to believe her father is Hall of Fame worthy.
"Obviously, winning the national championship was the best thing ever," she said. "That was a life-changing thing for our family. But, the streak, winning 13 straight Big 12 titles, is just a really remarkable thing. For a long time, at 8 or 9 in a row, it was like, 'Oh, this is cool.' But we're at 13 now, and it's just unbelievable and I'm so proud of him for that. I don't know how you could say he's not deserving of being in that elite group of people. He's done something that no one else has ever done."
Especially in the context of what Lauren has chosen to do for her career, mentoring and helping young people find their way through faith, her father's achievements in the game are only part of what make him a Hall of Famer in her eyes.
"I'm definitely not always there and don't understand a lot of things that go into the day to day grind of being a coach, but I know how hard he works and what's important to him," she said. "It is incredible to see guys stand up on senior night and share not only the impact that my dad has had on them as a player but also as a man.... To pour his life into these guys, some of whom come to college really lost, the hard work isn't just in the X's and O's of basketball but in helping build these people into adults and helping them make something of their lives. I really admire that about my dad. He's always wanted to be the best. He wants to win. But I don't think it's ever been just about him."
The names of those honored in the Naismith Memorial Basketball Hall of Fame's 2017 class will be revealed Saturday in Arizona.
---
• Hall of Fame Material Part I: Larry Brown 'in awe' of Bill Self's stellar run at Kansas