Kansas City, Mo. — Through the first three rounds of the NCAA Tournament, the Kansas basketball team has scored more than 90 points in each game and emptied the bench in the final minutes.
After KU's 98-66 victory over Purdue in the Sweet 16 on Thursday at Sprint Center, Purdue head coach Matt Painter was asked whether he could see anybody stopping the Jayhawks.
"If they play like they did the second half they can't," Painter said.
The second half was the No. 1-seeded Jayhawks (31-4) at their best. They shot 67 percent from the floor, including a 7-of-12 mark from behind the 3-point line. They were strong defensively, forcing Purdue forwards Caleb Swanigan, Isaac Haas and Vincent Edwards to earn each shot.
The Jayhawks even out-rebounded the much taller Purdue, 36-29.
"Their guards made some tough shots and just got into transition too much," Painter said. "We've been able to dominate the boards in our first two games and they did a good job on the glass. Seemed like every time they got an offensive rebound they made us pay."
Photo Gallery
Kansas basketball v. Purdue (Sweet Sixteen)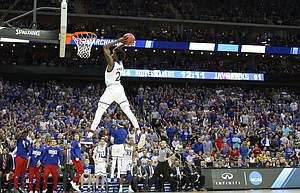 View a gallery of images from the Jayhawks' Sweet Sixteen game against the Boilermakers on Thursday at Sprint Center.
The 6-foot-9, 250-pound Swanigan, the Big Ten's player of the year and a national player of the year finalist, scored 12 points in the second half. But he couldn't take more advantage when Kansas senior center Landen Lucas picked up his third foul with 15 minutes remaining.
With Lucas on the bench, Swanigan was guarded by a mix of Kansas forwards Josh Jackson, Dwight Coleby and Carlton Bragg.
"When the game is moving so fast it's hard to take advantage of size opportunities," said Swanigan, who finished with a team-high 18 points and seven rebounds. "It comes down to speed with so many long rebounds. It's faster too and not really who is bigger.
"So they played well and we lost all the non-negotiables. We had more turnovers. They won the rebounding and free throw war. Can't win the game like that. Only way we could have won this game is if we shot 80 percent with losing all three of those."
The Jayhawks took a seven-point lead into halftime after ending on a 22-7 run in the final six-and-a-half minutes of the first half.
KU's lead at halftime was despite fourth-seeded Purdue (27-8) shooting 56 percent from the field and connecting on 6 of 13 3-pointers. In other words, the Boilermakers were happy with how they were playing, and still frustrated by the scoreboard.
"We felt like we should have been in a better spot going into halftime," Painter said. "I thought we had some opportunities in the first half that we kind of let squander away from us and should have been in a better (spot), but they were really good."
Once the Jayhawks found their rhythm shooting the ball, there was no stopping them. Kansas guards Frank Mason III and Devonte' Graham combined for 52 points on 16-of-26 shooting, including a 9-of-14 clip from the 3-point arc.
After watching the Jayhawks at their best, Painter wasn't going to say they were completely unstoppable for the rest of the tournament — "On a game where you get in a neutral site, anything can happen," he said.
Unless Kansas finds a way to keep shooting the way it did in the second half.
"You cannot let them get in transition," Painter said. "They're going to keep getting those opportunities. Shoot the way those guards shot then they can't be stopped."
https://www.youtube.com/watch?v=HpaFmcBOZK4
https://www.youtube.com/watch?v=LQHqWuYsigw
https://www.youtube.com/watch?v=ZeOih5a0vx8
— See what people were saying about the game during KUsports.com's live coverage.
---
More news and notes from Kansas vs. Purdue
---