Kansas City, Mo. — The Kansas men's basketball team may very well have the national player of the year on its team in senior guard Frank Mason III, who scored 26 points on 9-of-11 shooting and added seven rebounds and seven assists in 35 minutes during Thursday's Sweet 16 showdown with Purdue.
But if there were an award for the most unstoppable player in college basketball, one of the Jayhawks might win that, too.
For the second consecutive game, in front of an adoring and roaring pro-Kansas crowd, freshman guard Josh Jackson showcased skills that make him a nightmare for opponents to both game plan for and play against and helped lead Kansas into Saturday's Elite Eight against Oregon (7:49 p.m.) with a 98-66 victory at Sprint Center.
Not all of what Jackson showed worked out for the Jayhawks' second-leading scorer. But so many of his rebounds were the result of his athletic advantage and more than half of the seven shots he missed would have been highlights had they gone down.
Just like in the last game, a 90-70 victory over Michigan State in the second round Sunday, Jackson had plenty of moments when he shot himself in the foot or played just a touch out of control. Those moments kept Jackson's line in check on a night when the Boilermakers could not.
Despite recording a double-double of 15 points and 12 rebounds to go along with four steals, two assists and four turnovers, all Jackson wanted to talk about after the game were his teammates, how hot their playing and how excited they are to be moving on.
"Right now, I think everybody on our team's confidence is pretty high," Jackson said.
Photo Gallery
Kansas basketball v. Purdue (Sweet Sixteen)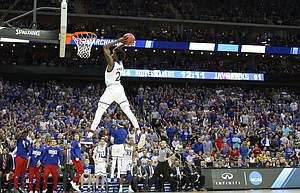 View a gallery of images from the Jayhawks' Sweet Sixteen game against the Boilermakers on Thursday at Sprint Center.
As for the much-talked-about showdown between his old friend Caleb Swanigan and his teammate Frank Mason III, two finalists for most national player of the year honors, Jackson was happy to offer his thoughts on that topic.
"I think (Mason) settled a lot of debates a long time ago in my opinion," he said of Mason's big night compared to 18 points, seven rebounds and six turnovers for Swanigan. "But, tonight, if that didn't; I don't know what to tell you."
Added KU senior Landen Lucas, who was matched up with Swanigan for most of his minutes on the floor: "Tonight should show that (Mason's) the player of the year."
Coleby gets the call
One big question entering Thursday's battle was whether junior forward Dwight Coleby's big game last weekend to help Kansas knock off Michigan State was enough to move him up in the rotation.
KU coach Bill Self answered that question at the 15:11 mark of the first half, when he inserted Coleby into the game for Lucas, who picked up his first foul after a series of successful defensive stands against Swanigan early on that produced a travel and a three-seconds in the lane call.
Coleby stayed in until the 9:42 mark, when Lucas returned and delivered a mixed bag of results, picking up a bucket on a post-up and saving a possession with his hustle but also fouling once and offering much less resistance to Purdue's bigs than Lucas did.
For the game, Coleby finished with two points, one rebound, one assist and four fouls in 13 minutes. Carlton Bragg Jr., added six rebounds and one block in six minutes.
Home sweet home
Thursday's victory improved KU's all-time record in Kansas City, Mo., to 220-81, including a 35-7 mark inside Sprint Center.
"It's definitely a problem for other teams, at least in my opinion," Jackson said of the loud and proud KU crowd. "I feel like we're the only ones in there. The crowd was great tonight and hopefully even better Saturday."
Added Devonte' Graham, who tied Mason with 26 points on 5-of-9 3-point shooting: "It's unbelievable. You know, playing here in KC is great. The crowd's behind us and they give us so much momentum and energy throughout the game. It's just great to be here."
Playing third- and fourth-round games 40 minutes from campus was a season-long goal for the Jayhawks, who earned the No. 1 seed in the Midwest Region after winning a 13th consecutive Big 12 title and racking up a second straight 30-win season.
KU's first game in Kansas City came all the way back in 1899 when the Jayhawks lost to Kansas City YMCA, 16-5, in February of that year.
Before moving over to Sprint Center, KU won 81 of 106 games in Kemper Arena, including two in the 1988 Final Four. KU is now 3-0 all-time in NCAA Tournament games played at Sprint Center, with the first two coming in first- and second-round wins over Western Kentucky and North Carolina in 2013.
Podcast episode
After the Kansas basketball team advanced to the Elite Eight with a 98-66 victory over Purdue, Kansas coach Bill Self, and guards Frank Mason III and Devonte Graham, talked about their Sweet 16 win, their strong second half and their shooting.
Quick quack
Kansas, of course, will spend most of Friday and a good chunk of Saturday scouting and preparing a game plan for its Elite Eight opponent. But a couple of Jayhawks had an early read on the Ducks (32-5) as soon as Thursday's game went final.
"I know a lot about Oregon," said Lucas, a native of Portland. "It's my hometown. Grew up watching 'em all the time. Big fan. My dad played there. They're a good team, athletic team. I feel like we match up pretty well with them. They match up pretty well with us so it'll be fun to go out there and participate in what's gonna be an up-and-down match-up."
Added Jackson: "I've seen 'em a couple times this season, watched the (Michigan) game earlier. I think the one thing that we gotta do, instead of making the game super fast, we probably gotta slow the game down a little bit."
This and that...
The Jayhawks now lead the all-time series with Purdue, 4-2, including a 3-1 record in NCAA Tournament meetings.... Kansas on Saturday will play in its 23rd regional final in school history and seventh under Bill Self.... Self is 2-4 at Kansas in Elite Eight games and 2-6 all-time.... The Jayhawks are now 13-2 this season against teams that made the NCAA Tournament.
https://www.youtube.com/watch?v=HpaFmcBOZK4
https://www.youtube.com/watch?v=LQHqWuYsigw
https://www.youtube.com/watch?v=ZeOih5a0vx8
— See what people were saying about the game during KUsports.com's live coverage.
---
More news and notes from Kansas vs. Purdue
---