Kansas City, Mo. — The buildup for this Sweet 16 game that pits Purdue against Kansas has the feel of a college football bowl week, all the talk centering on the big bodies of the Big Ten clashing with the sleek speed of the Big 12, tanks vs. sports cars.
Yet, the chatter differs in that in basketball, nobody ever talks about the accuracy of the passer, just the speed of the receivers.
KU's great passing ability remains the untold story of a team consistently and rightly lauded for its speed and quickness, its high-flying acrobats and lethal long-range shooters.
Speed has played a part in Kansas becoming such a proficient passing team in transition because it emboldens outlet passers to keep pushing the envelope with how aggressively they can send the ball ahead.
"I try to be," senior Landen Lucas said of being aggressive with the outlet passes.
Photo Gallery
Kansas and Purdue NCAA practices and press conferences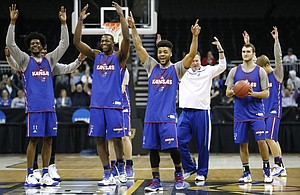 The Jayhawks and Boilermakers practiced on Wednesday at Sprint Center in preparation for Thursday's Sweet Sixteen matchup.
Josh Jackson has followed Lucas' lead in firing the ball ahead as well, typically to Devonté Graham or Frank Mason III.
"If we're going to take advantage of the speed of our guards, the best way I can help is by throwing a deep outlet," Lucas said. "The deeper up the court I can throw it, the harder it is for the other team to adjust."
Much of Jackson's SportsCenter footage comes from the finish to a fastbreak, but he has grown into an important factor at the beginning of it as well, securing rebounds and then going long.
"He has great court vision and I'm sure his eyes go up the court just like mine do," Lucas said of Jackson.
Purdue's size is a factor in it ranking among the nation's top 10 defensive rebounding teams. The Boilermakers don't even rank in the top 100 in offensive rebounding because they put greater priority on choking opponents' fastbreaks.
Unless Kansas can force turnovers, Purdue will be better than most in keeping the Jayhawks from getting an inordinate number of easy baskets in transition.
"We do put an extra premium on it," Purdue coach Matt Painter said. "We aren't going to do anything differently, but we get two guys back. We try to pick up the ball as quick as we can no matter who we play. They're obviously great at it, but we can't help them. If you take bad shots and turn the ball over, they make great plays."
Lucas, KU's biggest player, said that Kansas hasn't faced any team with the size of Purdue. Guard Dakota Mathias said he expects KU to be the fastest team the Boilermakers have faced.
"We've got to get back and take smart shots so they can't get out ahead of us," Mathias said.
Kansas will have to make the most of its opportunities in transition, given that they might be more limited than usual, and must keep the ball moving in the half-court with crisp passing.
"Really good passing team because Frank's a good passer, Devonté's a really good passer, Josh is an excellent passer for his position and Landen's a really good passer, especially out of double-teams and traps," assistant coach Kurtis Townsend said.
There is a reason Kansas coach Bill Self's quotes about Mason needing to do a better job of pushing the pace have become pretty much a thing of the past. Mason instinctively is off to the races now, sometimes taking it coast-to-coast.
"I think we do a great job of pitching the ball ahead and running," Mason said. "Coach tells us all the time that most of the time, speed will beat size, and we try to take advantage of that and get out and run."
In basketball, a good running game isn't possible without good passing, the most underrated benefit of playing four guards.
https://www.youtube.com/watch?v=eXS12axAZRo
https://www.youtube.com/watch?v=SsOfYq9NTak
https://www.youtube.com/watch?v=8ruQd2hRzdA
https://www.youtube.com/watch?v=PEzeL5VNcm8
https://www.youtube.com/watch?v=Ig6wmMMl11k
https://www.youtube.com/watch?v=OHrxxZrk3hM
---
More news and notes previewing Kansas vs. Purdue
---