Wednesday, March 22, 2017
Kansas City, Mo. — Gene Keady's coaching offspring will be represented on both benches for the second NCAA Midwest regional played tonight in Sprint Center.
Purdue head coach Matt Painter played four seasons for Keady at Purdue and coached under him in Keady's final year before taking over the program for the 2005-06 season.
Kurtis Townsend, longest-tenured Kansas assistant to Bill Self, played for Keady at Western Kentucky (1978-80) in the only two years both men spent at the school.
But that doesn't mean Keady's loyalties will be split. Keady will root for Purdue and not just because he spent 25 seasons as the school's head coach. A native of Larned, Keady graduated from and played basketball for Kansas State.
"I saw coach Keady when we played in New York," Townsend said. "He came and gave me a hug and told me how proud of me he was. But he said, 'You know, the first time you sent me a letter from Kansas, I almost puked, and I threw it away. I'm a Kansas State guy and we hated Kansas. But now that you're there I'll kind of cheer for you, but I still can't root for the Jayhawks.'"
Photo Gallery
Kansas and Purdue NCAA practices and press conferences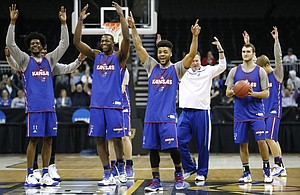 The Jayhawks and Boilermakers practiced on Wednesday at Sprint Center in preparation for Thursday's Sweet Sixteen matchup.
Townsend understands.
"He's a good friend, always asks about my parents," Townsend said. "The only reason I went there was because of him."
Townsend was recruited by Keady out of junior college to Arkansas to play for Eddie Sutton. Keady left Sutton for the head coaching job at Western Kentucky and asked Townsend to come with him.
"So I went with him and I'm glad I did because he's a great person and he helped me with my life in a lot of discipline areas," Townsend said.
Keady's Purdue teams were known for their hard-nosed defense and disciplined offense.
"He's one of those guys, probably a lot like coach Self with our guys, you don't realize it at the time," Townsend said. "He tells you the right things to do and you kind of know it all. I was the point guard, so everything was kind of my fault. I felt like that guy. Every time we lost, I had to take the brunt of the blame, which I was fine with because that's what I always did."
The older Townsend grew, the smarter his ex-coach became. Keady encouraged Townsend to get into coaching because he thought he would be good at it.
"Then when I did start coaching in high school and had my own team, I was sounding just like him," Townsend said. "It's like with your parents. You get older and you start saying, 'God, I'm saying the same things they were.' You realize how much they mean to you. He meant a lot to me and he was not only a great coach, but he was a really good person and cared about his players. I thought he was unbelievable to play for."
Townsend said he would be surprised if Keady is not at the game and he won't hold it against him for rooting for the Boilermakers.
https://www.youtube.com/watch?v=eXS12axAZRo
https://www.youtube.com/watch?v=SsOfYq9NTak
https://www.youtube.com/watch?v=8ruQd2hRzdA
https://www.youtube.com/watch?v=PEzeL5VNcm8
https://www.youtube.com/watch?v=Ig6wmMMl11k
https://www.youtube.com/watch?v=OHrxxZrk3hM
---
More news and notes previewing Kansas vs. Purdue
---