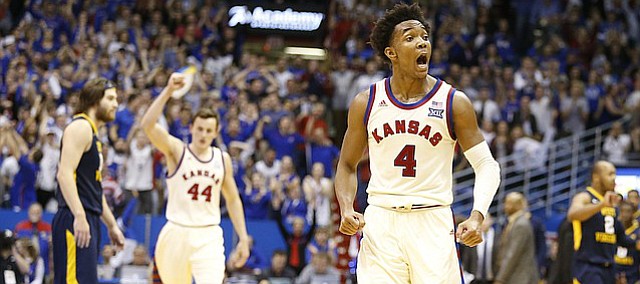 The NCAA tournament has a way of bringing on flashbacks of regular-season moments that stood out as different, went back under the radar, and resurface in March to enable a team to survive and advance.
Dwight Coleby's standout performance against Michigan State became the first such moment for Kansas, which has the easiest third of its goal behind it, and enters Phase II on Thursday night against Purdue at Sprint Center.
Michigan State held a 16-3 bench-scoring advantage when Coleby entered the game in the second half because Landen Lucas was in foul trouble and Carlton Bragg was having one of those incompetent nights he has every now and then.
Coleby put his hands up on defense, stole two offensive rebounds, totaled three points and four rebounds and basically had a mini-version of his one big game in a Kansas uniform, which came in Austin. He had 12 points and four rebounds in 13 minutes in that one. Then in the next four games combined he played just 18 minutes and totaled five points and four rebounds.
Other potential flashbacks that could help Kansas on its road to Phoenix include:
The full-court pressure that enabled KU to storm back from a 14-point deficit with 2:43 left in regulation in an 84-80, overtime victory against West Virginia in Allen Fieldhouse.
KU coach Bill Self rarely employs the press, but if he needs to roll it out in the tournament, he won't hesitate and the memory of how successful it was can only embolden an already confident bunch.
Frank Mason, Devonte' Graham and Josh Jackson bring so much quickness and Lucas, who asked to guard the ball under the hoop, looked anything but slow when he darted to the corner and used his wide wingspan to trap the receiver of the inbounds pass.
And/or:
Zone defense, employed against Georgia and Kentucky, gives Self a way to deal with foul trouble that Josh Jackson and Landen Lucas might encounter and, if needed, a way to give a team having its way a different look, a way to give rest to guards playing close to 40 minutes. The zone threw water on a hot Kentucky team in a game Kansas came from behind to win in Lexington.
"There won't be any educational tapes on that zone tonight," Self said after the Kentucky game. "But we would not have won the game unless we switched up."
And/or:
A big game from Bragg. (I'm ducking. Let me know when you stop throwing things at your computer, so that I can stand back up and continue typing.)
It will be interesting to see whether Self goes with Bragg as his first big man off the bench against Purdue, per usual, or instead turns to Coleby first.
Bragg's 10 points and six boards played a huge part in Kansas defeating Iowa State in Ames, and as recently as the regular-season finale at Oklahoma State, Bragg had a big game, scoring 11 points.
His ability to shoot from the perimeter could come in handy in drawing a Purdue big man away from the hoop.
More than most players with as much basketball experience as he has, Bragg seems to gain confidence from hitting his first shot. He has a lower chance of competing in competent fashion than does Coleby, but has a higher ceiling in that he has more ways to score and is a more explosive athlete.