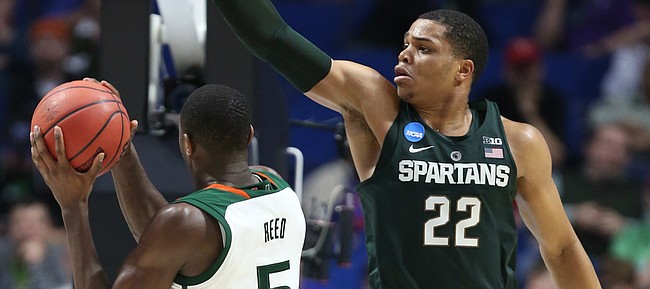 Tulsa, Okla. — Now that the recruiting battle that Michigan State coach Tom Izzo lost to Bill Self of Kansas for the pleasure of coaching Josh Jackson for his one year has faded from view in the rear-view mirror, Izzo felt comfortable Saturday afternoon revealing his failed strategy.
"I just got on my hands and knees and begged him," Izzo said. "That's what I did, and that wasn't as good as Bill's. But hey, you know what, I love Josh Jackson. He's a great kid."
Izzo and Self are gritty coaches who prefer high-motor, high-velocity competitors, which explains why they both so badly wanted Jackson.
"You can talk about his ability to put the ball on the floor and run the lane and this and that," Izzo said before saying what he likes best about the Detroit native. "I think he plays as hard as any player I've seen in a lot of years."
Izzo added that is the same quality he appreciates most about his top freshman, Miles Bridges of Flint, Mich. Jackson and Bridges have known each other since sixth grade, were teammates on two different AAU squads and played against each other as well. They remain friends and texted each other during the season.
When they met, Jackson said Bridges was "a little chunky then." Jackson was a couple of years shy of a four-inch summer growth spurt that made him a 6-footer.
Bridges is a chiseled 6-foot-7, 230 pounds, Jackson a long, 6-8, 207. Rivals ranked Jackson as the No. 1 recruit in the Class of 2017, Bridges No. 10.
Statistics never approach telling the whole story in basketball, but the similarity between their numbers can't be ignored. Bridges averages 16.7 points, 8.3 rebounds and 2.1 assists, Jackson 16.4, 7.2 and 3.0. Bridges shoots .487 from the field, .391 from 3-point range, Jackson .515 and .385. Bridges shoots better from the line (.687) than Jackson (.559).
"He does a lot of things well," Jackson said of Miles. "He can dribble. He can shoot the ball. He's freakishly athletic, and I think when you add all those things together in any type of player he's going to be pretty hard to guard."
Jackson just as easily could have been describing himself.
"I think Miles is a little bit stronger than I am," Jackson said. "He's left-handed, I'm right-handed. In some ways, I do think our games are similar."
Too often in basketball, marquee matchups between friends lack juice because they don't guard each other. Not this one.
"I don't see any way around them not being matched up against each other a lot," Kansas coach Bill Self said. "I'm not saying every possession, the entire possession. I really believe what's best for both teams is for them to guard somebody they're naturally supposed to guard, and that's each other. So it'll be a fun matchup."
Bridges and Jackson both said they're like brothers.
"Sometimes you don't like your brother, you fight your brother," Jackson said. "Next day, you're still brothers. You're still friends.... There'll be a little bit of trash-talking, but I don't think it'll get out of hand."
Bridges shared what he considers the key to limiting Jackson's impact on a game.
"Keep him off the glass, for sure," Bridges said. "He gets energy points off that and that's what gets him going.... That's what gives him a lot of his hustle points. He's just a dog on the floor."
Both players said they would rather face each other than not.
"It's way more fun," Bridges said. "It gives you more to talk about and memories for your friendship. I can't wait to play him."
Bridges and Jackson both play for teams that lack size and play well in transition.
"Any time you get two fast-paced teams playing at 100 mph it's going to be a fun game," Jackson said.
A game of bumper cars at 100 mph. The Spartans have more depth, the Jayhawks even better guard play.
"Michigan State, out of all the times I watched them, I've always felt they had a really, really tough team," Jackson said. "I've seen them win and lose games, but I've never seen them get out-toughed by another team or anything like that."
Jackson said he first met Izzo at the age of 15 or 16 in a summer-league game played at Michigan State.
"I was star-struck, growing up a Michigan State fan," Jackson said. "He's a really down-to-earth guy and I have a lot of respect for him."
Izzo couldn't get Jackson to join him, so now his team will try to beat him, but it's not as if payback is the primary motivator.
"Was it sad and disappointing? I think it was," Izzo said at Saturday's press conference. "I think it was a close fight to the finish. But I talked to Josh after it. Unlike some guys, he had the courage and the respect to call and tell me. A lot of kids don't do that. I'll always be a Josh Jackson fan, except for tomorrow night for 40 minutes."
Those 40 minutes of game clock are scheduled to start shrinking at 4:15 p.m. in the BOK Center.
Jackson has more veteran help than Bridges.
"We're going to play for him," senior Frank Mason said, "for our families, four our school, coaches and ourselves. So we just really want to get it done for him and make sure he has the best day possible."