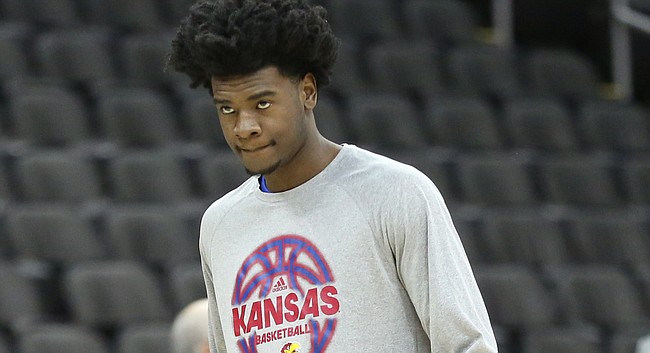 A newly released court document in the incident between KU basketball star Josh Jackson and women's basketball player McKenzie Calvert includes allegations that Jackson said he was going to "beat" the female athlete.
At the request of the Journal-World, Douglas County District Court has released the affidavit that was filed as part of a Dec. 9 incident involving Jackson and Calvert, which resulted in Jackson facing a misdemeanor charge of criminal damage to property.
The incident became most heated in a parking lot across the street from the Lawrence bar The Yacht Club, where Jackson and Calvert had both been. Calvert said she was in that parking lot when she noticed Jackson angrily stepping towards her, and she and a teammate then got into her car.
Soon, Calvert's 2016 Ford Focus was damaged to the tune of thousands of dollars and Jackson "was yelling for her to get out of the car and that he would beat her ass," the affidavit says.
The affidavit in Jackson's case was filed by police justifying a court summons he was served on March 7. He is scheduled to appear in court on April 12, where he will be arraigned. All allegations made within the affidavit must be proven in court.
The allegation about Jackson threatening to beat Calvert was made by Calvert. That allegation is not made by two other witnesses that are included in the affidavit, although it isn't clear whether they were specifically asked about that part of the incident.
The following details are taken from Jackson's affidavit:
In the early morning hours of Dec. 9, a Friday, members of KU's men's and women's basketball teams were partying at Lawrence's Yacht Club, 530 Wisconsin St. There, Calvert told police she argued with her ex-boyfriend, KU men's basketball player Lagerald Vick.
Earlier in the morning, Vick showed up to the bar with his new girlfriend, which was upsetting, Calvert told police in a Jan. 30 interview.
"Toward the end of the night, Vick would look at her while dancing with his new girlfriend as if he were taunting her," Calvert told police.
At closing time, Calvert said she threw a drink on Vick as he walked near her, then she left the bar.
As she left, Calvert said she heard Jackson say "hey (expletive)" while he had something in his hand, which might have been a bottle.
Calvert said she did not believe any of the drink she threw hit Jackson. She told him that if he threw something at her, she would call the police.
Jackson followed Calvert to her car, she said. Soon, KU women's basketball player Caelynn Manning-Allen grabbed Jackson, trying to restrain him.
Calvert said she got into her car and was joined by Eboni Watts, another KU women's basketball player.
Also interviewed on Jan. 30, Manning-Allen corroborated Calvert's recollection that she tried to hold Jackson back.
Manning-Allen "said she got in front of Jackson and grabbed hold of his arms," the affidavit says. "Jackson then kicked the driver's door."
Around this time, Calvert said Watts left the car, but Watts told Calvert to stay put.
In another Jan. 30 interview, Watts said that once she left Calvert's car, "Jackson began banging on the driver's window" while continuing to yell at Calvert.
"Watts said she witnessed Jackson kick Calvert's driver's door twice, near the door handle," the affidavit says. She also said she saw Jackson kick the tail light.
Eventually, Manning-Allen said she was able to get Jackson away from Calvert's car.
At McCarthy Hall, home to the men's basketball team, police interviewed Jackson alongside KU men's basketball coach Bill Self at about 5:45 a.m. the same day.
Jackson told police that after following Calvert out of the bar and to her car, he "asked why she was there and why she hadn't left," the affidavit says. "Jackson said he kicked the left rear quarter panel on the vehicle one time, just above the wheel well."
"Jackson said there were several other people around the vehicle, some of whom were throwing rocks at the vehicle," the affidavit continues. "Jackson said he did not believe he had damaged the vehicle."
Neither Calvert, Manning-Allen or Watts mentioned anybody other than Jackson damaging the car, though it is not clear whether they were asked about any other suspects.
Around 1:58 that morning, Calvert called police, who responded to the scene and began investigating.
The front right bumper, grille, fender, windshield, left tail lamp assembly and driver's side front door were all damaged in the incident, the affidavit says. The total cost to repair the damage was estimated at $3,150.45.
Witnesses only reported Jackson damaging the driver's door and left tail light. The estimated cost to fix those two items is $1,127.45, the affidavit says.
A single, misdemeanor charge of criminal damage to property of less than $1,000 was filed against Jackson on Feb. 24.
Douglas County District Attorney Charles Branson said in a news release Jackson was not charged with felony criminal damage, defined as damage exceeding $1,000, because "the state can't prove beyond a reasonable doubt that all the damage to the door and tail light were caused by Jackson due to other unidentifiable individual(s) damaging the vehicle."
A spokeswoman in Branson's office on Thursday said the office was not answering additional questions about the incident, including whether Jackson's alleged threat of violence or Calvert's throwing of a drink were reviewed for possible prosecution. In Kansas, assault charges can be brought forward based on verbal threats.
Jackson received "appropriate in-house discipline" immediately following the incident, Self has previously said. That discipline, however, did not include a suspension from any games. Calvert has said she did receive a suspension from the women's basketball team following the incident, but that suspension was then lifted before the team's next game. Both Calvert and her father, Tim Calvert, have made numerous public statements alleging that KU has treated Calvert unfairly, especially compared to any discipline Jackson has received.
On Thursday, a KU Athletics Department spokesman reiterated the department was aware of these allegations and has taken appropriate measures.
"As we already knew, some of our men's and women's student-athletes made some poor decisions that night," Athletics Department spokesman Jim Marchiony said. "The release of this information today does not change our understanding of the events of that evening. As we've said, we have already handled the internal Athletics discipline regarding this incident."