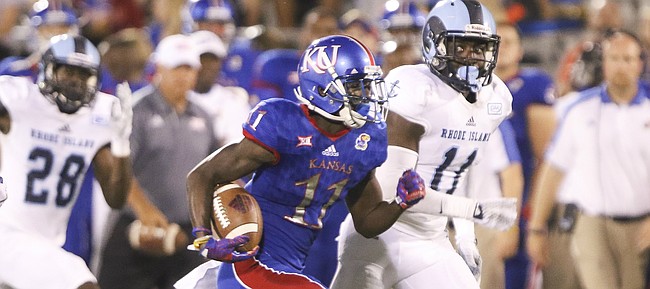 Third-year Kansas football coach David Beaty and his players still have close to six months to get through before the 2017 season officially begins, but it feels much closer than that as of this weekend, with spring practices beginning on Monday.
The Jayhawks still have numerous key performers from 2016 on campus who are eager to capitalize on the momentum created over the final three weeks of what otherwise would've been another lost season.
It would not seem as significant to a player or coach at a school known for college football success, but KU put a more competitive product on the field during the final quarter of a 2-10 season, and an overtime win versus Texas — Beaty's first Big 12 victory — gave all involved with the ever-struggling program hope for better days ahead.
Here are five things to watch as KU enters spring football, a crucial portion of the offseason.
1. A staff changeup could help KU's offense become productive enough to compete in the Big 12
The Jayhawks only put 17.8 points a game on the scoreboard in conference games last season, which, as you might have guessed, ranked last in the league (by almost 10 points).
KU's offense, at the time coordinated by Beaty, often hurt the team's chances while the defense became a strength.
The head coach rightfully addressed the issue on one important front, bringing on Doug Meacham as the new offensive coordinator. Involved heavily, as co-coordinator, with a TCU offense that helped the Horned Frogs win 29 games during Meacham's three seasons on the staff, the new KU assistant could breathe new life into the offense.
The weeks ahead should provide a sneak peek at any new principles and wrinkles Meacham plans on adding to KU's Air Raid scheme.
2. How much better now are the Jayhawks who already have demonstrated individual success?
KU only won two games last season, but plenty of players proved they can make an impact in the Big 12. In order for the program to continue its upward climb toward respectability, it will be on those experienced players as much as the new additions to the roster to make sure the Jayhawks can put more wins on Beaty's résumé.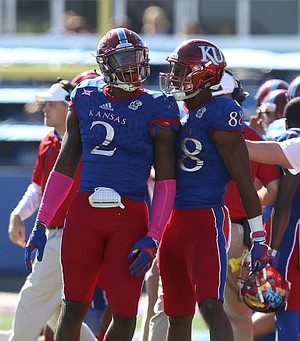 A consensus All-Big 12 defensive end, junior-to-be Dorance Armstrong Jr. already looks bigger in person than he did as a sophomore, when Kansas listed him at 6-foot-4 and 246 pounds, and Armstrong racked up 10 sacks and 20 tackles for loss.
If Armstrong, defensive tackle Daniel Wise, linebacker Joe Dineen, safety Mike Lee, receivers Steven Sims Jr. and LaQuvionte Gonzalez, offensive linemen Hakeem Adeniji and Mesa Ribordy, running back Khalil Herbert and quarterback Carter Stanley all can improve upon their 2016 production, Kansas could be well on its way to fading some recent memories of blowout losses and empty bleachers at Memorial Stadium.
3. Goodbye, Crimson Tide. Hello, crimson and blue
The football program received a surprising influx of talent, via a pair of Alabama transfers, this past August. Receiver Daylon Charlot and offensive lineman Charles Baldwin both joined Kansas during preseason camp, but had to sit out of games in the months that followed due to NCAA rules.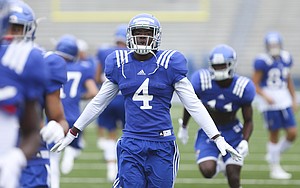 Now the KU offense finally gets to unleash two new likely starters who spent time in a national-championship-winning program.
The 6-foot, 195-pound Charlot expects to immediately bolster the receiving corps, and 6-5, 305-pound Baldwin should make it easier for the Kansas offensive line to do its job.
Over the course of the next several weeks, KU's coaches and players should get a better feel for just how influential their roles will be.
4. More new Jayhawks on campus
Charlot and Baldwin aren't the only Jayhawks looking forward to their KU debuts. Beaty and his staff signed eight players in December who have a chance to establish themselves.
Headlined by quarterback Peyton Bender, formerly of Washington State, KU picked up eight additions on the mid-year signing day.
Like Bender, cornerbacks Hasan Defense and Shakial Taylor, defensive linemen J.J. Holmes, Willie McCaleb and KeyShaun Simmons and receiver Kerr Johnson Jr. join Kansas as junior-college transfers.
What's more, Kyron Johnson, a three-star linebacker from Arlington, Texas, graduated from Lamar High early in order to get to Kansas ahead of schedule.
All of them aspire to play a role in KU's success this coming fall, and whether they're able to so could be determined this spring.
5. Who's going to be this team's quarterback?
Stanley, as a red-shirt freshman, started for KU during 2016's final three games, referenced earlier. The Jayhawks went 1-2 and looked far more competent than they had in many of their previous outings leading up to that.
But Beaty made it clear on the day he signed Bender the program's newest QB was coming to Lawrence to compete for the starting gig.
Ideally, Beaty and Meacham would like to know far ahead of September which QB will occupy the No. 1 spot on the depth chart.
They've already been working side by side since January, in one-on-one and seven-on-seven settings, with the same goal in mind, and things are about to heat up for Stanley and Bender this spring, as they compete for the coveted starting spot.