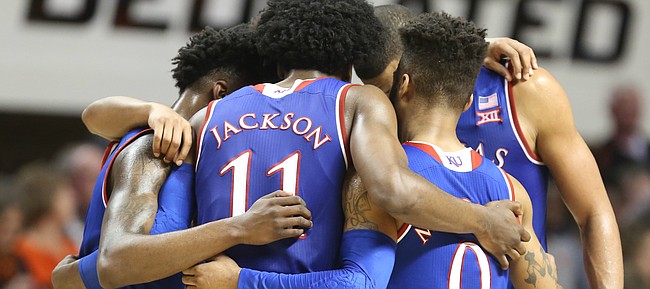 Five key questions for the Kansas men's basketball team entering the 2017 postseason, which begins next week in a to-be-determined location and ends whenever a team does to Kansas what only four squads were able to do all season or the Jayhawks cut down the nets in Arizona.
KU, which fell in the quarterfinals of the Big 12 tournament on Thursday, will learn its postseason path and fate during today's NCAA Tournament Selection Show at 4:30 p.m. on CBS.
1 – Is KU's free throw shooting good enough?
This question has lingered around the program all season and its answer sounds something like this: "When they matter most, we'll make 'em." While that confidence is both good and also helps keep the issue from growing, it's worth pointing out that the Jayhawks have made progress.
"We're not as poor a free throwing team as people make us out to be," said KU coach Bill Self, noting that his team shot. 708 in Big 12 games, which is right in line with what opponents shot against the Jayhawks all season (.709). "I bet you we've had a lot of good teams that didn't shoot 71 percent from the line. I could be wrong. We're shooting 71 percent in league play, which is not awful. It's not awful. It's not good enough. But knowing if the other guys continue shooting at the same rate and Josh (Jackson, .559) just improves a little bit, that's a 75 percent free throw shooting team. I think he will."
Outside of Jackson, the Jayhawks actually are set up fairly well for free throw shooting when it counts the most. Frank Mason III leads the starters at .776 and Devonte' Graham is right behind him at .775. Lagerald Vick, another guy with the ball in his hands a lot, is shooting a team-best .821 from the stripe and Svi Mykhailiuk shoots .676.
2 – Can thin win?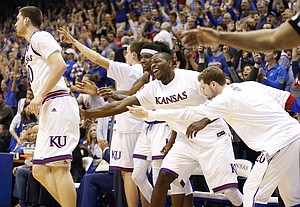 All season, KU has had to answer questions about its depth, particularly in the front court, where Landen Lucas has been the only truly reliable option.
Believe it or not, though, Self feels pretty good about his team's depth entering the postseason.
"The thing that's been encouraging to me is our seventh man, and usually Carlton more so than Dwight, has played better of late," Self said of reserve forwards Carlton Bragg Jr., and Dwight Coleby. "You look at it, we can definitely go eight, and we could go nine with (freshman forward) Mitch (Lightfoot), but we could definitely go eight depending on the situation. I feel pretty confident we can get seven guys out there all contributing in a positive way."
If Bragg, Coleby and even Lightfoot continue to give Kansas the 10-15 minutes it needs to give Lucas a breather and account for any foul trouble up front, the five perimeter players who fill the four guard spots in the lineup should have plenty in the tank to lead this team where it wants to go.
3 – Any match-up nightmares out there?
We all know that KU's guards, particularly the trio of Mason, Graham and Jackson, are a nightmare match-up for most teams. But what about when things go the other way?
Even though the Jayhawks have figured out how to handle bigger teams — most notably with Jackson's length and versatility — KU still runs the risk of matching up with that one team that has dangerous size and could give the Jayhawks trouble.
A team like Purdue, with Big Ten Player of the Year Caleb Swanigan and his supporting cast, is one such squad that could pose problems for Kansas simply because Lucas can offer only so much resistance and Purdue's bulk and strength, much more than length, could be a problem for the rest of the Jayhawks. Louisville is another team in that same mold.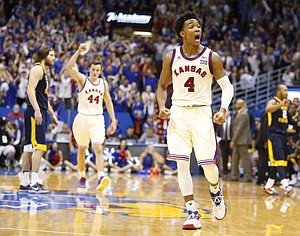 Part of the match-up equation, no matter who Kansas runs into, is Bill Self's ability to adjust quickly and get his players to execute seldom-used defenses that alter the course of a game. We saw that some this season and have seen it plenty throughout the years during the do-or-die grind of March Madness. Expect more this postseason.
4 – Close games good or bad?
With all of those games decided by six points or fewer and KU's stellar record in them, the question still begs, has playing those types of down-to-the-wire battles been good or bad for Kansas?
Team Good will tell you that the closely contested grinders are a great tune-up for the games you'll experience in March.
Team Bad will tell you that fighting to the end every night, with so much weighing on so many possessions is exhausting and can take its toll on a team over time.
Self has said that he's heard both arguments from all kinds of coaches past and present and it sounds as if he doesn't really have a take on this. The bottom line is this factor is not black and white. It depends on the make-up of one's roster, the experience and drive of the players in uniform and how much the team has learned from those close games.
It just takes one off day for this question to be answered clearly, but the guess here is that if Kansas falls before achieving its ultimate goal this season, it won't be because the Jayhawks played too many close games along the way.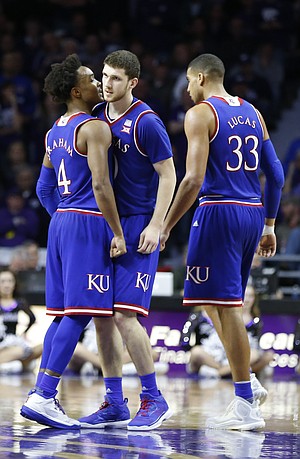 5 – Will junior wing Svi Mykhailiuk reemerge?
After a really nice mid-season run, the KU junior has fallen on hard times of late.
He shot the ball well in Thursday's Big 12 tourney loss to TCU but did most of his damage early, made a couple of bad plays late and won't get to play again for another week so we don't really know if what he did in Kansas City truly brought Mykhailiuk back.
Self and the Jayhawks have done their best to keep the junior's confidence up and help him through his struggles and that appears to be working as Mykhailiuk continues to look for his shot and has stayed aggressive.
Snapping out of his funk is about much more than making shots. Mykhailiuk needs to play better defensively and focus more on doing the little things right to build his confidence.
Being in the right spots in help defense, picking up deflections and loose balls, hitting the boards and getting others open are all things Mykhailiuk can do to positively impact KU's outcomes whether his shots are falling or not.