Kansas City, Mo. — The easy answer was that top-seeded Kansas lost Thursday's Big 12 quarterfinal to TCU at Sprint Center because the No. 1-ranked Jayhawks played without suspended guard Josh Jackson.
The more accurate reason Kansas was headed home to wait for Selection Sunday was because the Jayhawks were beat on the boards, struggled defensively all night and got next to nothing from their bench.
All three shortcomings showed up at the worst times on Thursday, and now the top-seeded Jayhawks are off for the weekend thanks to an energy-zapping, 85-82 loss to No. 8 seed TCU.
"We had who we had. It's not an excuse of who we didn't have," said KU coach Bill Self, alluding to Jackson. "It just seemed like there was such a drop off when we made any substitutions today. And I'm not being critical on purpose with our guys. I think that's pretty factual. When we had our five starters out there, we were pretty good. But whenever we had to go to the bench it just wasn't very good today."
Photo Gallery
Kansas basketball v. TCU (Big 12 Tournament)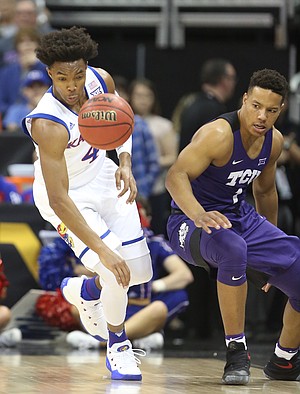 View a gallery of images from Thursday's game between the Jayhawks and Horned Frogs at Sprint Center.
KU's bench was outscored, 34-3, with a big chunk of that damage coming during a 33-10 TCU run that spanned the final few minutes of the first half and the first five of the second.
After Kansas built a 39-27 lead with 4:20 remaining in the first half — struggling junior Svi Mykhailiuk exploded for 13 first-half points on 5-of-7 shooting in 19 minutes — the Horned Frogs (19-14) closed the half on a 16-3 run to take a 43-42 lead into the locker room at halftime.
Kansas (28-4) stemmed the tide early in the second half and led 47-45 on an uncontested dunk by Landen Lucas (13 points, 14 rebounds) on an inbounds play, but the Frogs responded with a 15-2 run from there to push their lead to 60-49 with 13:57 to play.
"We really controlled the game except for eight minutes," Self lamented after the loss, KU's first in the quarterfinal round of the conference tournament since 2009 and just the second in the 21-year history of the event. "We went from up 12 to down 11. That's 23. We had a chance to crack it open and didn't."
Podcast episode
Kansas basketball coach Bill Self, along with senior Landen Lucas and junior Devonte' Graham, discussed their 85-82 loss to TCU in the Big 12 Tournament quarterfinals and playing without suspended freshman Josh Jackson.
That, along with severe disappointment in the way they defended throughout the game, was one of the Jayhawks' most regrettable acts in this loss.
"It went wrong when we let them go on that run and wasn't responding," junior Devonte' Graham, who finished with 10 points on 2-of-10 shooting, including a miss of a 26-footer to tie as time expired. "They just had all the momentum going. That's what we talked about in here. We just gotta put our foot on teams' throats and not let them hang around and think they can play with you and give them momentum and you end up losing. That's kind of what we did today."
Self made sure to credit TCU for its ability to respond to the Jayhawks' early lead, but said KU's lackluster defense played a big role in that.
Several times, both during TCU's mid-game run and down the stretch, TCU got uncontested baskets right at the rim, either in transition or off the dribble, therein making Kansas' offensive output irrelevant.
"You score 80 points, you're supposed to win," Self said. "That's plenty to win. Past teams that we've had, if you scored 70 that was a guaranteed win. Now, 80's not even a guaranteed win because we don't guard as well."
Even with all of those missteps and missed opportunities, the Jayhawks, as they've done all year long, found a way to charge hard in the second half. Led by some big time buckets from senior Frank Mason III, who finished with a game-high 29 points — making it a perfect day to hand him that Big 12 player of the year trophy he picked up before tip-off — Kansas answered TCU's 11-point lead with a 15-5 run and trailed by just one with more than nine minutes to play.
From there, KU tied the game twice — 70-all and 72-72 — before building an 80-76 lead with just over two minutes remaining.
At the time, after a runner in the lane by Mason with 2:18 to play, it seemed like this one was going to wind up the way so many other close calls had throughout the season. TCU forward Vlad Brodziansky missed a quick jumper on the other end and Kansas had possession, up four, with a pro-KU crowd buzzing.
But a missed connection on an alley-oop attempt from Mason to Lagerald Vick left the door open just enough and TCU bull-rushed its way through it with a nearly flawless final two minutes.
"Yeah, I definitely did," said Mason, when asked if he thought the alley-oop might've sealed the deal. "It was a wide-open lob. I think I just threw it a little too high. If it would've been a little shorter, he would've caught it and dunked it. It was just a bad pass."
That mistake was compounded by two more from Mykhailiuk — a turnover and a foul on a 3-point attempt — that led to five TCU free throws in the final 65 seconds to set the final margin.
TCU's final three free throws, which came from a cool, calm and collected Desmond Bane with 2.5 seconds to play, came after Mykhailiuk blocked Bane's shot attempt from the corner but landed on him during the follow-through.
"I thought I blocked it and it was clean," Mykhailiuk said. "But they called it."
Although a handful of Jayhawks said they still had hope after Bane's three makes, there was no comeback in the cards this time and Kansas was left to figure out what the next two days would be like without games to be played.
"It's tough," Graham said. "You never want to lose, period. But especially not in the first game. It hurts right now but we've gotta focus on the tournament now."
Added Self, when asked if he thought the loss came at a good time for his team: "I don't know. I don't know. Time will tell. I didn't want to come over here and go home empty after one day. I'm one of those believers that if you play you might as well win. We would be spent tomorrow. Tomorrow would be a hard day for us, but our guys usually respond to challenges and I certainly would've liked to see us play more games here."
https://www.youtube.com/watch?v=ynULE20S_og
— See what people were saying about the game during KUsports.com's live coverage.
---
More news and notes from Kansas vs. TCU
---