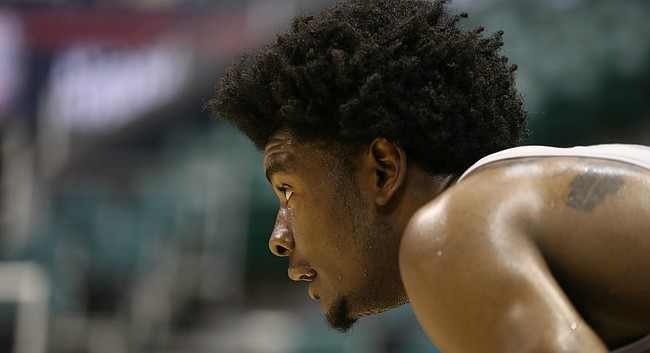 Another off-court legal issue came to light Wednesday as the Kansas basketball program prepared for the start of the 2017 postseason.
Kansas coach Bill Self on Wednesday morning announced that freshman guard Josh Jackson would miss Thursday's Big 12 quarterfinal at Sprint Center to serve a one-game suspension for his role in a traffic incident in early February.
Podcast episode
Bill Self on Josh Jackson and the Big 12 tournament
According to Self, Jackson, KU's second leading scorer and a likely Top 3 pick in this summer's NBA Draft, backed into a parked car on Feb. 2 and not only did not leave his information for the car he hit but also did not tell Self about the incident until Monday.
"Josh was involved in an automobile incident that happened on February 2, when Josh backed into a parked car on campus and left the scene without leaving contact information," Self said. "Although Josh has acknowledged his responsibility and has handled it himself, he didn't tell me about it until Monday. He should have left his contact information at the time and notified us immediately."
However, accident reports from KU's Office of Public Safety indicate the crash took place sometime between Sunday, Feb. 5, and Monday, Feb. 6.
A KU officer received a report on Feb. 6 that a man's Chevy Malibu, which was legally parked at 1620 Engel Road, had been hit, the report says.
The man told the officer he parked in a lot east of KU's Daisy Hill Commons around 7:30 p.m. Feb. 5 and when he returned the next morning he noticed the car had been hit.
Damage to the Malibu is estimated to be greater than $1,000, the report says.
Later that day the investigating officer identified the car responsible for the crash as a Volkswagen Jetta with a Connecticut tag, the report says. The owner of the car said he had not been driving at the time of the accident, but he directed the officer to Jackson.

Damage to the Jetta is estimated to be less than $1,000, the report says.
The next day the officer met with Jackson, who "acknowledged he was the one driving the vehicle," the report says.
Self told the Journal-World via text message that sophomore guard Lagerald Vick would start in Jackson's place. Jackson will still make the trip to Kansas City with the team.
Jackson is scheduled to appear in Lawrence Municipal Court on March 27 for the following citations: striking an unattended vehicle, inattentive driving and improper backing. That appearance date is two days after a potential Elite Eight game in Kansas City, Mo., should the Jayhawks advance that far and play in that region, and five days before this year's Final Four in Arizona.
Self provided more comment on the incident after KU's Wednesday afternoon practice at Sprint Center.
"To me, it was a pretty easy decision," Self told reporters outside the Kansas locker room. "If it was a singular event, I obviously would not have ... He did what he was supposed to do afterwards, but he should've left his contact information there. Even if he's never had any experience with that he should've known that. And he also should've notified us if he didn't know what to do."
Self said Jackson's infraction came up during a conversation between the two on Monday, two days after the conclusion of a regular season in which Kansas finished 28-3 overall and 16-2 in the Big 12 en route to a 13th consecutive Big 12 title.
"I don't know exactly how it all went down, but he had already gone to court," Self revealed. "He had already done what he was supposed to do. He just didn't let anybody know he had done it. That's what was a little disappointing because we talk about that stuff ... He made a mistake by backing into someone's car. I think that's probably been done many times in a parking lot before. He compounded it by not being responsible at that moment and not leaving his information. He knew that was wrong. He knew that was wrong or he wouldn't have handled it the way he handled it afterwards. It's disappointing, but it's not an Earth-ender or anything like that."
KU senior Landen Lucas said Jackson talked with the team and apologized for the distraction.
"He wants to be out there with us," Lucas said. "But he's going to serve his time and come back ready to go. We'll be just fine. I think it's one of those situations where, as soon as one or two things start happening, the spotlight gets bigger, everybody starts focusing on it and small things that usually might go unnoticed end up being a bigger deal. There's already a big enough spotlight on us, there's already eyes on us. It's kind of like a glass house with everything. We already kind of had that understanding and we know it's amplified with everything that's been going on."
The incident is the latest in a string of off-the-court issues affecting the Kansas basketball program, ranging from an investigation to an alleged rape at the team's McCarthy Hall dormitory to junior guard Devonté Graham being arrested for driving with expired tags.
This is the third time Jackson's name has appeared in these instances. Jackson, who earlier this season was charged with a misdemeanor for his role in criminal damage to a car outside of the Yacht Club, also was listed as a witness in the McCarthy Hall investigation. Jackson's arraignment in the car vandalism case is set for 3 p.m. April 12 in Douglas County District Court, according to court records.