Thirteen proved to be quite lucky this season for the Kansas men's basketball team, which not only racked up a 13th-consecutive Big 12 Conference regular season title but did so on the strength of some extra hardware.
Senior guard Frank Mason III, a top candidate for several national player of the year honors, on Sunday was named the Big 12 player of the year, while freshman Josh Jackson, who also is a semifinalist with Mason for a couple of the nation's top honors, was named the Big 12 freshman of the year, and KU coach Bill Self was named Big 12 coach of the year, giving Kansas three of the six individual honors handed out by the conference.
"It was a great year for our league," Self said. "It was thought to be one of the two toughest conferences in the country and to place two players on the first team, one on the second team and an honorable mention bodes well for how our guys played throughout the entire season. Anybody who is recognized as a top-20 player in a competitive league like ours should feel very good about being selected."
Baylor point guard Manu Lecomte won Big 12 newcomer of the year honors, while West Virginia guards Jevon Carter (defensive player of the year) and Tarik Phillip (sixth-man of the year) took home the other honors.
Mason, who also picked up the Big 12's final Player of the Week honor on Sunday morning, joins Raef LaFrentz (1997, 1998), Drew Gooden (2002), Nick Collison (2003), Wayne Simien (2005), Marcus Morris (2011) and Thomas Robinson (2012) in being named the Big 12 Player of the Year and enters the postseason in position to become the first player in Big 12 history to finish a season averaging 20-or-more points and five-or-more assists.
"This is a great honor from the Big 12 coaches but it could not have happened without my teammates and coaches," Mason said. "We've worked hard to get here, but have more things to accomplish in the next month."
Mason's 27-point, nine-assist explosion at Oklahoma State on Saturday pushed his season averages entering this week's Big 12 tournament (Wednesday through Saturday in Kansas City, Mo.) to 20.5 points and 5.1 assists per game.
The big game also moved Mason into 10th place on KU's all-time scoring list.
The 5-foot-11 guard from Petersburg, Va., led Kansas in scoring in 22 of 31 games during the regular season and tallied 18 20-point games during that stretch.
Mason was a unanimous selection for this season's Big 12 Player of the Year honor, meaning that all nine Big 12 coaches who were eligible to vote for him did.
"Frank being a unanimous selection goes back to our very first game in Hawaii," Self about his senior point guard. "He has been one of the most consistent performers in America since the opening tip of the season. Probably no player in America, let alone our league, has been more valuable in crucial game situations to what Frank has for us."
Jackson, a likely top-three pick in this summer's NBA Draft, saw his numbers improve each month during what is likely to be his lone season of college basketball.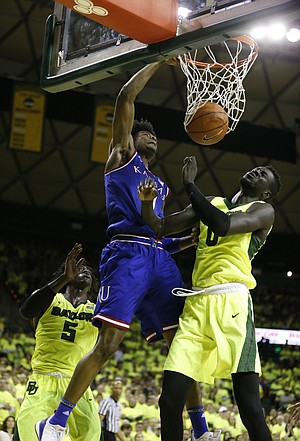 The 6-foot-8 guard from Detroit, who spent a lot of time playing the four spot in KU's four-guard lineup, finished the regular season as KU's second-leading scorer (16.4) and rebounder (7.2) and led the team with 51 steals and 33 blocks in 30.7 minutes per game.
Jackson earned Big 12 Newcomer of the Week honors seven times — second all-time to Kansas State's Beasley, with eight — and also was named conference Player of the Week twice. His nine combined Big 12 weekly honors set a Kansas record.
"These honors reflect playing with great teammates and having a great season, which we are not done yet," Jackson said. "We have great leadership in our coaches and teammates and they too should also get credit for these awards."
Jackson joins former Jayhawks Jeff Boschee (1999), Brandon Rush (2006) and Andrew Wiggins (2014) in being named conference freshman of the year.
"Josh has accepted coaching, his role and has improved at a consistent clip since the start of the season," Self said. "The last two months in conference play he performed to an All-American level."
All honors were selected by the 10 Big 12 coaches, with each unable to vote for his own players.
For Self, who beat out Oklahoma State's Brad Underwood and Baylor's Scott Drew for the Coach of the Year nod, the honor marks the fifth time in his 14 seasons at Kansas that he has been named Big 12 Coach of the Year by the league's coaches. Self also was given the Big 12 Coach of the Year label by the Associated Press in 2015 and 2016.
Both Mason and Jackson were named first-team All-Big 12 selections, joining Oklahoma State's Jawun Evans, Iowa State's Monté Morris and Baylor's Johnathan Motley. Mason, Motley and Morris were unanimous selections.
KU junior Devonte' Graham earned a second-team All-Big 12 nod and senior forward Landen Lucas was named honorable mention.
— 2016-17 PHILLIPS 66 ALL-BIG 12 MEN'S BASKETBALL AWARDS —
Coach of the Year: Bill Self, Kansas
Player of the Year: Frank Mason III, Kansas
Defensive Player of the Year: Jevon Carter, West Virginia
Newcomer of the Year: Manu Lecomte, Baylor
Freshman of the Year: Josh Jackson, Kansas
Sixth Man Award: Tarik Phillip, West Virginia
— ALL-BIG 12 FIRST TEAM —
Johnathan Motley, Baylor F 6-10 230 Jr. Houston, Texas/North Shore
Monté Morris, Iowa State G 6-3 175 Sr. Flint, Mich./Beecher
Josh Jackson, Kansas G 6-8 207 Fr. Detroit, Mich./Prolific Prep [Calif.]
Frank Mason III, Kansas G 5-11 190 Sr. Petersburg, Va./Massanutten Military
Jawun Evans, Oklahoma State G 6-1 185 So. Dallas, Texas/Kimball
— ALL-BIG 12 SECOND TEAM —
Nazareth Mitrou-Long, Iowa State G 6-4 208 Sr. Mississauga, Ontario/St. Martin
Devonte' Graham, Kansas G 6-2 185 Jr. Raleigh, N.C./Brewster Academy [N.H.]
Jeffrey Carroll, Oklahoma State G/F 6-6 215 Jr. Rowlett, Texas/Rowlett
Vladimir Brodziansky, TCU F 6-11 220 Jr. Prievidza, Slovakia/Canarias Basketball Academy
Jevon Carter, West Virginia G 6-2 200 Jr. Maywood, Ill./Proviso East
— ALL-BIG 12 THIRD TEAM —
Manu Lecomte, Baylor G 5-11 175 Jr. Brussels, Belgium/Athene des Pagodes/Miami (Fla.)
Deonte Burton, Iowa State G 6-4 250 Sr. Milwaukee, Wis./Vincent
Wesley Iwundu, Kansas State F 6-7 205 Sr. Houston, Texas/Westfield
Jarrett Allen, Texas F 6-11 235 Fr. Round Rock, Texas/St. Stephen's Episcopal School
Keenan Evans, Texas Tech G 6-3 175 Jr. Richardson, Texas/Berkner
Nathan Adrian, West Virginia F 6-9 235 Sr. Morgantown, W. Va./Morgantown
— ALL-BIG 12 HONORABLE MENTION —
(Listed alphabetically by school)
Ishmail Wainright (Baylor), Matt Thomas (Iowa State), Landen Lucas (Kansas), D.J. Johnson (Kansas State), Kameron McGusty (Oklahoma), Phil Forte (Oklahoma State), Jaylen Fisher (TCU), Kenrich Williams (TCU), Zach Smith (Texas Tech)
— BIG 12 ALL-DEFENSIVE TEAM —
Jo Lual-Acuil, Baylor F 7-0 220 Jr. Melbourne, Australia/Kingsway Christian
Ishmail Wainright, Baylor G 6-5 235 Sr. Kansas City, Mo./Montrose Christian
Vladimir Brodziansky, TCU F 6-11 220 Jr. Prievidza, Slovakia/Canarias
Nathan Adrian, West Virginia F 6-9 235 Sr. Morgantown, W. Va./Morgantown
Jevon Carter, West Virginia G 6-2 200 Jr. Maywood, Ill./Proviso East
— BIG 12 ALL-NEWCOMER TEAM —
Manu Lecomte, Baylor G 5-11 175 Jr. Brussels, Belgium/Miami (Fla.)
Jo Lual-Acuil, Baylor F 7-0 220 Jr. Melbourne, Australia/Kingsway Christian
Josh Jackson, Kansas G 6-8 207 Fr. Detroit, Mich./Prolific Prep [Calif.]
Kameron McGusty, Oklahoma G 6-5 170 Fr. Katy, Texas/Sunrise Christian
Alex Robinson, TCU G 6-1 180 So. Fort Worth, Texas/Timberview/Texas A&M
Jarrett Allen, Texas F 6-11 235 Fr. Round Rock, Texas/St. Stephen's
- Unanimous Selection
• Ties in the voting created additional spots on the All-Big 12 Third Team and Big 12 All-Newcomer Teams