Just as 2015 WNBA MVP Elena Delle Donne was taking the court Thursday night to help the Washington Mystics to a 67-54 victory against the New York Liberty, Angel Goodrich was taking a break during a long day of work at the Native Top 50 basketball camp at Haskell University, which started at 5:30 a.m. and would wrap up after a post-dinner film session.
Five years and a few months ago, the 6-foot-5 Delle Donne and the 5-4 Goodrich shared a basketball court for a night. Goodrich stood taller than the WNBA superstar.
Kansas moved onto the Sweet 16 with a 70-64 upset and Delle Donne's Delaware squad went home. A miniature magician of a point guard, Goodrich not only scored 27 points, dished six assists and made 3 of 6 3-pointers, she trended on Twitter, a first and as-yet-unmatched social media accomplishment for Kansas women's basketball.
Delle Donne, the nation's leading scorer, was spectacular with 34 points and 10 rebounds, but it was the national leader in assists who advanced.
How did the Jayhawks pull off an upset that was even more surprising considering that star center Carolyn Davis was sidelined by injury?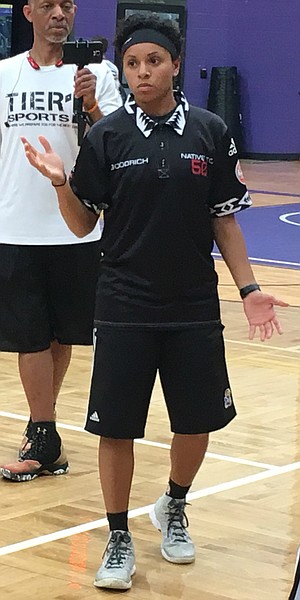 "It was a team effort," Goodrich said from a chair at the scorer's table at Coffin Complex. "Obviously, she was the one who almost beat us, but it was a team effort. At that time, I think we just really just bought into the system and came together and played together and we all wanted the same thing and I think and truly believe that's what helped us get there and win that game. We bought into everything we talked about in the scouting report, bought into everything Bonnie (Henrickson) said, everything. We all bought into the same goal, right from the head coach down to the last player on the bench, and I believe it helped us."
The cohesion of which Goodrich spoke was a long time coming.
"We didn't mix at first," she said. "I think getting everybody on the same page — we had too many people who were on different pages, just thought about themselves. Then once people started thinking outside themselves and starting thinking about team, other than me, me, me, that's when we started to come together and started to play as a team."
The run ended with an 11-point loss to Tennessee.
A year later, Goodrich again led KU from a nervous Selection Sunday all the way into the Sweet 16 after upsets over Colorado and South Carolina before losing by 30 points to Notre Dame.
Goodrich had the misfortune of being drafted by the same team that drafted Notre Dame's star point guard Skylar Diggins, leaving Goodrich little playing time.
Goodrich spent two seasons with the Tulsa Shock, one with the Seattle Storm and averaged 2.8 points and 2.2 assists in 83 WNBA games.
"It's tough," Goodrich said. "It's a tough league, hard to get in it and even harder to stay in it. Played three seasons in the league and it's kind of cool to say you got to play in the league with and against great players for three years."
She also played half a season in Russia and a full season in Poland. The Storm cut her in advance of the 2016 season.
Her fiancé landed a job in Goodland, where the couple has been living since September.
Before that move, Goodrich said she helped out with the Dodge City Community women's basketball team for a month or two.
"I've tried it because so many people have said, 'You should coach,' and because I want to be around the game. Still I haven't really liked it as much as I thought I might like it," Goodrich said. "I think for me coaching is not my cup of tea. I like player development skills, helping players one-on-one, individually, as far as a team aspect, it's not really where I want to be."
The camp at Haskell, attended by Native American boys and girls basketball prospects from across the country, is intended to give the players a taste of the rigors of college basketball, according to Derrick Stevens, director of Global Elite Sports Association, a combination basketball instruction/clothing-line company.
"It's really, really awesome they get to come here and learn so much at such a young age," Goodrich said. "I had no idea everything that went into being a college athlete until I actually got here. They make it seem like this nice smooth ride through college where it's not hard at all, but it's tough. It's literally blood, sweat and tears, the whole thing. It's good that they're getting the opportunity to see this for two days (Thursday and Friday). And college is a lot more intense than this."
Milt Palacio, a seven-year NBA veteran whose buzzer beater for the Celtics that earned him the nickname "Miracle Milt" can be found on Youtube, is among the camp counselors. Bansi King, formerly of Bishop Seabury High and one of four area high school players transferring to Free State, is attending the camp as are Jaelyn Two Hearts of Free State and E'lease Stafford of Lawrence High.
Today is "All-Star Day" at the camp. The girls' all-star game tips off at 5, the boys' at 7.