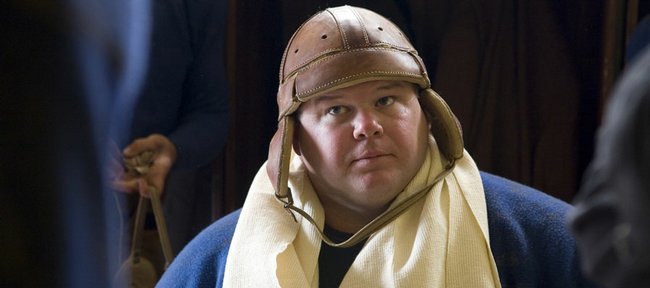 A remote family connection to former Kansas football coach Glen Mason led to Keith Loneker coming from Roselle Park, N.J., to Lawrence to play college football for Kansas. Loneker came to call Lawrence home after his professional football career ended.
A former offensive lineman, a Lawrence youth football coach, an actor and regular attendee at his two children's games when they were standout athletes at Free State High, Loneker died Thursday morning after a battle with cancer. He turned 46 Wednesday.
Reached by phone Thursday, Mason reflected on the day he first heard Loneker's name mentioned as a potential recruit.
"When I first got to Kansas, we weren't very good," Mason said. "One of our deficiencies was we didn't have Big Eight-type linemen. (Assistant coach) Reggie Mitchell was recruiting New Jersey for us and he came to me and said, 'Hey, your nephew is a really good football player.' I said, 'What are you talking about? I don't have any nephews who play football.'"
That surprised Mitchell, who told his boss, "He knows all about you coach, knows the whole deal. And he can really play." Mason watched Loneker's film, liked what he saw and placed a call to his sister to see if she knew anything about a football player who claimed to be his nephew.
"My family is half-wacky, so I asked my sister, 'Is there anybody out there I don't know about?' and then I told her the story," Mason said.
A couple of hours later, Mason's sister called back and had solved the mystery. She told her brother that Loneker was her husband's sister's niece's son.
"I said close enough," Mason said. "We recruited him, it came down to us and Tennessee, we got him and he became a cornerstone foundation of us getting some quality Big 8 offensive linemen."
Loneker went on to play four NFL seasons (1993-95 with the St. Louis Rams; 1996 with the Atlanta Falcons), starting 5 of 19 games in which he appeared.
Loneker's son, Keith Loneker Jr., a linebacker for Kansas, broke the news of his father's death with a tweet at 1:42 p.m. Thursday: "Rest In Peace to my hero, warrior and idol. My father has passed this morning and put up a hell of a fight. Appreciate the love."
Keith Jr. later tweeted that visitation will be at 9 a.m. Saturday at Corpus Christi Catholic Church, with the funeral to follow at 10 a.m.
The church will be filled with grown men who played football for Loneker as little boys.
"He was an advocate for youth football and for youth football players no matter who they were, special needs or special talent, he was an advocate for all of them," said Bret Toelkes, president of Lawrence Youth Football, Inc.
Toelkes also called Loneker "the best coach I was ever around in my whole life. He had the ability to break it down for you. I watched a lot of football with Keith over the years, Friday nights at the high schools, (NFL) games on Sundays, and he could break it down for you. And he was great working with other coaches. I was never around anybody like him when it came to football."
Toelkes visited Loneker daily during his hospice care and said he was touched by the care he received from friends Charley Bowen, a KU teammate, and Kelly Barah, Kylee Loneker's soccer coach at Free State before she played at Fort Hays State.
"Everything he needed, clear to the end, they took care of for him," Toelkes said. "You'll never get better friends than those two guys, Charley and Kelly."
Charley Bowen, older brother of Kansas defensive coordinator Clint Bowen, said, "Kind of hard to believe. Hard to understand how it can happen to somebody that powerful in his body and powerful in his life. At least he's not suffering anymore."
Inducted into his hometown's athletic Hall of Fame in November, Loneker was diagnosed with cancer days after Christmas. He and Charley Bowen made the trip to Memphis to watch the Jayhawks play there in September.
"He really enjoyed watching little Keith play," Charley Bowen said. "He was looking forward to watching him this year."
He enjoyed watching more than his son play.
Former Free State High standout Scott Frantz, starting left tackle for Kansas State as a redshirt freshman last season and an NFL prospect, Frantz said he would not be playing college football if not for Loneker, his youth football coach and personal instructor later in his career.
"If we were doing 15 sled pushes in 110-degree heat, we were doing all 15," Frantz said. "Quitting was never an option. I feel like that lesson of never giving up really stuck with me throughout many facets of life. It's helped me tremendously at K-State and will continue to help me."
Frantz said he wears No. 74 in Loneker's honor.
"Every time I put that jersey on, I remember everything he taught me, everything he means to me," Frantz said. "When I first heard about his passing, I was sitting in class trying my best to hold back the tears. After a while though, I started smiling and chuckling out loud in class. I started to remember all of the great memories I had with him, all of the jokes we used to tell each other."
Loneker's lighter side surfaced often.
Retired voice of KU Bob Davis remembered Mason taking a caller's question on Hawk Talk.
Caller: "Your team looks like it's in great shape."
Growled Mason: "Loneker, is that you?"
The fearlessness required to call a tough coach on a radio show came in handy when Loneker tackled a new career as an actor. "Superbad," "Leatherheads" and "Lakeview Terrace" were among Loneker's film credits. He appeared in films starring Jennifer Aniston, George Clooney, Jennifer Lopez and Mark Wahlberg.
"He's going to be missed," Charley Bowen said, speaking for many.