If former Jayhawks Ben McLemore and Wayne Selden had staged a head-to-head dunk contest Thursday night instead of playing their roles on opposite teams in the ninth annual Rock Chalk Roundball Classic, the sold-out crowd at Free State High likely would have walked away just as happy.
Ripping off highlight after highlight and high-flying dunks along with crowd-wowing athleticism, two of the youngest Jayhawks in the NBA stole the show, pouring in a combined 48 points during Selden's Crimson team's 104-101 victory over McLemore's Blue squad.
Photo Gallery
2017 Rock Chalk Roundball Classic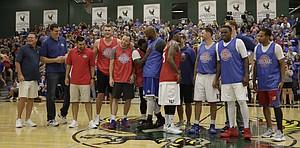 Images from one of the biggest and most competitive Rock Chalk Roundball Classic contests in the nine-year history of the event, which is held annually as a fund-raiser for families of local children battling cancer. The game also proves to be one heck of a reason for former Jayhawks of all generations to get together for a giant reunion and the 2017 version featured the biggest turnout yet.
"Two of the most athletic guys I've played with before, like ever," Tyshawn Taylor said after the game. "Wayne's a freak and Ben's one step under a freak. It's crazy."
Added former KU point guard Russell Robinson, one of 12 members of the 2008 national championship team who made it back for Thursday's game: "So much energy here, so many generations of Jayhawks. It's really just unbelievable. We let the young guys play and they did a great job and I'm very happy for a lot of guys. A lot of pros coming through Kansas."
Pros with something to prove would be the more accurate description.
For McLemore, a former lottery pick who just finished his fourth season in the NBA, and Selden, who went undrafted last year but capped his rookie season by starting for Memphis in the playoffs, just about every moment of their lives right now is about positioning themselves for bigger roles with their pro teams. And while that is the unquestioned driving force for both former Jayhawks this summer, each said he was happy to mix in some entertainment with that determination for the Roundball Classic, which featured more than 50 former Jayhawks giving their time and talents to help raise money for five local children under age 12 battling cancer.
"Oh, it was fun," Selden said after sticking around to sign autographs for nearly an hour after the game was over. "To get back with all the guys and guys before me, to just get out there and compete for a good cause. It was a great time. I've always wanted to come back and do this."
Added McLemore, who led all scorers with 32 points: "It was definitely competitive this year, I can say that. But all the guys came back and it's just fun to see the whole family back and all our brothers." "That was my dream, making it to the NBA and giving back to the community and the kids because it starts with the youth and it's always great to do things like that."
Event organizer Brian Hanni said the game's goal this year was to raise $40,000. And as the night went on, from start to finish, more and more money kept pouring in, from donations and auctioned items to a couple of last-minute surprises that pulled in a couple thousand more dollars.
At one point, Sherron Collins (18 points) whispered to Hanni that he had a game-worn KU jersey in his car that he'd like to contribute to the cause. It pulled in $500 in about 45 seconds.
Old school Jayhawk Calvin Thompson also quickly got all of the 2008 champs in attendance to sign a photo from the downtown celebration and it went for $300 in even less time.
At halftime of the game, that group got together for a photo at mid-court and KU coach Bill Self spoke briefly about the group.
"After watching 'em so far, I'm surprised we won one game that year," Self joked. "But, no, this is a special group. There'll be nothing like that at Kansas ever again."
While the competitiveness of the game varied depending on who was on the floor, when it came down to it, those players still in their prime and in the best shape flat-out competed in an attempt to win.
After leading for most of the first half, McLemore's Blue squad, which featured a starting lineup of McLemore, Robinson, Taylor, Perry Ellis and Jeff Withey, trimmed a 13-point deficit to pull within three in the final 20 seconds.
With a shot to force overtime, the Blue team funneled the ball to McLemore, whose 3-pointer from the right wing missed long. Despite the Crimson team corralling the rebound, McLemore actually got one final crack to tie it as time expired after an improbable steal. But that shot also missed.
"Man, I'm frustrated," McLemore admitted. "But, again, it's not about winning the game, losing the game, whatever. It's about the kids."
By kids, McLemore may as well have been talking about basketball fans young and old. Because while the sold-out event no doubt left a lasting impact on the couple thousand people who were on hand, it also proved to be just as meaningful for the dozens of former Jayhawks who played or coached in the game.
"This is the best I've seen it," said Taylor, who scored 22 points in a losing effort. "I mean, guys just need an excuse to come back to Lawrence. We love it here. It's a great place, obviously. You see how many people came out just to watch us old guys run up and down and throw bad passes and look out of shape, but they love it. So it's great for us. It's great. Younger guys like me watched all these dudes and the older guys, once they leave, they follow us. So a bunch of familiar faces, and it's great to just play. We're all here, we might as well get up and down. This is a great event."
Rock Chalk Roundball Classic scoring:
CRIMSON (104): Mario Chalmers 22, Wayne Selden 16, Cole Aldrich 15, Mario Little 4, Drew Gooden 2, Sherron Collins 18, Elijah Johnson 10, Billy Thomas 6, Brady Morningstar 4, Nick Bradford 2, Guest Jayhawk 5.
BLUE (101): Ben McLemore 32, Tyshawn Taylor 20, Perry Ellis 11, Jeff Withey 12, Tyrel Reed 7, Tyler Self 3, Christian Garrett 4, Darnell Jackson 2, Kenny Gregory 2, Jeff Graves 2, Jeremy Case 6.