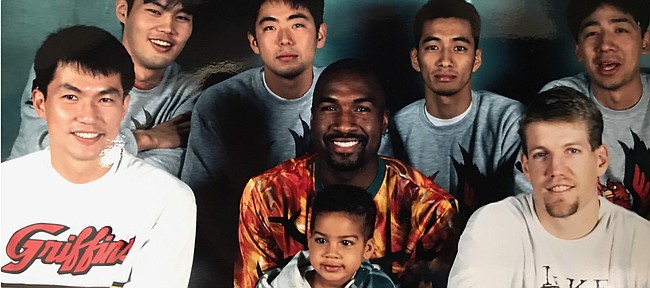 Landen Lucas' bid to make an NBA roster fell short after his summer with the Boston Celtics. But that does not mean the former Kansas center has reached the end of big time basketball.
Earlier this week, Lucas, 23, agreed to a three-year contract with Japanese team Tokyo Toyota Alvark. He will be introduced at a press conference Thursday in Tokyo.
In addition to landing guaranteed money, a team-funded three-bedroom apartment, a Toyota of his choosing while playing for the team, as well as first class flights and an NBA out clause, Lucas also will receive the opportunity of a lifetime, one that would never be available to him in the United States.
The story begins in Lawrence during his senior season at KU, with an older, much shorter Japanese man criss-crossing the KU campus with only a photograph and a goal.
The picture was of Lucas. The goal was to find him and inquire about his interest in playing for Japan in the 2020 Olympics in Tokyo.
"It's just crazy how things work out," Lucas told the Journal-World. "A couple years ago I brought it up to my mom how cool that would be since they're hosting it and, just this year, this Japanese guy comes up to me on campus and says, 'Oh, I've been looking for you everywhere. I went to coach Self's office.' And I'm like, 'Who is this guy?'"
That guy was the director of the Japanese Olympic team, and, armed with previous knowledge of Lucas' strong college career at a college basketball powerhouse, he flew to the U.S. in search of adding some size to Japan's national team.
"They're taking this upcoming Olympics very seriously and they want to put together the best team possible," Lucas said. "I've always wanted to play in the Olympics but never really knew how to go about it and then this guy runs into me on campus. I guess he was asking some people, 'Can you show me where Landen is,' and we ended up finding each other. It's just crazy how things work out."
Although he is a citizen of the United States — Lucas spent his later teenage years in Portland, from where he departed for Tokyo and his new adventure on Monday — Lucas will be eligible to join the Japanese Olympic team through a clause in Olympic rules that states that each team may have one competitor who is not a citizen of that country but has been naturalized through a passport.
Helping him through that process is also part of Tokyo Toyota Alvark's contract with Lucas. A handful of Americans have made similar arrangements with other countries in the past, most notably, in 2008 and 2012, when former WNBA star and current San Antonio Spurs assistant coach Becky Hammon played for Russia.
Although a spot on Japan's 2020 Olympic team is not yet set in stone, Lucas said things were "looking promising."
Born in Eugene, Oregon, Lucas moved to Japan when he was just 10 days old and lived there until age 3 while his father, Richard, played professional basketball. It was exactly 23 years ago (late July 1993) when his father, Richard, first flew to Japan to sign his own professional contract with the JBL Japan Energy Griffins.
It's that symmetry that Lucas said he's most excited about with his new opportunity.
"Going back to where I spent some years growing up and playing where my dad played, I'm very excited about it," said Lucas, who plans to wear No. 9 with his new team.
Spending his early days in Japan afforded Lucas the opportunity to learn Japanese at the same time he learned English and his grasp of Japanese was accelerated because of his environment.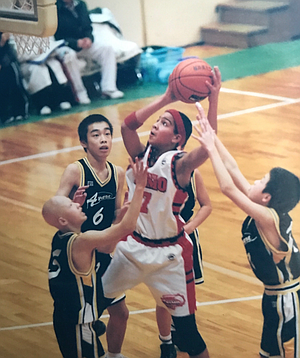 After moving away from Tokyo at age 3, Lucas returned to , Fukui, Japan, a city of 250,000 people west of Tokyo, in sixth grade for another two-year stint of life in the Far East, so the adjustment to Japan and its culture should be a walk lin the park for the 6-foot-10, 240-pound center.
There were times, Lucas' mother Shelley remembers, when Lucas first would learn things in Japanese first and would long for the days when he would learn about them in English so he could join in conversations about such things as dinosaurs with his friends back in the states.
As his life moved on, Lucas became equally fluent in both languages, a feat that played prominently in opening the door for his first professional contract.
Often asked to show off his Japanese during his five years in Lawrence, Lucas always appeared sheepish about sharing his second language. But when he gave in to the request, which almost always inevitably happened, the former KU big man sounded fluent and demonstrated great command of the language, accent and tone.
Although he still would love to find his way into the NBA at some point, Lucas said his recent summer stint with the Celtics gave him a great feel for playing professionally and added that his new team said it would be supportive of his NBA dreams.
"I always try to set big goals and do my best to achieve them," Lucas said. "No matter the situation, no matter where you go, that's one thing you learn from sports. I'm very excited about both opportunities."