Originally published July 26, 2017 at 11:21 a.m., updated July 26, 2017 at 4:09 p.m.
A day after University of Kansas football and men's basketball fans learned one radio station in the Kansas City area would no longer broadcast live play-by-play action of KU games, a new radio home for the Jayhawks emerged.
810 WHB and the Kansas athletics department announced Wednesday 810 will carry KU football and basketball games beginning this season.
"Sports Radio 810 is a major player in the Kansas City market and we are excited to join forces with the entire Union Broadcasting team," KU athletics director Sheahon Zenger stated in a release. "Owned and operated by more than 20 Jayhawks and with a vast Kansas City presence, we feel this partnership will continue to strengthen our connection with the large number of KU alumni and fans in the metro area." 
KLWN (FM 101.7, AM 1320) in Lawrence will continue carrying live broadcasts of KU athletics events, as usual.
Jayhawk IMG Sports Network and Union Broadcasting signed a three-year agreement to bring live KU coverage to 810.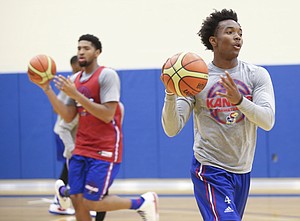 As part of that arrangement, the Jayhawks will also have programming on ESPN Kansas City (1510 AM and 99.3 FM), including women's basketball broadcasts, the Hawk Talk coaches' shows and additional baseball, soccer, softball and volleyball broadcasts. That partnership kicks off next week, when ESPN Kansas City will air live coverage of the KU men's basketball team's exhibitions in Italy, set to air at 11:30 a.m. on both Aug. 2 and 3, and at noon Aug. 5 and 6.
"We are extremely excited to announce our partnership with Kansas Athletics and the Jayhawk IMG Sports Network," Chad Boeger, president/CEO of Union Broadcasting, Inc. said in the release. "We are proud to be locally owned and operated for over 20 years here in Kansas City. As America's largest all sports radio station, our agreement with Kansas Athletics is another example of how Union Broadcasting and Sports Radio 810 WHB is dedicated to offering our listeners the best sports programming experience. Kansas Athletics is one of the crown jewels of sports in the Kansas City area. We look forward to being the radio home of the Jayhawks for many years to come."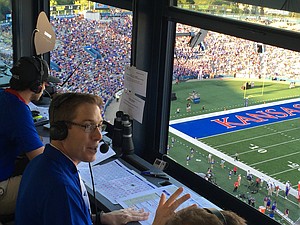 Football and men's basketball play-by-play man Brian Hanni is entering his second season calling KU games for Jayhawk IMG Sports Network. David Lawrence is beginning his 11th season as football analyst and former KU men's basketball player Greg Gurley continues as a basketball analyst. Jimmy Chavez enters his third season calling KU women's basketball games.
"We're excited to join forces with Union Broadcasting," general manager of Jayhawk IMG Sports Marketing Marc Tuttle stated. "Great sports radio paired with the power of the Jayhawk brand and the Jayhawk IMG Radio Network is a natural fit."
610 Sports Radio in Kansas City had carried KU broadcasts the previous 18 seasons.
KU in, K-State out
In the past, 810 also carried play-by-play broadcasts for KU's rival, Kansas State. However, KU fans won't have to worry about situations in which the Jayhawks and Wildcats have games with overlapping time slots.
According to WHB chief operating officer and general counsel Alok Srivastava, K-State games no longer will air on Sports Radio 810.
"We've had a great relationship with Kansas State for 18 years, and we're going to continue to provide great coverage of all the local schools," Srivastava told the Journal-World. "We don't know where they're going to be broadcasting next year, but they're not going to be on 810."