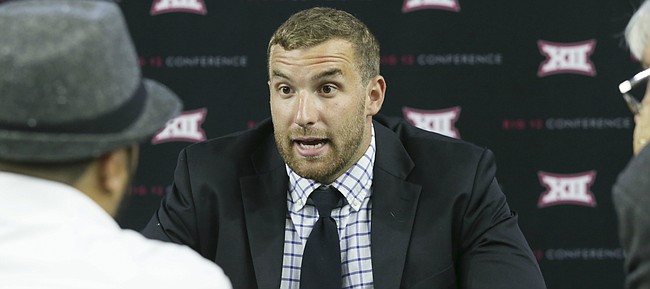 Frisco, Texas — Long before Dayton Valentine was named one of the five captains of the Kansas State football team, he had dreams of playing for a different team in the state.
Valentine, a junior tight end, starred at Baldwin High and isn't afraid to admit that the Kansas Jayhawks were his favorite team throughout his childhood.
Growing up only 15 minutes outside of Lawrence, Valentine was frequently around KU's athletic programs. He remembers watching the rivalry games against Missouri and celebrating the football team's Orange Bowl title in 2008, joking half of that squad now plays for the Denver Broncos.
"I was a huge KU fan," Valentine said. "Me and one of my childhood best friends, we were ball boys for KU and sat on the floor at Allen Fieldhouse and wiped up sweat during timeouts."
But Valentine, who stopped being a ball boy around the seventh grade when he had to make time for his own sports, never had the chance to suit up for the Jayhawks.
During high school, he had hopes of receiving a scholarship offer from Kansas. He said he was caught in between the coaching eras of Turner Gill and Charlie Weis, but eventually attended a camp where Weis said he could walk onto the team.
Valentine followed up with a visit to Manhattan and enjoyed his relationship with the Kansas State coaching staff. He joined the program as a grayshirt.
Last season, Valentine only caught two passes for eight yards, but made an impact with his run blocking alongside the offensive line. He received an all-Big 12 honorable mention from the league's coaches.
"Out of high school, I was disappointed," Valentine said of not receiving a KU offer. "But now I'm just so happy with the situation that I'm blessed to be in."
When the 6-foot-4, 264-pound Valentine had his first opportunities to play against the Jayhawks, he used his recruitment as motivation. He said the desire to "prove them wrong for not wanting me" started to fade with the coaching change that brought in David Beaty.
"It's one of those when I first got to K-State, it was, 'Yeah, I'm coming after them,'" Valentine said. "Now it's more where being a Kansas kid, it's still kind of a special rivalry but at the same time, it's not like a hatred by any means."
Valentine was voted a captain by his teammates in April and all of the team's captains represented the Wildcats at Big 12 media days.

Looking back at his time at Baldwin, Valentine, a state champion in the shot put and discus, was proud to help the football program to three straight seasons with a winning record.
Valentine played two years alongside Christian Gaylord, a 6-6, 300-pound offensive lineman at Nebraska. The Class 4A school produced two Power Five football players, a rarity for most schools across the state, let alone a smaller one.
"It's definitely one of those where you look back and say, 'Wow,' because I don't think Baldwin had anybody go D-I in quite some time," Valentine said. "I think it's definitely kind of cool to think about that."