Above the entrance to Sports Pavilion Lawrence this weekend hung a huge banner announcing the Hardwood Classic AAU basketball tournament that simply said #BeSeen.
That was the goal for the players from the more than 250 teams that invaded Lawrence over the weekend for the second, and best, event of its kind in Lawrence's shiny new facility, and that was incredibly easy to do given the impressive list of college coaches who made the trip to evaluate some of the top talent in the next few recruiting classes.
Michigan State's Tom Izzo, Syracuse's Jim Boeheim, UCLA's Steve Alford, Wichita State's Gregg Marshall, Texas' Shaka Smart, Georgetown's Patrick Ewing and, of course, Kansas coach Bill Self all were there, along with dozens more, sitting in the reserved bleachers at the north end of the main court, where some of the top players in the 2018 and 2019 recruiting classes did battle for the past few days.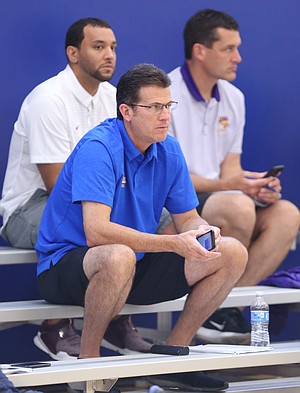 Such a scene is far from the norm for Lawrence in the middle of summer, but judging by the crowds on hand and the attention from coaches big and small, the Nike event, which featured six EYBL circuit teams, appeared to be right at home throughout the weekend.
"I think it's a good event," said Self, who came and went throughout the weekend. "It's run well and I think there are some good teams and it'll be something that people want to bring back, I would think. It was definitely better than what we had last year."
One of the top players and most heavily recruited prospects in attendance at this year's event was four-star, Class of 2018 shooting guard Keldon Johnson, of Boo Williams and Oak Hill Academy, who recently was offered by KU, according to Rivals.com's Eric Bossi.
Johnson, the No. 24-ranked player in his class, told the Journal-World that he enjoyed the trip to Kansas.
"It definitely means a lot, just knowing that it's easy for a great coach like coach Self to come out and watch me play," he said. "It's just a great experience."
As for how he and his peers are able to compete while knowing that events such as these often become as much about recruiting as they are basketball, Johnson chuckled and said it was easy.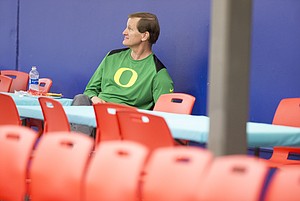 "At the end of the day, it's just basketball," he said. "You gotta play. This is what I love to do, and whether (those coaches are) there or not there, you just gotta come out and give 100 percent every day."
Johnson, who has offers and interest from nearly every major program in the country, said his recruitment at this point was still "wide open," but added that Kansas was definitely on his radar.
"Of course," he said. "They've got a great history, a lot of great players have come through there and, obviously, a legendary coach, there's just a lot of great things about the Kansas program."
A few other names of note that Self and some of his staff watched in town this weekend included: 6-foot-8 power forward Isaiah Stewart, of Rochester, N.Y. (No. 40 per Rivals, Class of 2019); recently offered forward Malik Hall, of MoKan Elite and Sunrise Christian in Wichita (No. 84, 2019); 6-4 shooting guard Keyontae Johnson (No. 118, 2018); and Hall teammate and 6-9 center Roman Wilson (No. 71, 2019).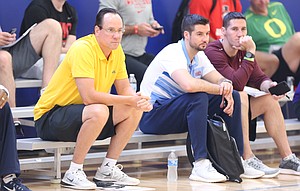 As for some of the other coaches in attendance last weekend, the opportunity to travel to the Hardwood Classic was not all about recruiting.
Take for example Maryland coach Mark Turgeon, a former KU point guard and Topeka native, who found time to mix in catching up with former KU teammate Chris Piper and have lunch with his mother during his trip back to Lawrence.
"It's great to be back," Turgeon told the Journal-World on Day 2 of the event. "I came back a couple times with (Texas) A&M but I was just in the hotel so I haven't really been back to Lawrence to see the growth. It's amazing. And this facility is tremendous."
Turgeon, who was invited by Self to come check out the new on-campus facilities while he was in town, said any opportunity to connect or reconnect with Kansas basketball was one he would always take.
"I grew up a KU fan ever since I could remember," Turgeon said. "Kansas, the University of Kansas, Kansas basketball, Lawrence is always special to me and always will be. The connection will never go away."
One coach in attendance with more of a negative connection to Kansas these days said he had no apprehension about wearing his bright green Oregon Ducks gear into Lawrence over the weekend.

"It was just one game and, for all the times those guys beat up on us, it's not that big of a deal," joked Oregon coach Dana Altman, whose Ducks squad knocked off KU in the Elite Eight last March in Kansas City, Mo.
"That was a great feeling," Altman added of finally getting to the Final Four. "But it was followed by a little disappointment, though, losing a one-pointer (to UNC in the Final Four). When you lose those one-point games like that, you go over every possession, every call and it just eats at ya. So as good as we felt leaving Kansas City, it's been just as tough to get over that one-point loss to North Carolina."