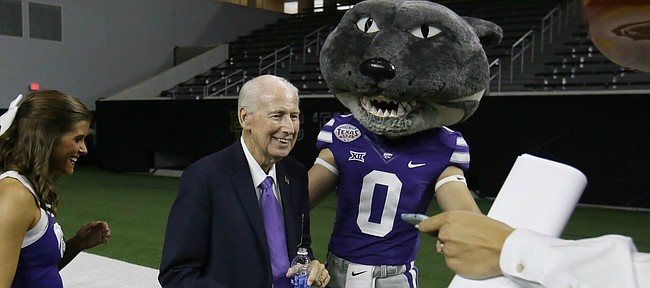 Frisco, Texas — The best at their jobs in sports transcend rivalries and gain the respect of the enemy.
Nolan Ryan's farewell tour that included standing ovations before he threw his first pitch for the final time in every visiting ballpark in which he competed showed that in a chilling way.
In college football, Kansas State coach Bill Snyder has reached that level of respect, regardless of the loyalties of fans, players and coaches.
Those feelings grew even deeper when Snyder was diagnosed last December with throat cancer.
"There's not a night that my two girls and I don't pray for him," Kansas coach David Beaty said. "This game is better with him in it. It just always has been. I hope that whatever he's going through physically, he can get well fast and he can enjoy his life and he can enjoy the job that he does. Because I know he loves being the coach of Kansas State."
Snyder addressed his health when asked about it Tuesday at the second Big 12 Media Day at Ford Center, the practice facility for the Dallas Cowboys.
"Well, I'm doing fine," Snyder said. "I mean, the recovery is ongoing, quite obviously, but I'm doing fine, getting around fine. Don't have any issues right now other than trying to prepare for the season."
The diagnosis left many wondering whether the coach, who in two stretches at Kansas State has beaten the odds and turned the school into a winner, might have worked his last game. But Snyder persevered, and it was a much younger celebrity Big 12 coach who beat him to the rocking chair — at least for the moment.
All 10 Big 12 head coaches issued a nod of respect to Bob Stoops, and two of them had particularly interesting comments.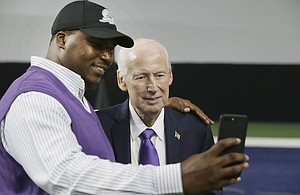 "I never, ever did hear him say that he was never going to be back in the sport," TCU coach Gary Patterson said. He went on to say that the fact that Stoops' twin sons are entering their senior years as high school football players made the timing make more sense.
West Virginia coach Dana Holgorsen had an even more interesting take on the timing.
"He did it to where nobody lost their job," Holgorsen said.
Stoops is not the first to leave at a time that makes it difficult for the school to go outside the program for a replacement. Wisconsin basketball coach Bo Ryan, for example, retired Dec. 15, 2015, paving the way for assistant Greg Gard to take over.
Might the timing of Stoops' exit start a trend in college football?
"I think where the trend needs to be is with administration understanding that in the same way that we do and be able to put coaches in a situation to not have to finesse to put coaches in that situation," Snyder said.
Snyder said he hopes that when he retires, his staff can stay intact the way Stoops' has.
"Of course. Of course," he said. "Any coach, if you've got coaches on your staff, you hired them, so they're your responsibility. And so I feel very good about the people who are on our staff and in our program, and they've had successful careers. I want them to continue and hopefully, that will be the case when the time comes."
Snyder would like to see the job stay in the family.
Literally.
During a 2015 trip to ESPN's campus in Bristol, Conn., Snyder said he would like for his son. Sean, associate head coach and special teams coach for the Wildcats, to become his successor.
"I don't want to go through that again," Snyder said Tuesday. "I've already expressed my feelings about it and my beliefs. I'll certainly stay with those, but I'm not going to discuss it anymore."
To him, continuity makes sense for a winning program.
"That's kind of my belief," Snyder said. "I went (to Kansas State in 1989), and they started over again. You know, I get that, but I think if they've done well, why wouldn't you? Why wouldn't you?"
Snyder said he plans to stay on the job as long as:
• The university and fan base want him to continue.
• He still has an impact on helping his players to build a foundation for a successful life.
• His family wants him to stay on the job.
• He is healthy enough to do the job at his typical level of commitment.
"As long as those things stay in order, I'll do it. And as soon as one or more of them is not, that's it," he said.
He also said that he would like to leave the program to be in good shape, as did his former assistant Stoops. K-State was picked to finish third in the Big 12 in the preseason poll.
Snyder's energy seemed fine Tuesday. But if it were to fade once camp starts, it's not a stretch to believe that he could step down in August, leaving K-State to hire a replacement from within, at the very least on an interim basis, be it Sean Snyder or offensive coordinator Dana Dimel.