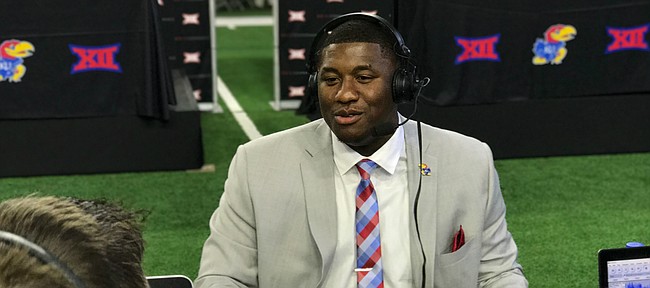 Frisco, Texas — Before David Beaty arrived at Ford Center on Monday for Big 12 Media Days, he anticipated hearing numerous questions and providing subsequent sound bites about Kansas star defensive end Dorance Armstrong Jr. So part of the KU head coach's personal mission, with all those cameras and audio recorders pointed his direction, became to introduce the conference to a Jayhawk "nobody really talks about": Daniel Wise.
Those who follow KU football closely know Wise, a 6-foot-3, 290-pound junior defensive tackle, is just as critical to the team's success up front as Armstrong, the preseason Big 12 Defensive Player of the Year.
"Daniel Wise is — he is a factor for us in a number of different spots," Beaty said of the Lewisville, Texas, native. "He can play inside. He can play outside. I'm not sure people talk about this guy enough, to be honest with you. He's a very talented kid."
In 11 starts as a redshirt sophomore in 2016, Wise accounted for 10 tackles for loss and three sacks, while disrupting enough offensive snaps to land a spot on the Associated Press All-Big 12 second team. Armstrong qualifies as one of Wise's biggest fans and knew his boisterous teammate would thrive in an offseason interview spotlight, as well.
"He's a funny guy," Armstrong said of Wise. "He keeps these guys laughing with his answers and stuff. When you interview him, there's just so much energy, so much positive energy, from him."
As Wise spent his day selling the growth of KU football, he also took pride in being chosen to do so, with Armstrong, redshirt junior linebacker Joe Dineen and sophomore offensive lineman Hakeem Adeniji. Wise also enjoyed that his position group was so well represented.
"We've got two guys from the defensive line. It shows you where the strength is on the team," Wise said. "We set the tone up front for everyone else to follow at the back. It means a lot for us defensive players to be here."
'Talking season'
As tends to be the case in media day settings, Beaty encountered questions about team goals and how many wins KU could achieve this fall. Having gone a combined 2-22 in his first two seasons heading the program, Beaty desires to lead the Jayhawks to more victories in 2017, but didn't state a targeted total.
Instead, Beaty referenced a clip he heard recently, from legendary coach Steve Spurrier: "Welcome to talking season."
His point?
"Anything else I say is just talk. It's about winning and losing in college football," Beaty said. "So dividends are reflected in wins. ... So we have to win football games. That's a requirement for programs to survive in this age."
Memorial renovations
Beaty, Wise, Armstrong, Dineen and Adeniji often spoke Monday of the program's positive momentum. KU's coach had a handy example of it to reference, too, in the recently announced $300 million renovation project for Memorial Stadium and the team's facilities.
"I think it's going to be a really nice addition for us. It's at a perfect time," Beaty said. "Our environment is one where I think we're going to have one of the newest, latest and greatest outfits there that you can have, and from a recruiting standpoint, you're not going to get them if you don't have the things that other places have. So it's very, very difficult. And I think what it does for us is it keeps us in that game of recruiting, which allows us to click off one more great (prospect). Because if you can get five or six great ones out of each class, all of the sudden, you're winning a bunch of games."
Sims makes Biletnikoff watch list
One of KU's most experienced offensive playmakers, junior wideout Steven Sims Jr. landed Tuesday on the Biletnikoff Award watch list, putting him in the running for the title of most outstanding receiver in college football.
A speedy 5-foot-10 passing-game threat, Sims led Kansas in 2016, with 72 receptions and 859 receiving yards (the most by a KU player since 2009).
The Houston native eclipsed 100 yards on four occasions as a sophomore and caught more than five passes in nine games, while finishing with seven TD grabs.
Sims is one of 45 candidates for the Biletnikoff Award, which will be presented live on Dec. 7 on The Home Depot College Football Awards Show (ESPN).
Dineen's community efforts recognized
Fresh off organizing and volunteering in the first "Cole's Christmas in July," Dineen was named to the 2017 Wuerffel Trophy preseason watch list Tuesday, with other players who are considered some of college football's top community servants.
After getting to know Cole Hayden, the late son of KU football's academic and career adviser, Shanda Hayden, Dineen became passionate about fighting childhood cancer, which took Cole's life.
"These kids are in such an intense battle, the least we can do is try to brighten their days with some toys," Dineen recently said of a project that provided gifts to patients at Children's Mercy Hospital. "Anything we can do to make them smile and find enjoyment during their fight is worthwhile. Cole fought his cancer until the very end, and we thought this would be a good way to pay it forward in his honor."